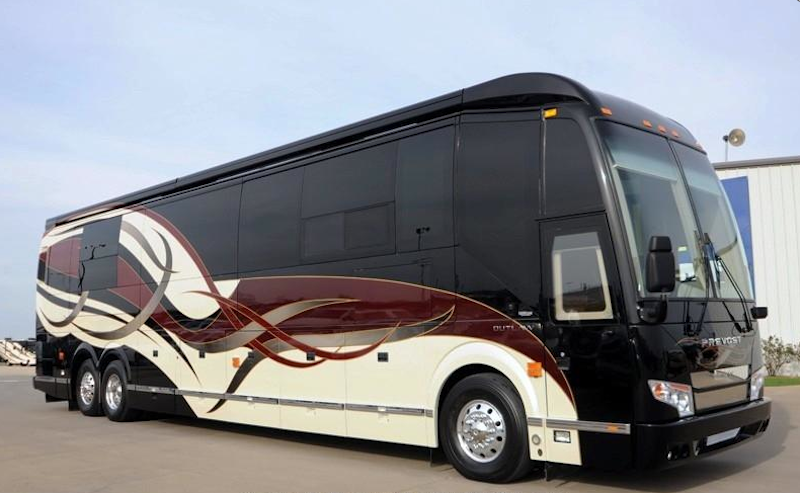 2015 Prevost Outlaw H3-45
Quad Slide
$ 1,100,000
"OWNERS DEMO" New (Never Slept-in) 2015 Prevost H3-45 W/4 Slides.
MSRP $2,097,800.
Built by John Walker owner and manufacturer of Outlaw & Emerald Coach.
If you are looking for an exceptional build, quality craftsmanship and warranty John Walker and Outlaw Coach H3-45s are just the ticket and are much, much, MUCH less than the competition.
Of course you can always spend more money, but why?
Enjoy the unparalleled ride and drive of a Prevost H3-45, the exceptional space created by the 4, custom installed, Valid slide-out rooms, comparable appointments, comparable amenities and John Walker's manufacturing expertise and innovative floor plan designs for hundreds of thousands less than the competition!
Visit MHSRV.com or call 800-3358-6054 for complete details on this coach or our other available Outlaw Coach H3-45 models.
Buy Smart... Buy Outlaw.

A few features include: EXTERIOR: Custom Painted Graphics w/Super Clear Coat, 4 Roof Mounted Power Awnings with Wind Sensors, Front and Rear Roof Cowlings, Roof Mounted Air Horns, Stainless Steel Rub Rail Package, Mud Flaps w/Weights and Stainless Steel Trim, Custom Fiberglass Fenders, Auto Leveling System, Docking Lights, Bay Areas are carpeted, Stainless Steel or Acrylic, Slide-out Trays in Storage Bay, 4 Zip Dee® Chairs in Custom Built Storage, Slide out Grill, Bay Entertainment Center, Ground Effect Lights (white), Custom Exterior Graphics and Paint: Base Coat/Clear Coat Standox Paint, DASH/ENTRY: Custom Upholstered Dash, Illuminated Dash Panel, Custom Interior Entry Door Panel, Entrance Doorbell and Camera, Electric Privacy Shades for Driver and Passenger Windows, W/Controls at Driver and Passenger Area, ISRI® Air Ride Driver Seat, Heated and 6-way Power, Passenger Seat Heated, 6-way Power w/Power Foot Rest, Electric Step Well Cover, Switch at Driver and Passenger area, 40 Channel Cobra® CB Radio, Air compressor switch-Awning Switches- Ground Effects Switch, 12v Master Kill Switch, 220 Master Kill Switch, NAVIGATION SYSTEM: Color Back-up Camera, Side Mounted Cameras, XM/AM/FM/CD Player, Passenger 5.5 7VMonitor and GPS Monitor: Color Back-up Camera, Side Mounted Cameras, Satellite and DVD Player, AUDIO/VISUAL: SALON: Blue Ray DVD, Satellite and Surround Sound BAY: Blue Ray DVD, Satellite and Surround Sound BEDROOM: Blue Ray DVD, Satellite and Surround Sound, Electric TV Antenna Two In Motion Satellite Systems: Receivers: Salon/Bedroom/Entertainment Bay Televisions LED-HDTV: 32" HD LED Television in Entertainment Bay, 42" HD LED Television Entrance, 26" HD LED Television in Slide Out, 42" HD LED Television in Bedroom, 52" HD LED on lift in Passenger Slide-out, Crestron System®: iPad Control, Audio/Visual in Salon, Bedroom and Entertainment Bay, XM/AM/FM/CD Player, Blue Ray DVD Player, Window Shades, Lighting. Entertainment Bay Components: 32" LED-HDTV AM/FM CD, Blue Ray DVD & I POD Satellite Receiver AIR CONDITIONING/HEATING: 4 Low Profile 13,500 BTU Roof Air Conditioners, with Heat Pumps and Dual Control Modules, 50,000 BTU Diesel Fired Boiler Hydronic System, 3 Interior Zones and 1 Utility Bay Zone, Electric Heating Element for Low Demand Periods, 7 Heat Exchangers, Electric Heater for Plumbing Bay, 110 Electric Heater in Step well, 110 Electric heat in Bathroom, 110 Electric heat in kitchen base. Electrical: 1-40 amp 24v Charger for Main Engine Batteries, 75 amp 24v Alternator for Main Engine Batteries, 12v Maintenance Free Starting Battery, (2) 270 amp 24V Alternator for House Batteries, 50amp Automatic Power Transfer Between Generator and Shoreline, w/Generator Priority w/Manual Override, 50amp Breaker Panel for Generator and Shoreline, 8-12v Deep Cycle 6D Lifeline 290amp hr. Batteries, INVERTERS (14,000kw) will operate: Front and Rear Air Conditioners, Televisions/Entertainment System, 110 AC Receptacles, Convection Oven, Refrigerator. POWER MANAGEMENT SYSTEM WHICH MONITORS: AC Battery Voltage, Holding Tank Levels, Generator Operation (AGS), Auto Water Fill, Coach Battery Voltage. 20kw Kohler® Diesel Generator: Stainless Steel Exhaust Extension (Routed to Rear of Coach), Sound Deadening Package, Air Bag Suspension, AGS, Generator Slide-out Tray (For Service), PLUMBING: 188 gal Fresh Water Tank, 142 gal Total Holding Tanks, 90 gal Gray Water and 52 gal Black Water, Water Filtration System, w/Reverse Osmosis at Galley Drinking Spout, Driver Side Automatic Electric Dump Valves for Gray and Black Tanks, 20gal Electric Water Heater, w/Winterization System and Motor-aide, Water Pump w/Accumulator Tank 65 PSI, 12 V Back up Water Pump, UTILITY BAY STAINLESS STEEL: City Water Inlet, Exterior Water Faucet, Hot & Cold Faucet, Water Manifold System, Soap & Towel Dispensers, Black Tank Rinse. CEILING/WINDOW/WALL: Automatic Shades w/Custom Treatments on All Windows, Suede Ceiling Material: Suede, Suede Wall Material: Suede, Designer Tile Backsplash in Kitchen, Solid Surface Window Sills, Designer Vanity Backsplashes in Bathroom, Tile Walls in Bathroom, INTERIOR LIGHTING: Halogen and LED Ceiling and Cabinet Down Lighting w/Variable Control, Accent and Aisle Lighting throughout Interior, Custom Window Lighting throughout Interior, Reading lights in Bedroom. SALON/GALLEY: 2 Custom Sofas and Dinette and Designer Throw Pillows, Granite Countertops, Granite and Tile Backsplashes, Custom Crown & Chair Rail Moldings, Designer Kitchen Sink with Sink Cover and custom faucets, Stainless Steel Refrigerator, 2-Burner Cook Top Recessed w/Cover, Dishwasher Drawer, Convection Oven, Stackable Washer and Dryer , Automatic Custom Window Covering, Electric Operated Pocket Doors w/Emergency Override, Custom Tile Floors with copper inserts and Electric Heat throughout interior. REAR BATHROOM: Custom Sinks and Faucets, Custom Shower Walls w/Seat and Shampoo Caddy, Glass Shower Door, Pressure Balanced Shower Valve w/Slide Bar, Bath Accessory Package, Vent Fans. FRONT HALF BATHROOM: Vanity with mirror and sink, Toilet with Overhead Cabinet, One Vent Fan. BEDROOM: Automatic Blackout Shades, Quilted Bedspread with Designer Pillows, Jr. King 66" X 77", Safe.

Please Click Here For Video Presentation
For More Information Please Call:
1-800-335-6054 or Email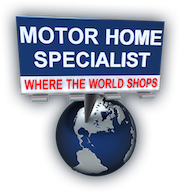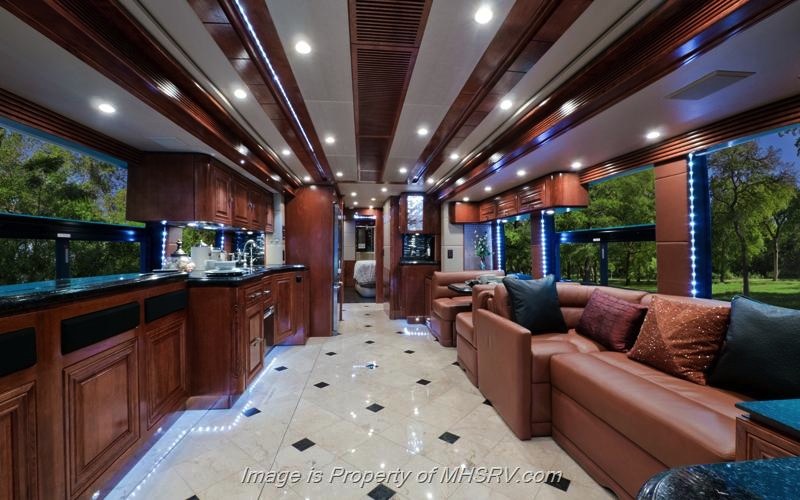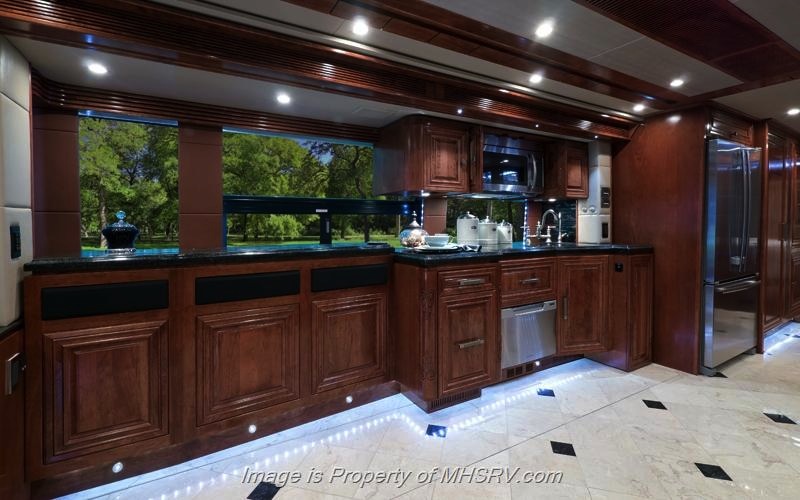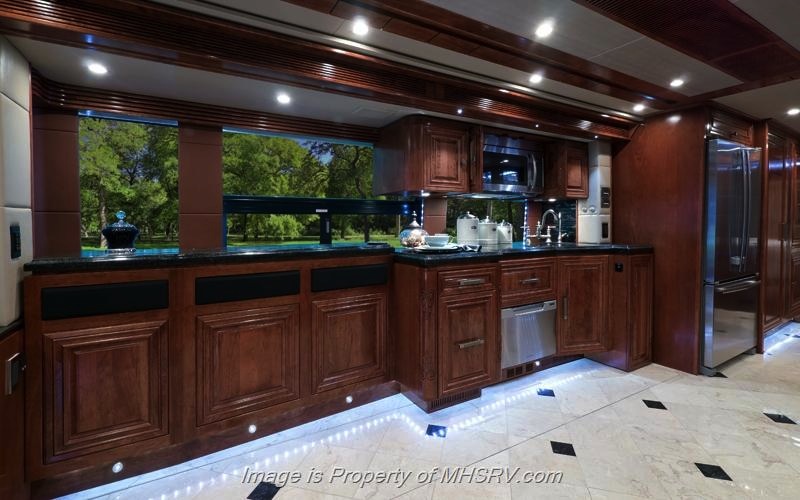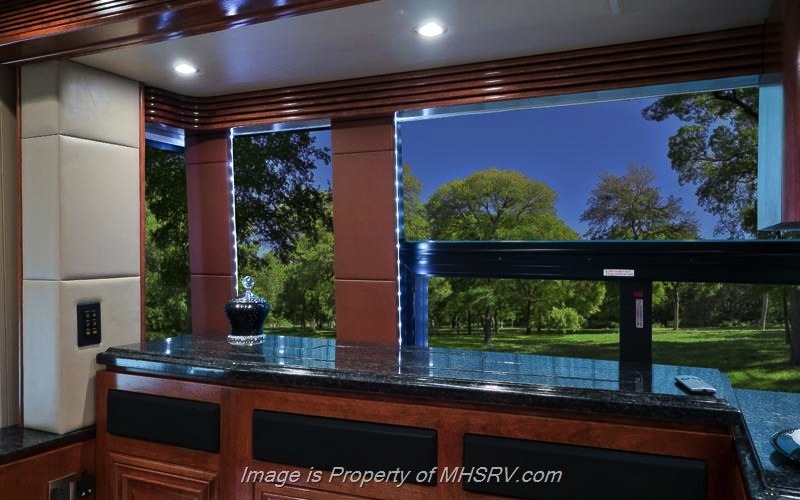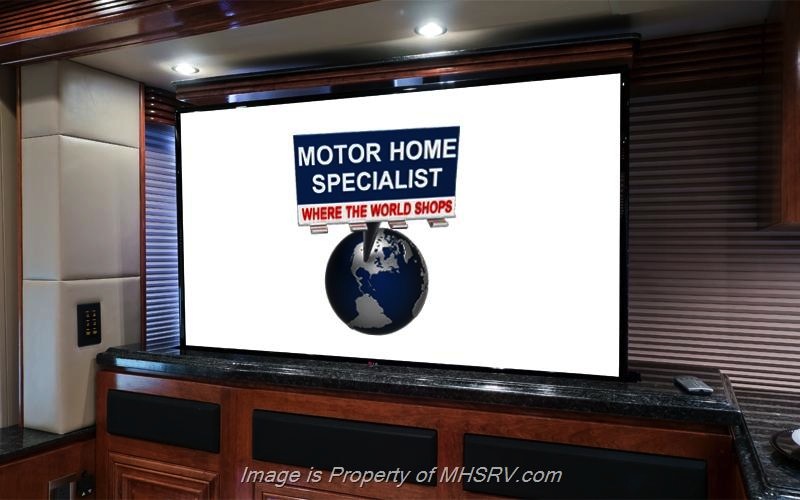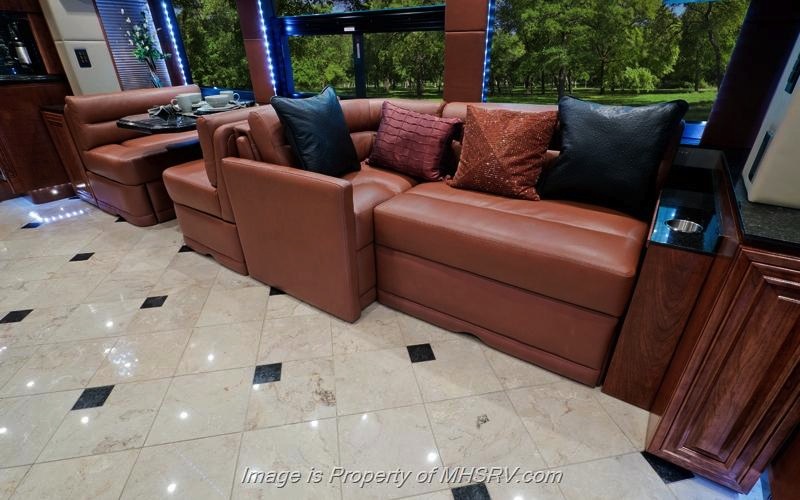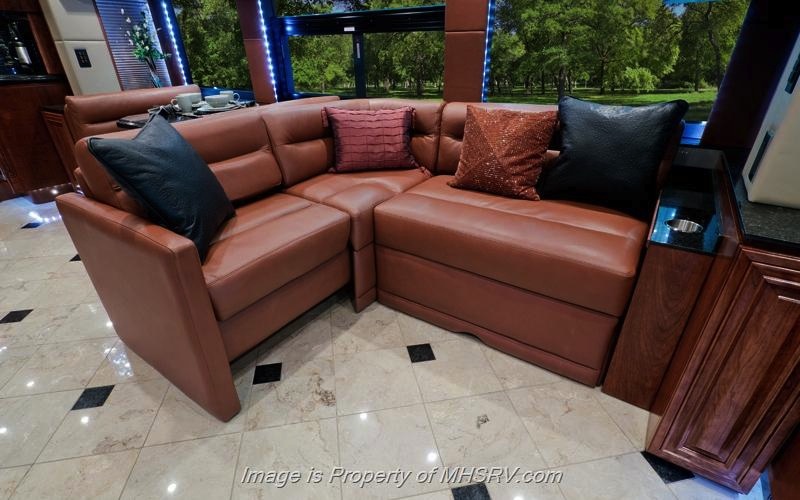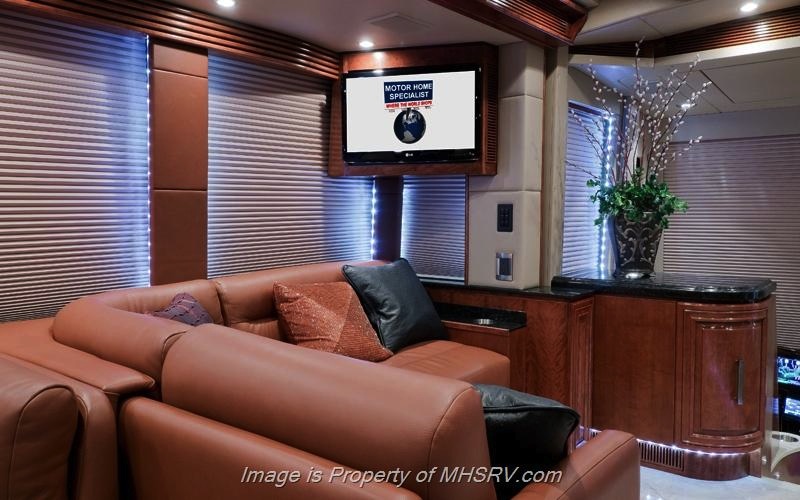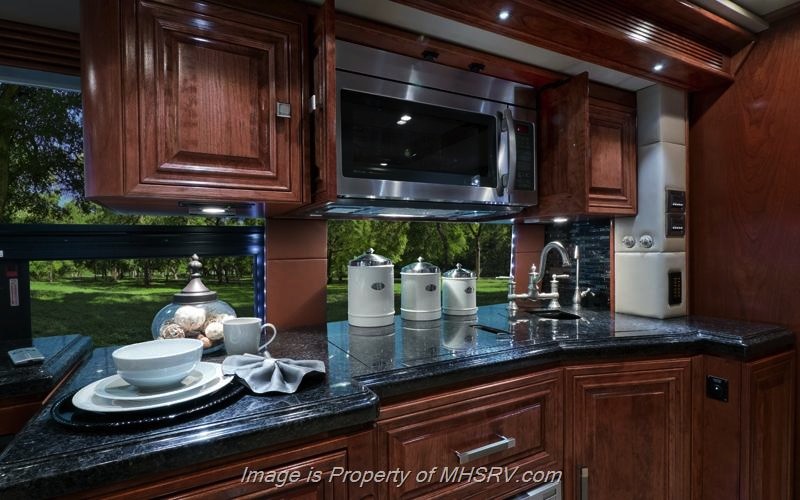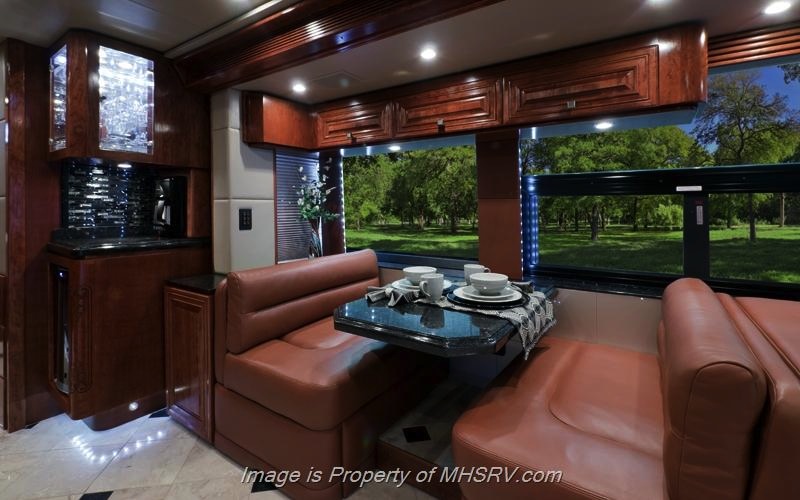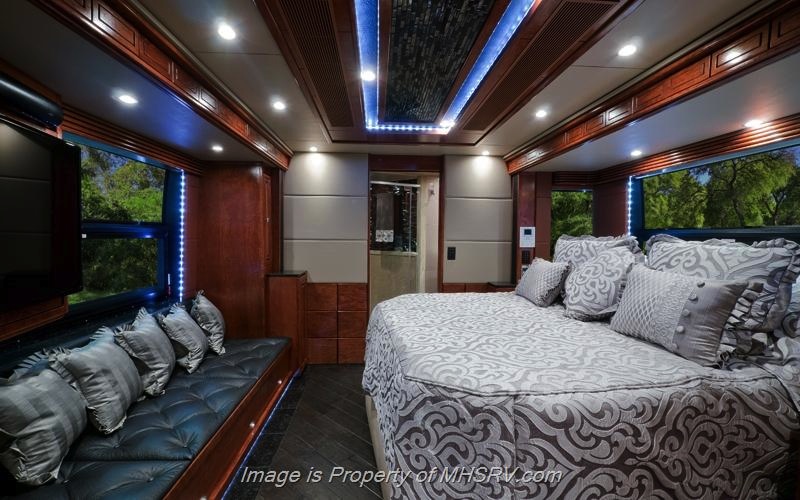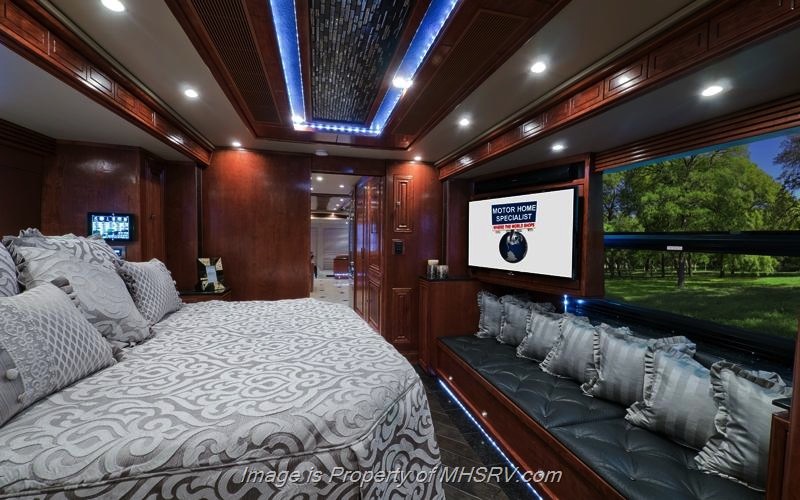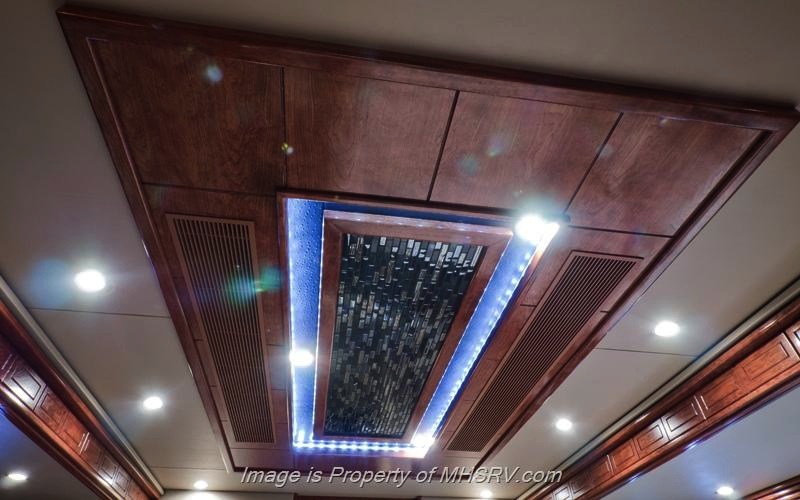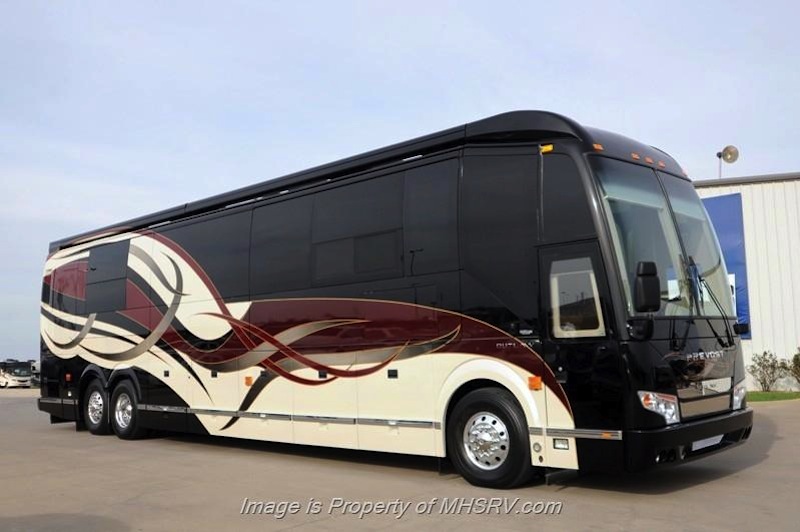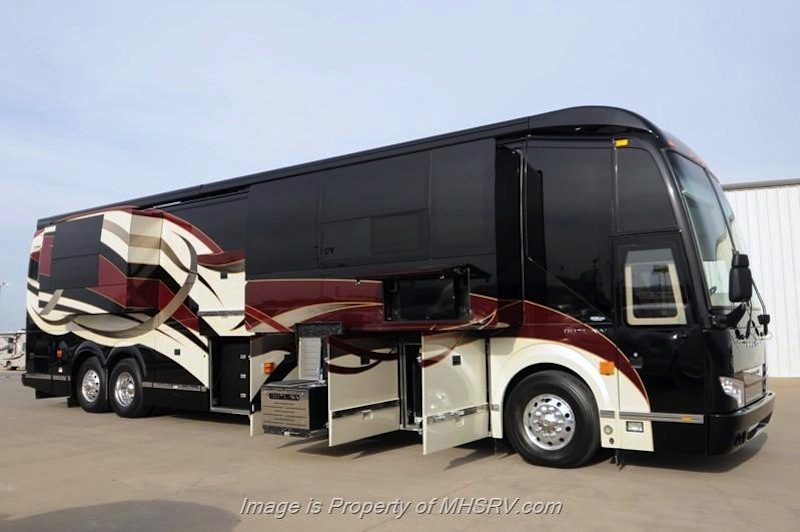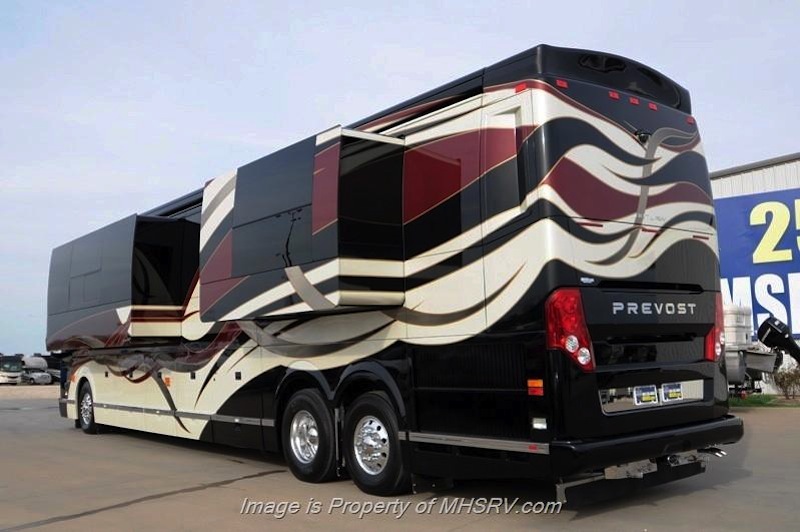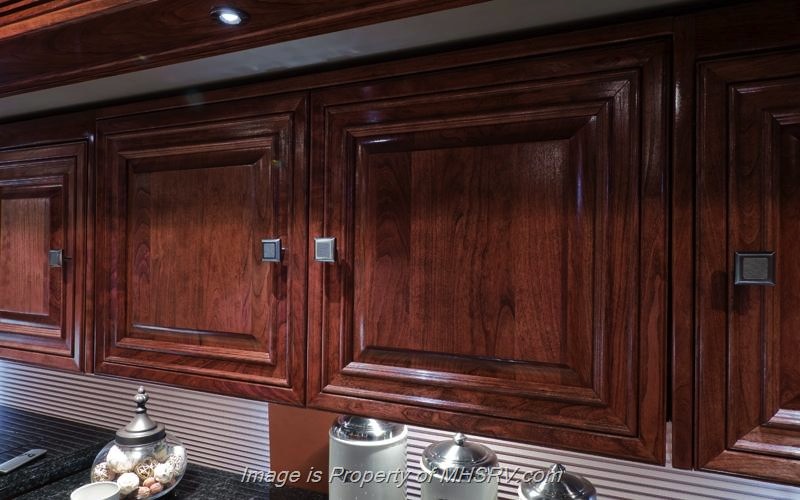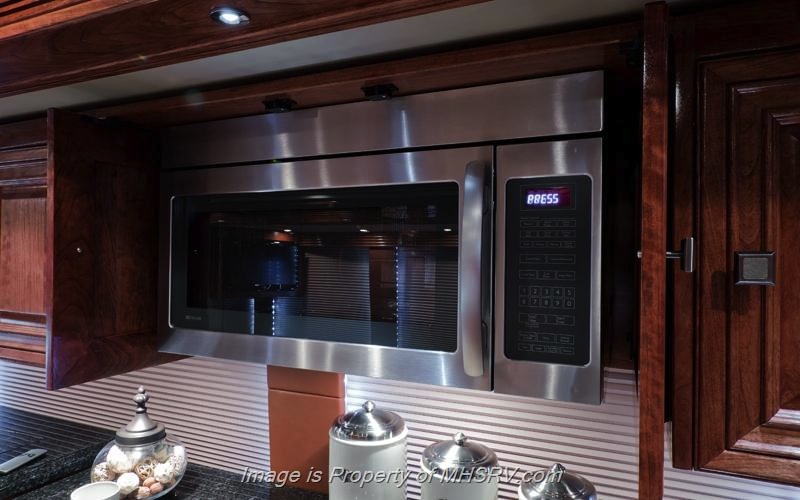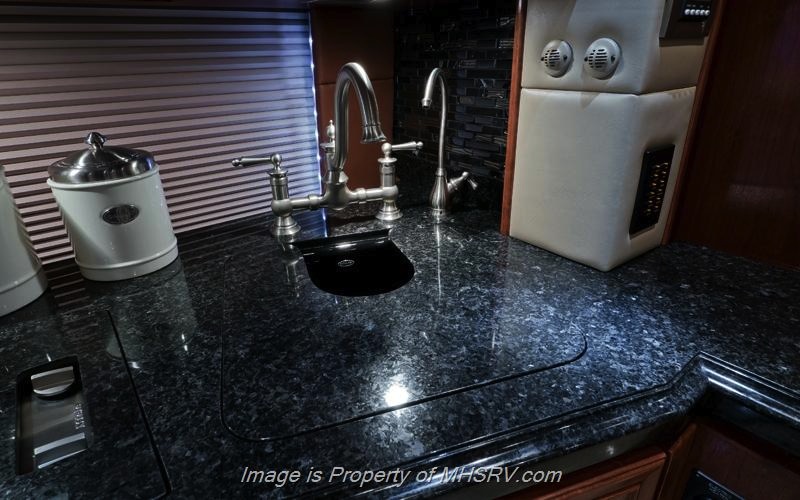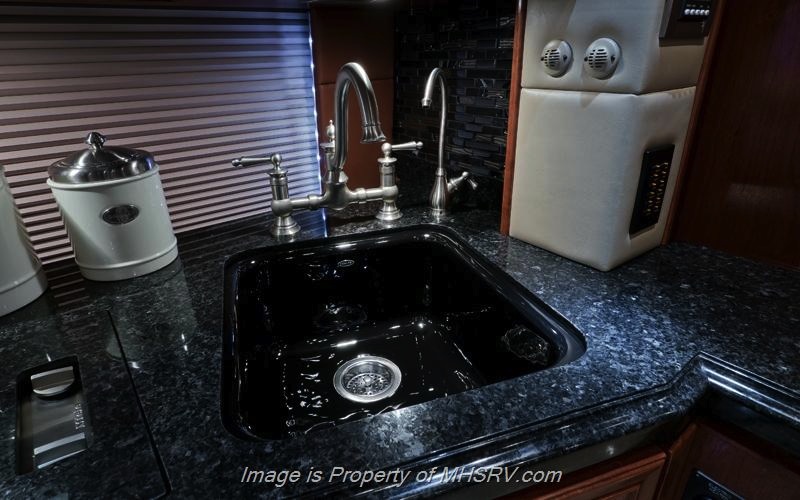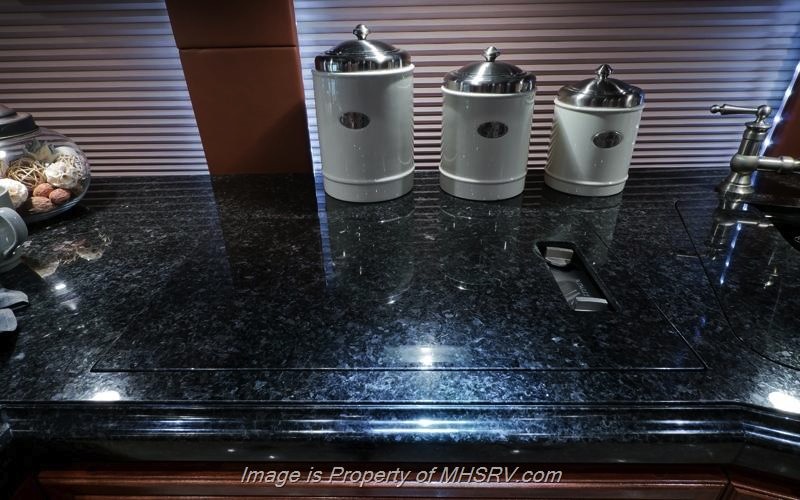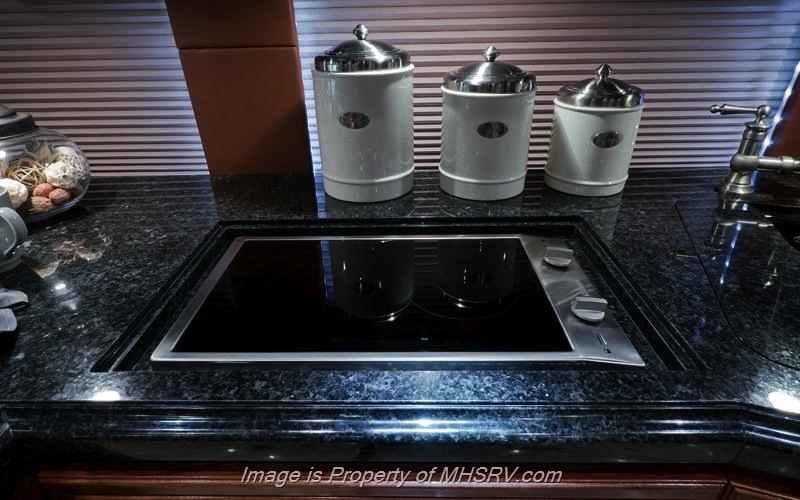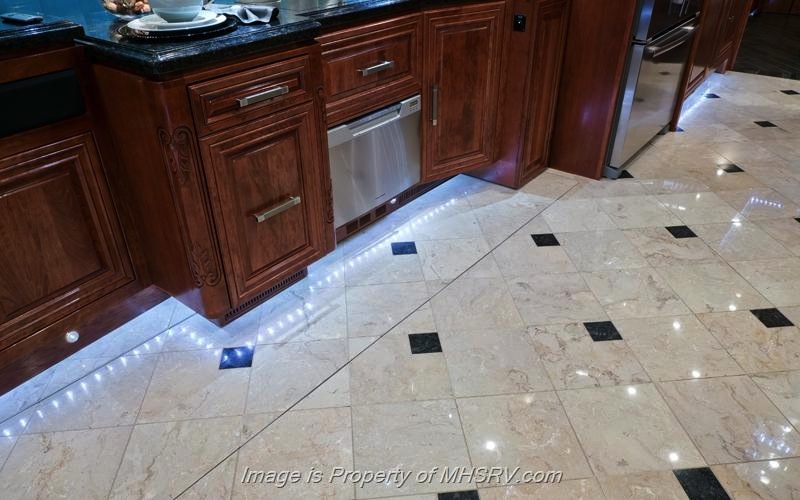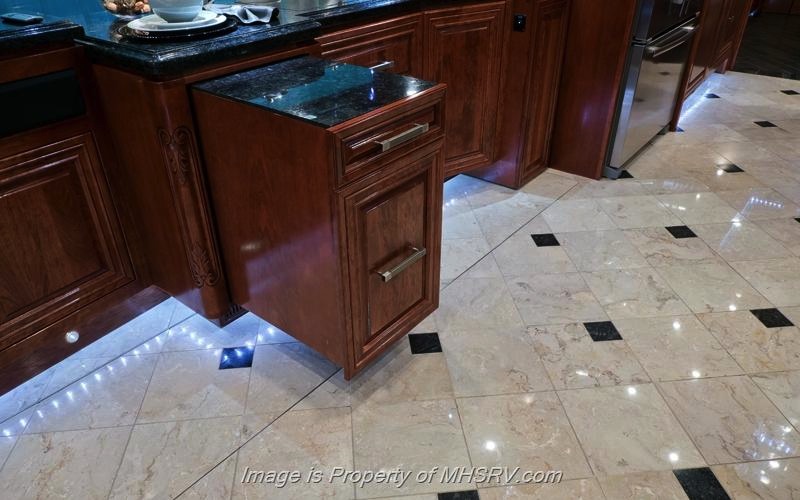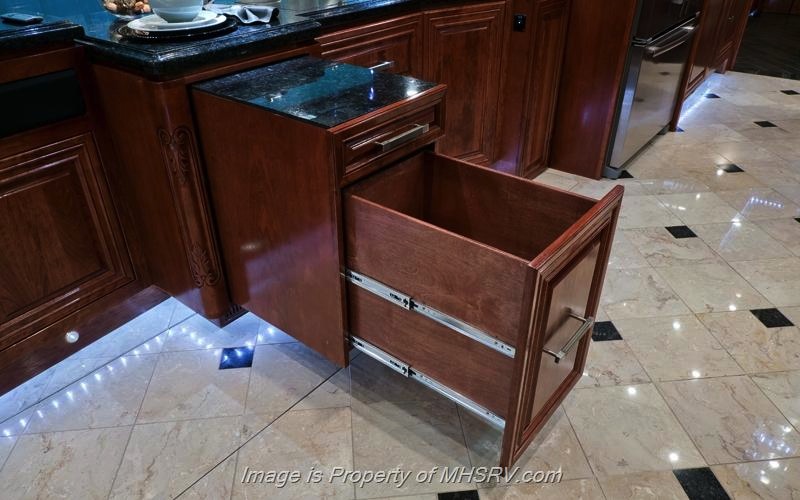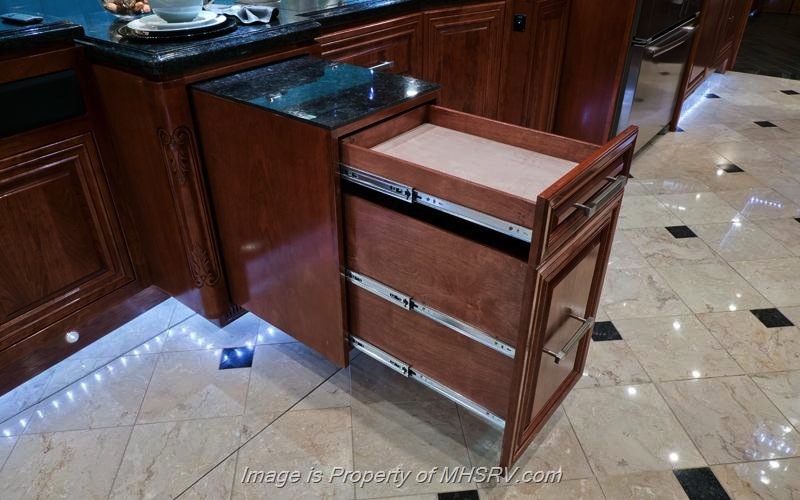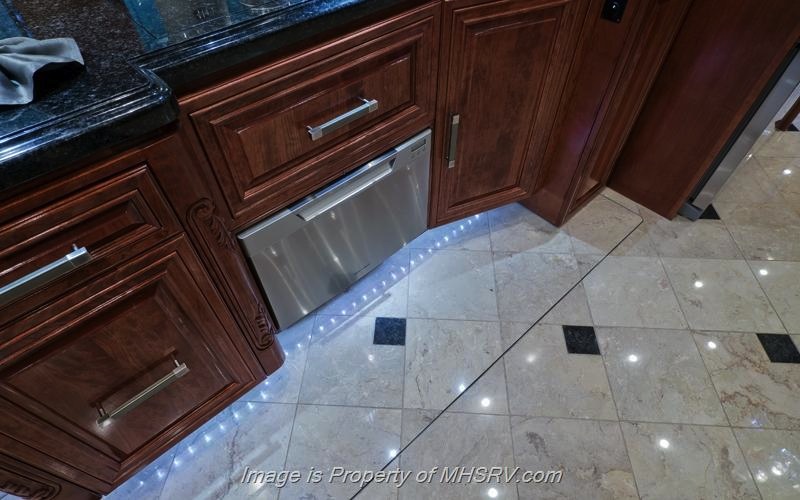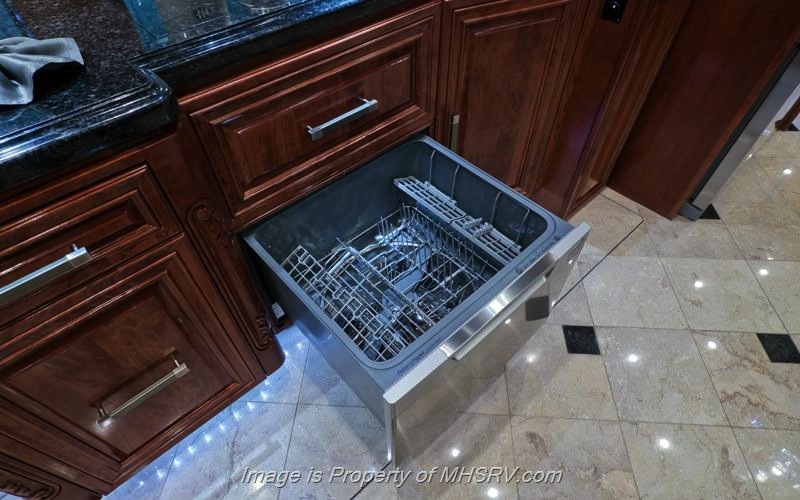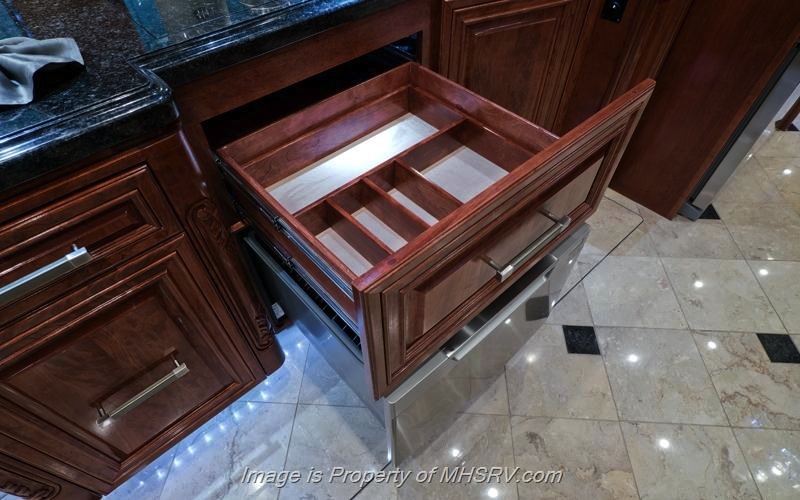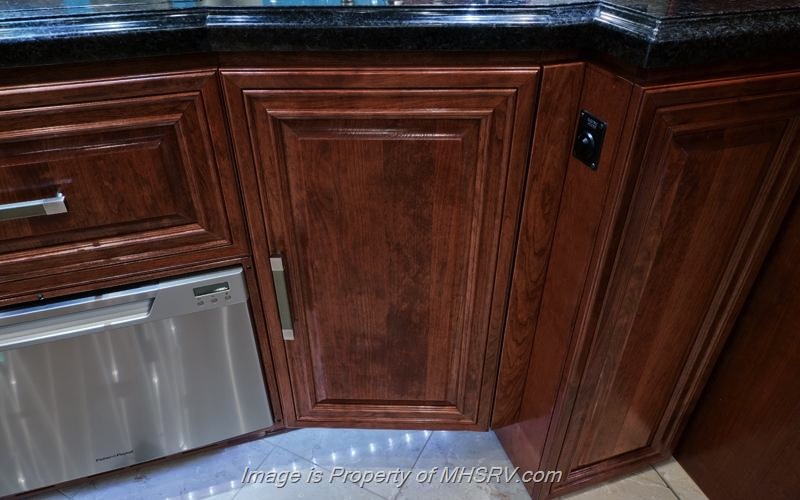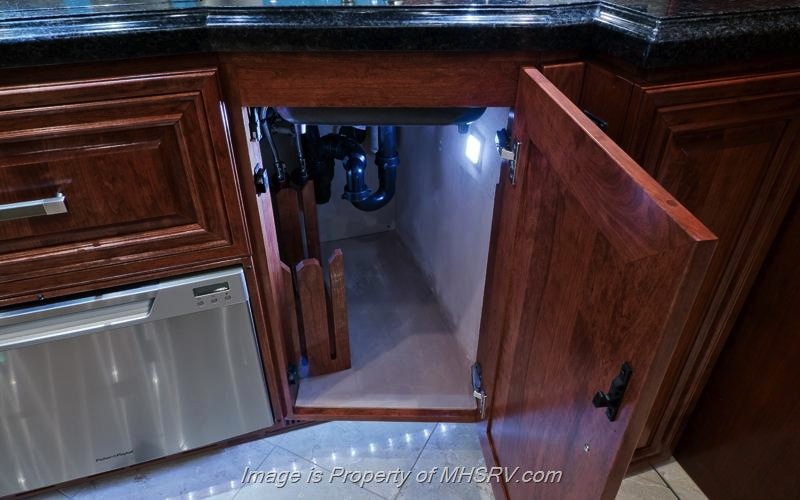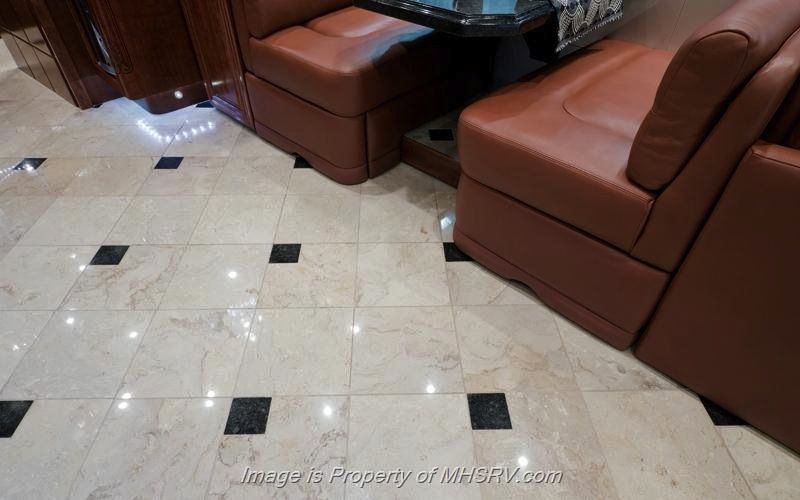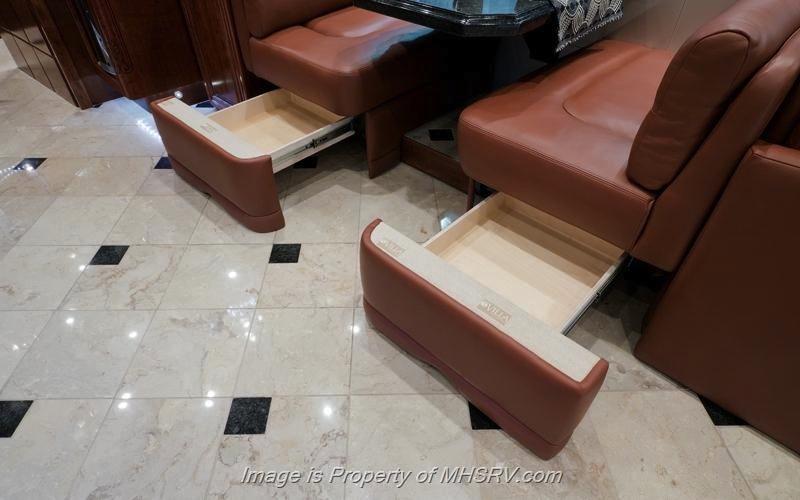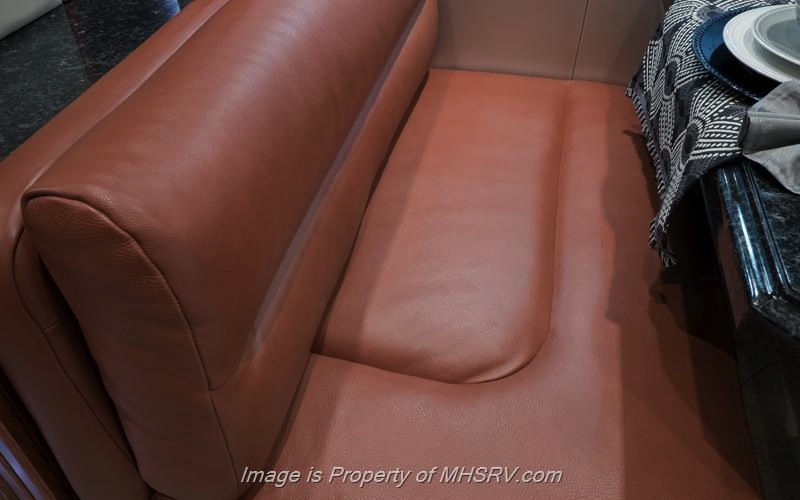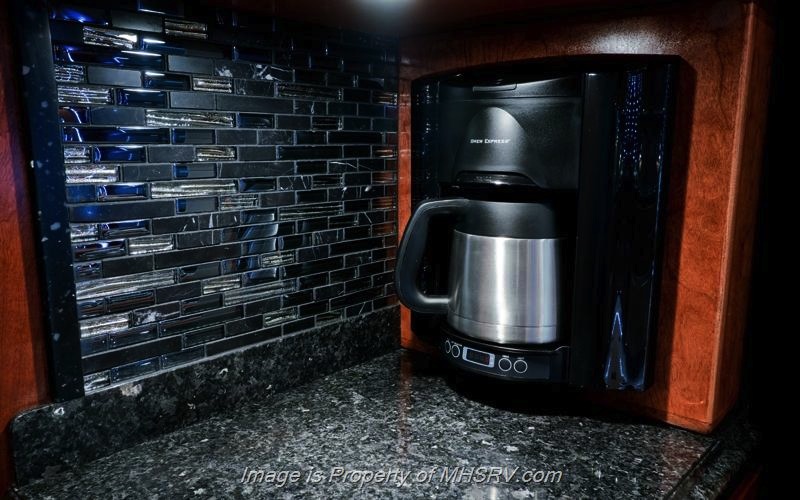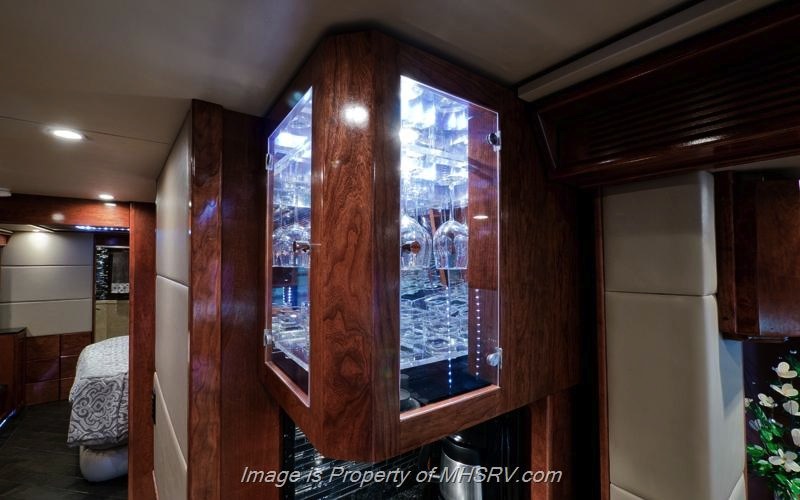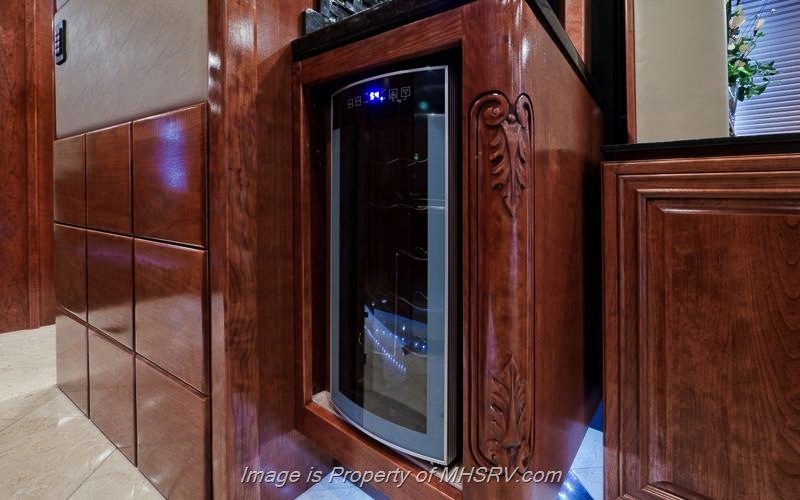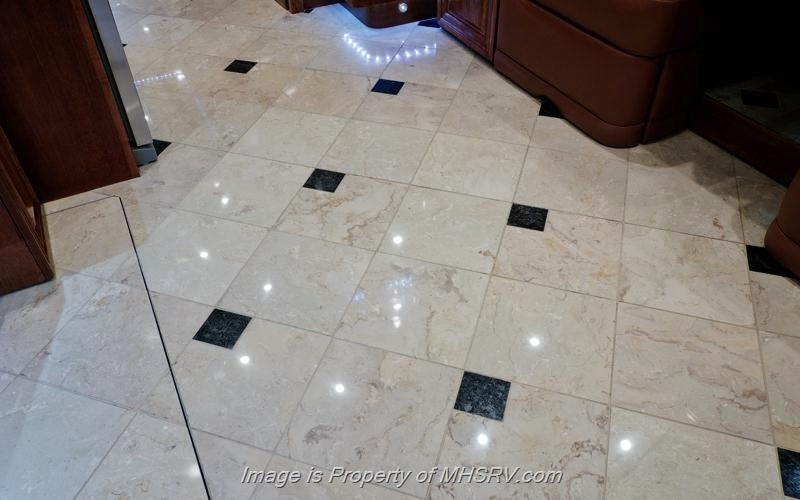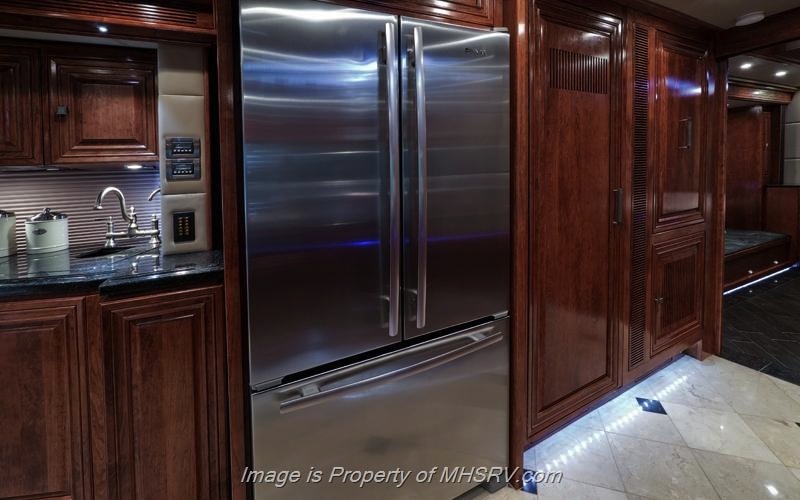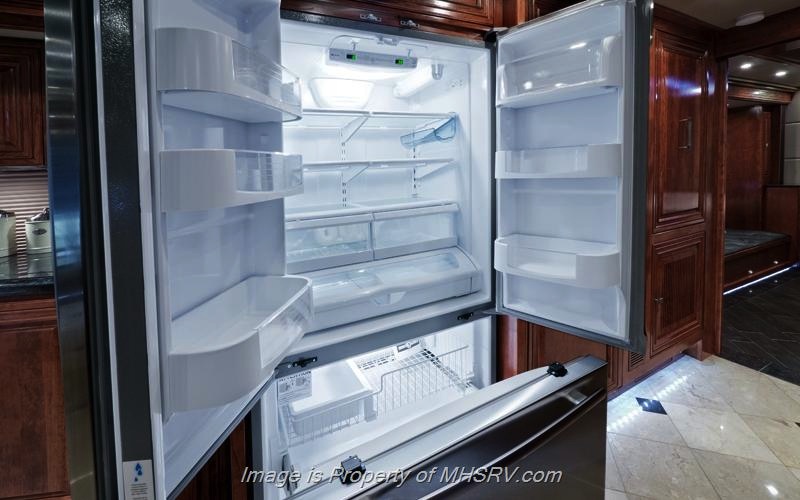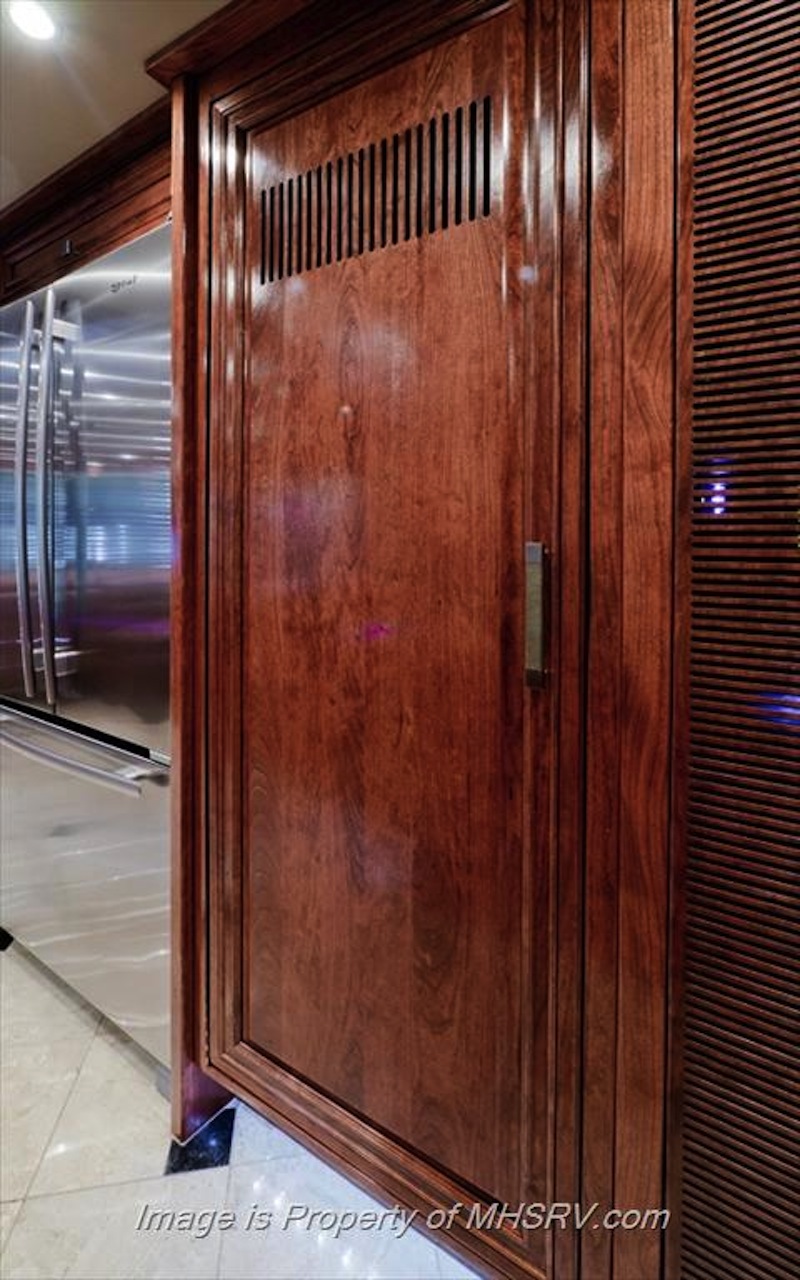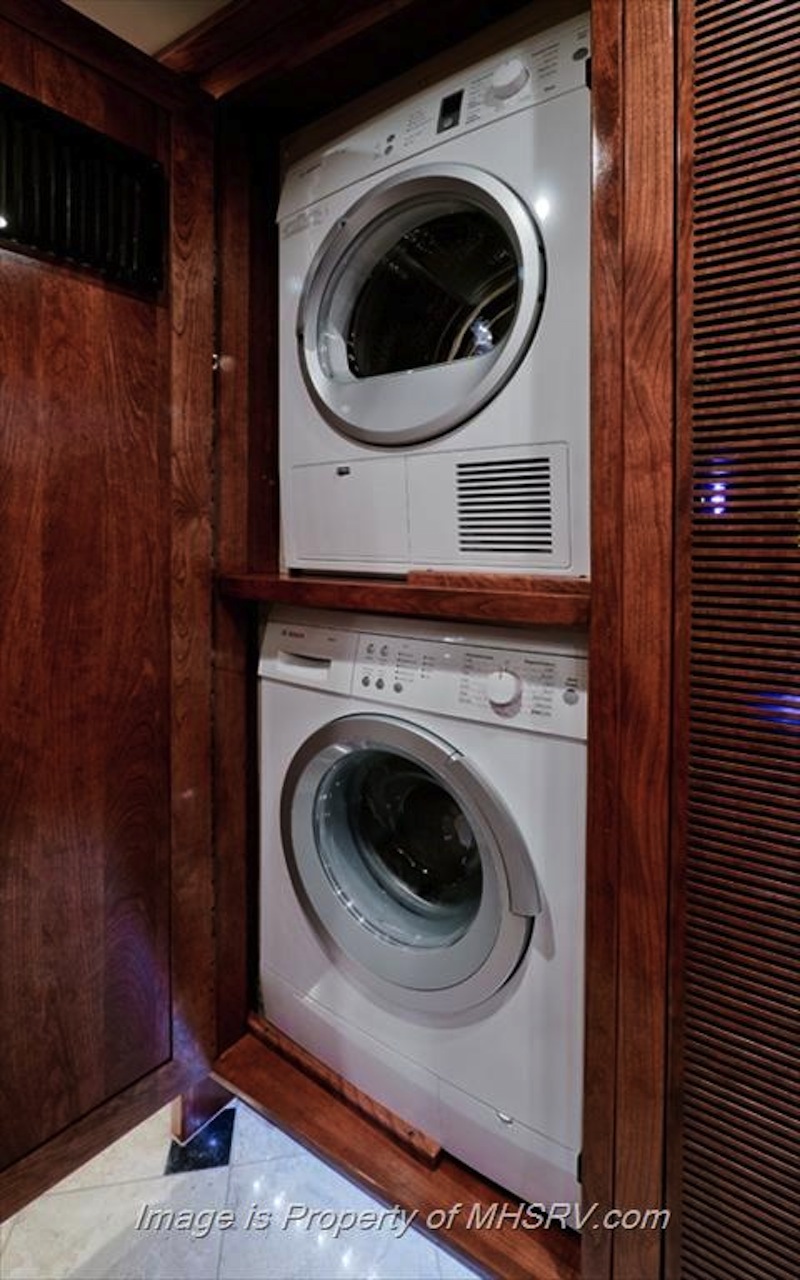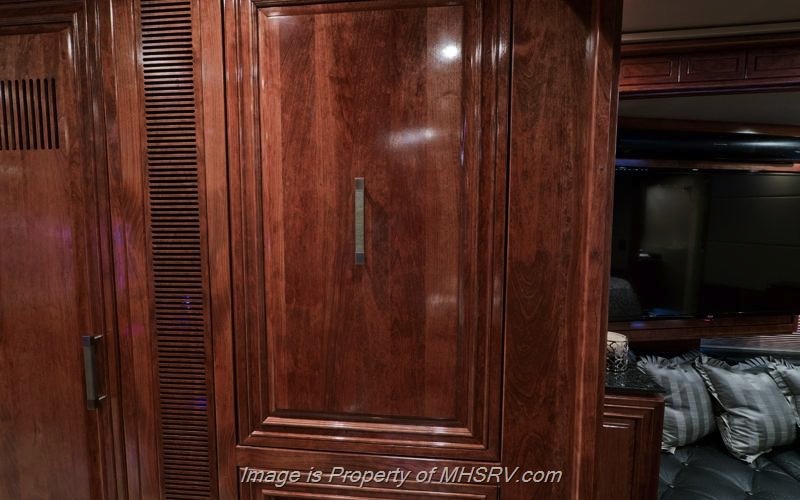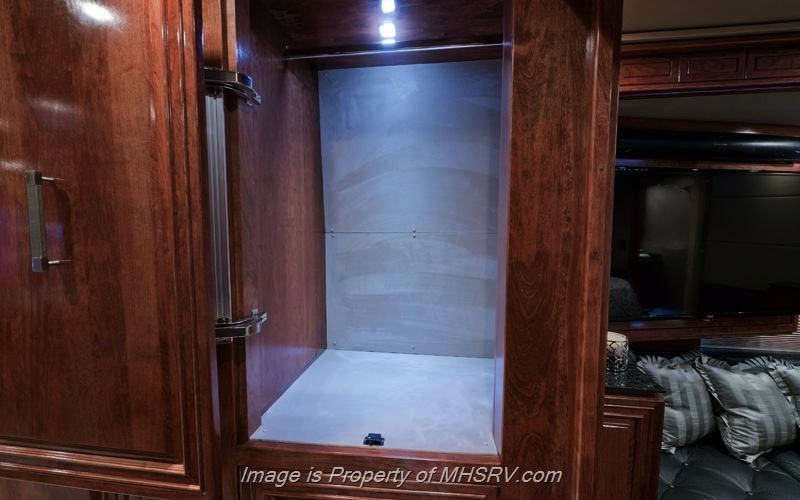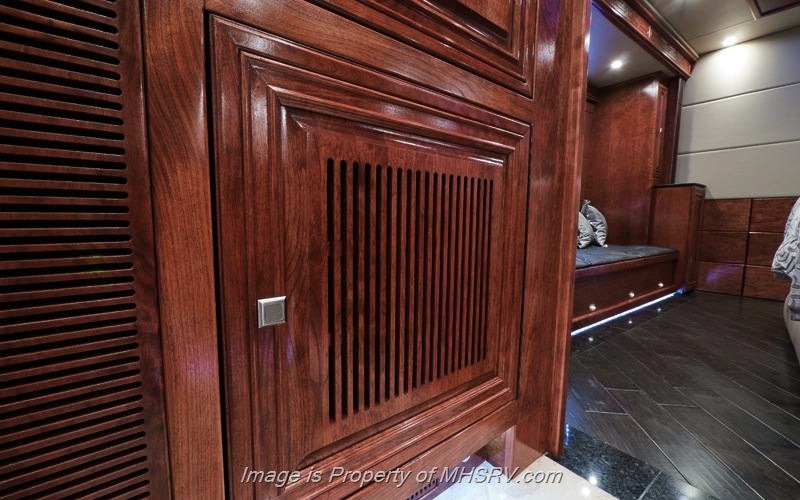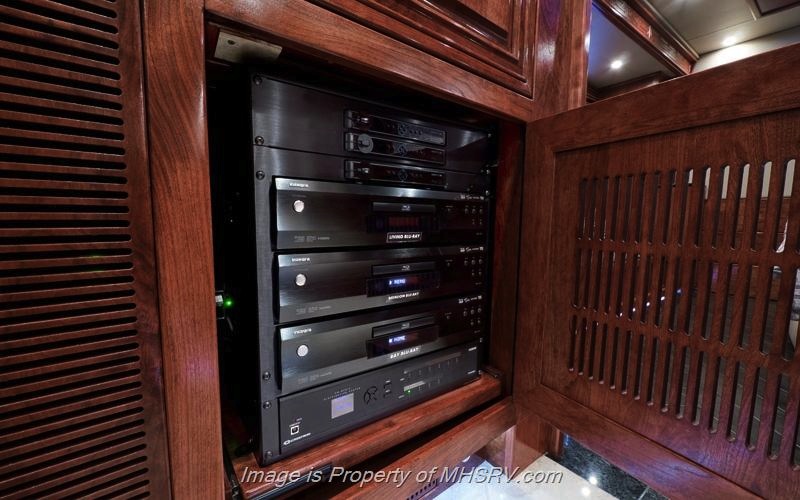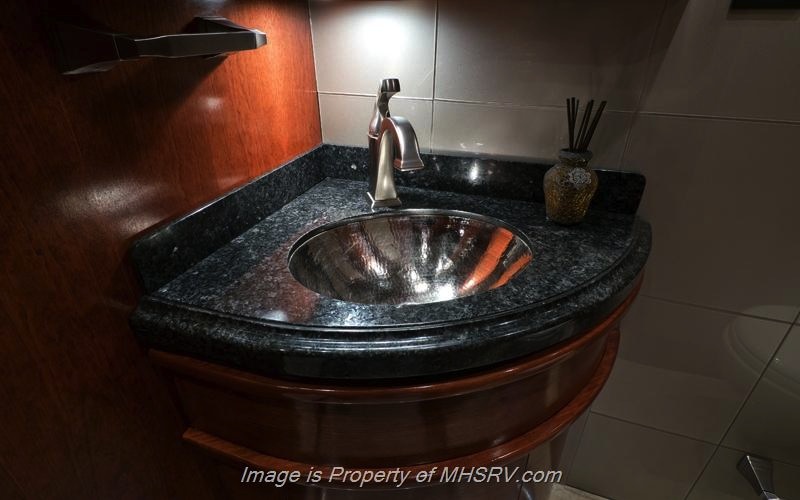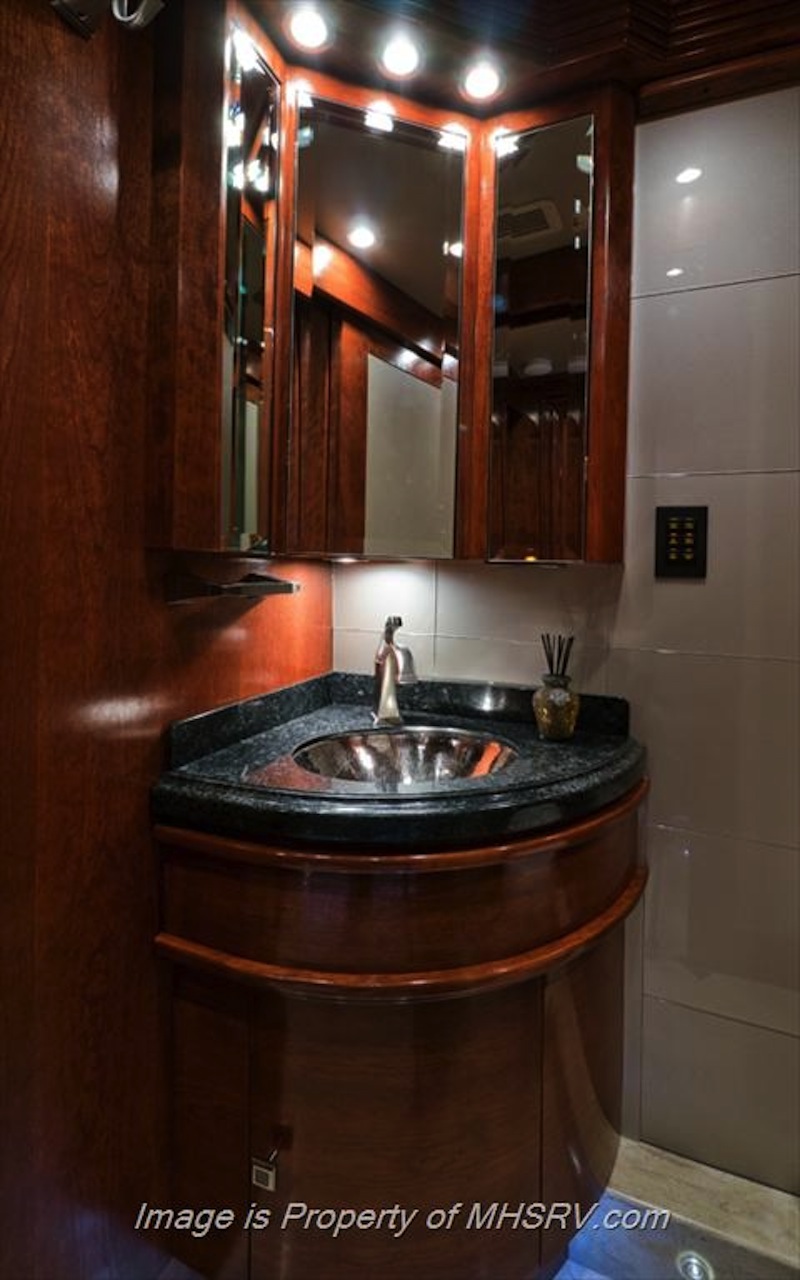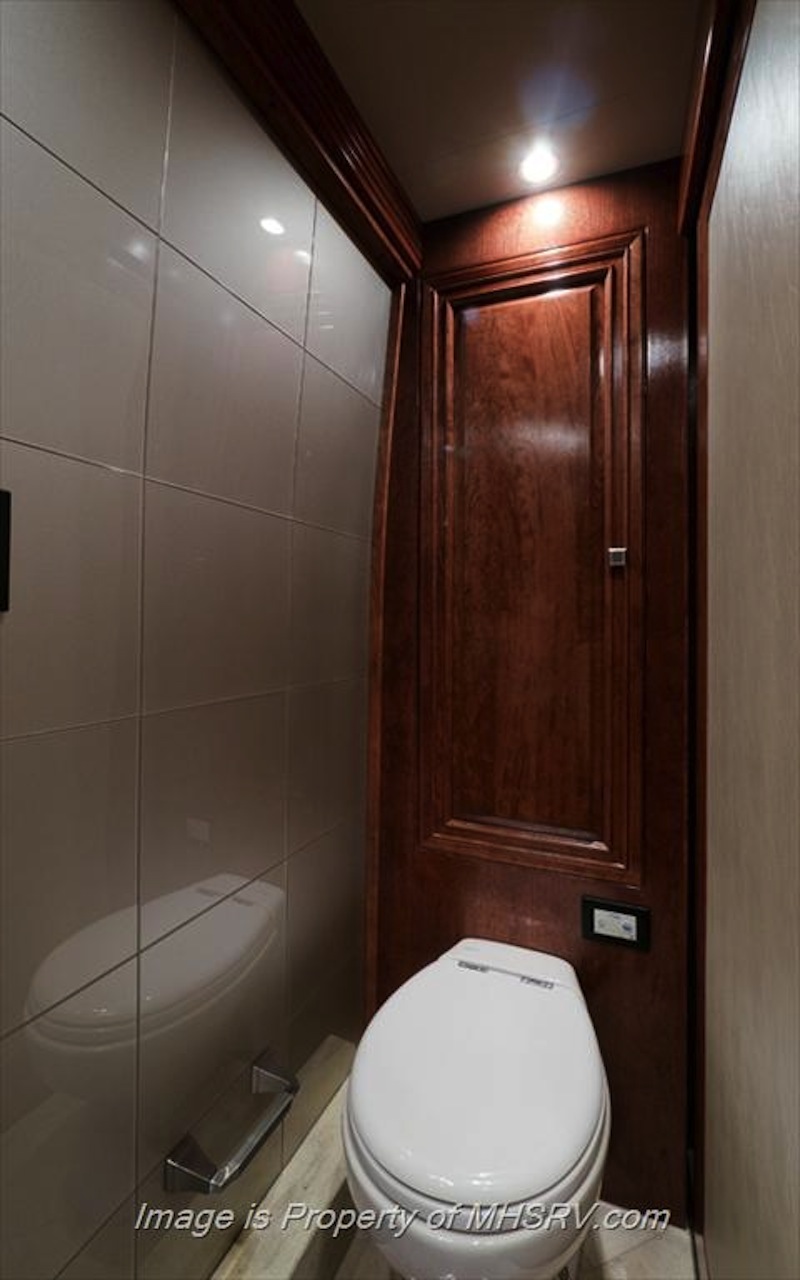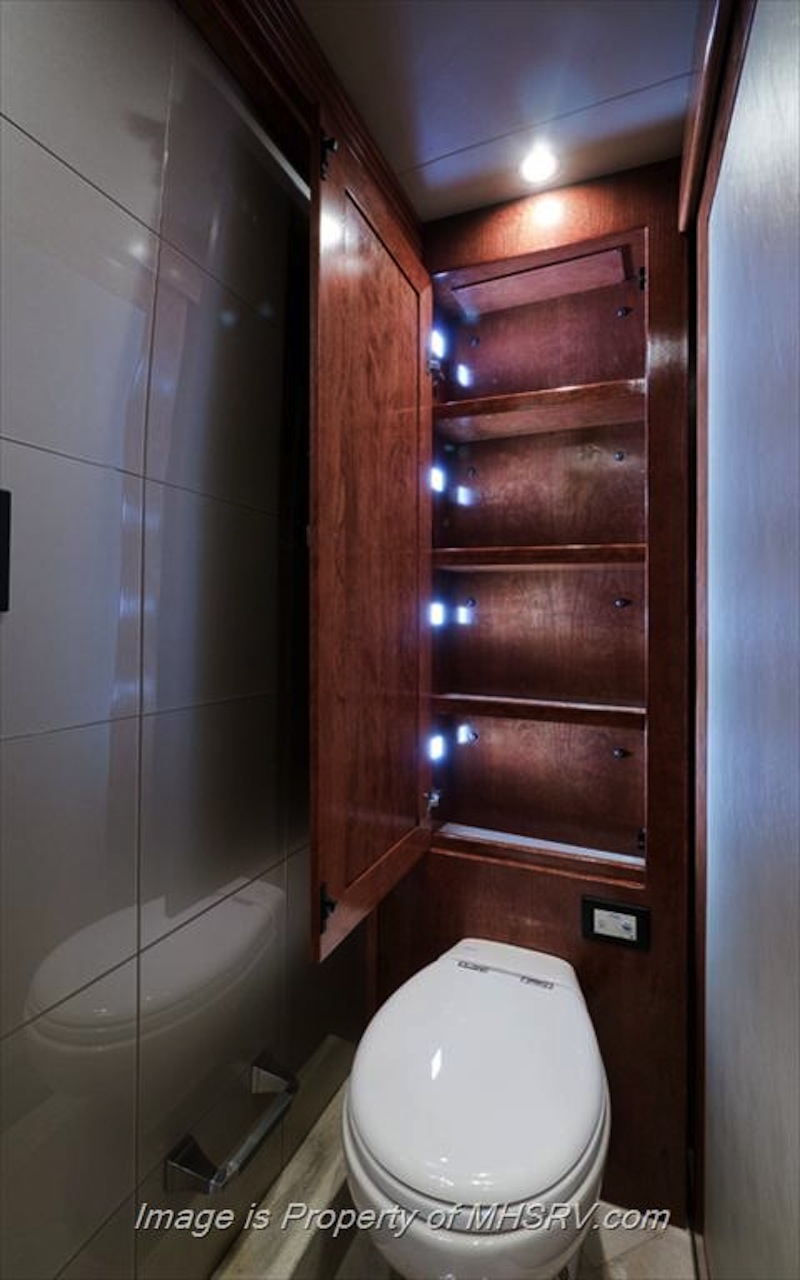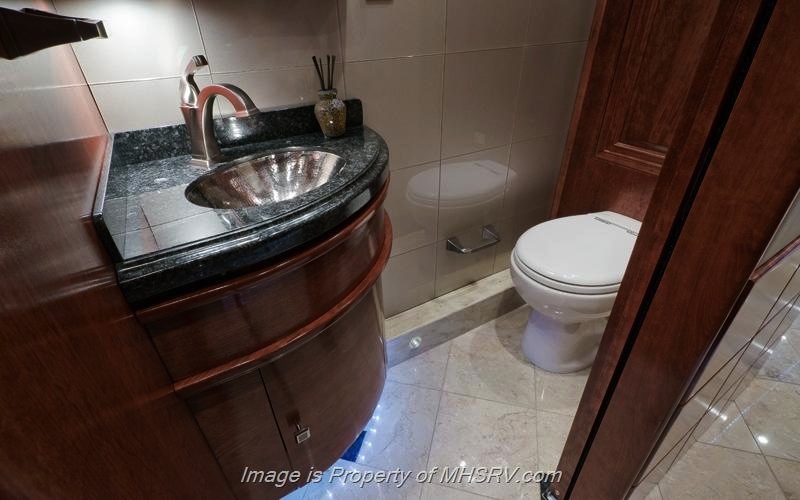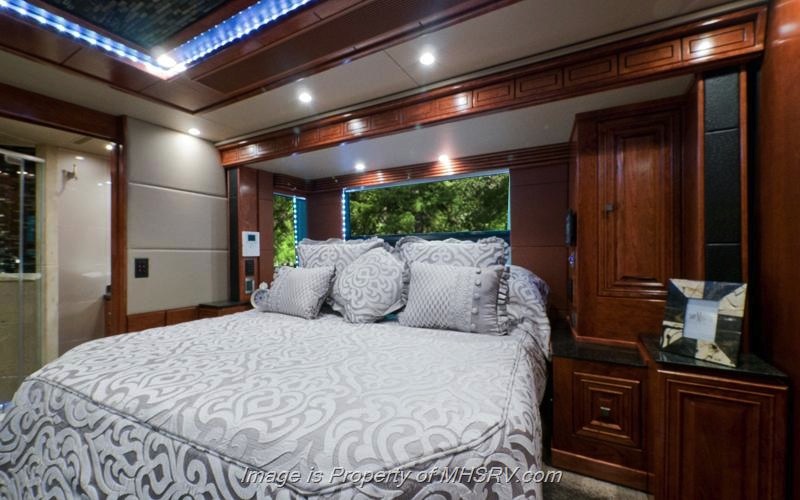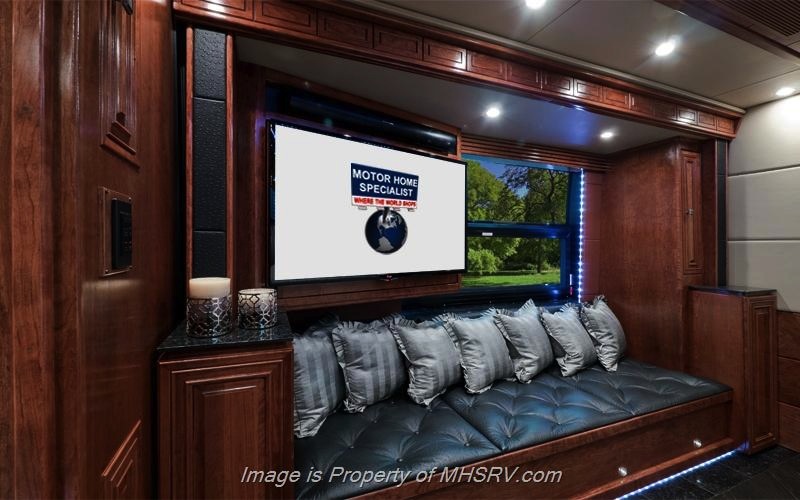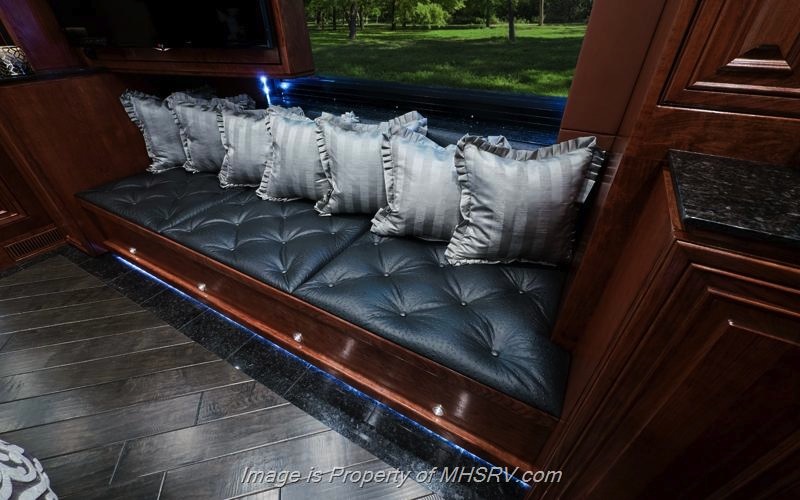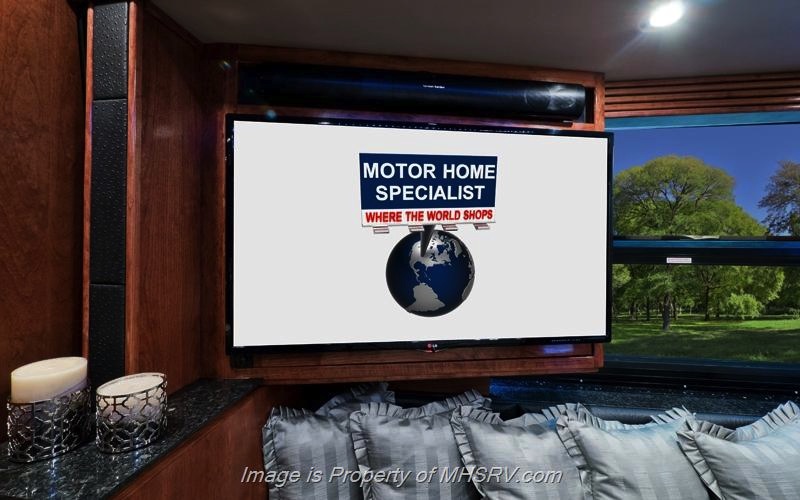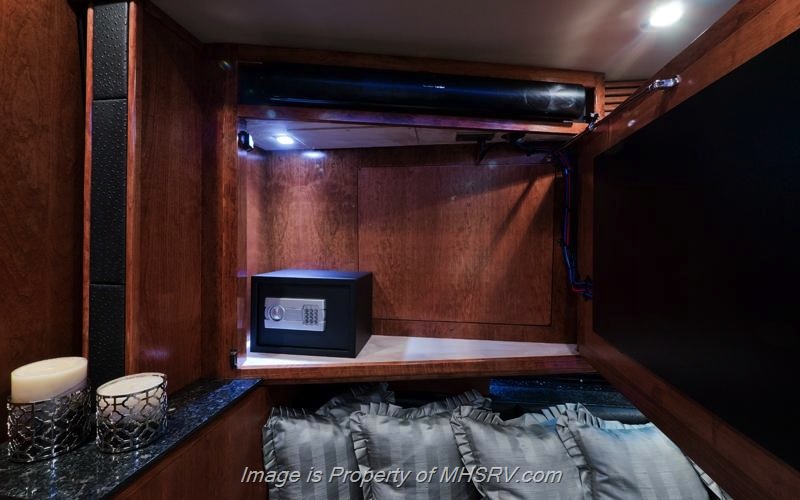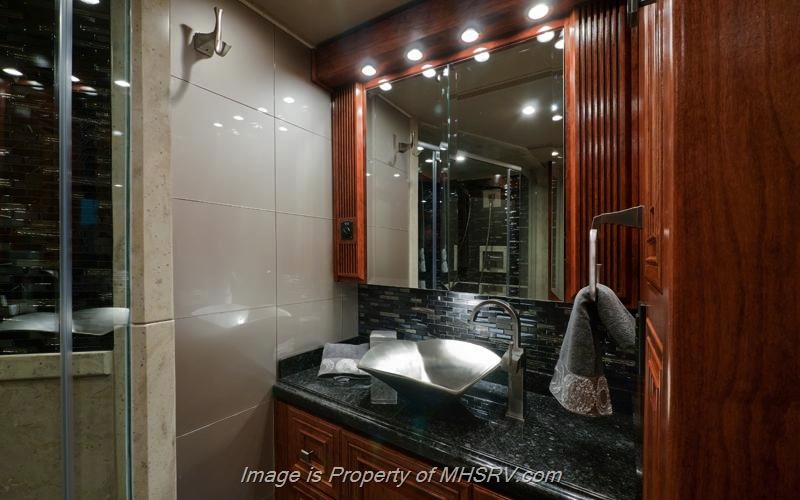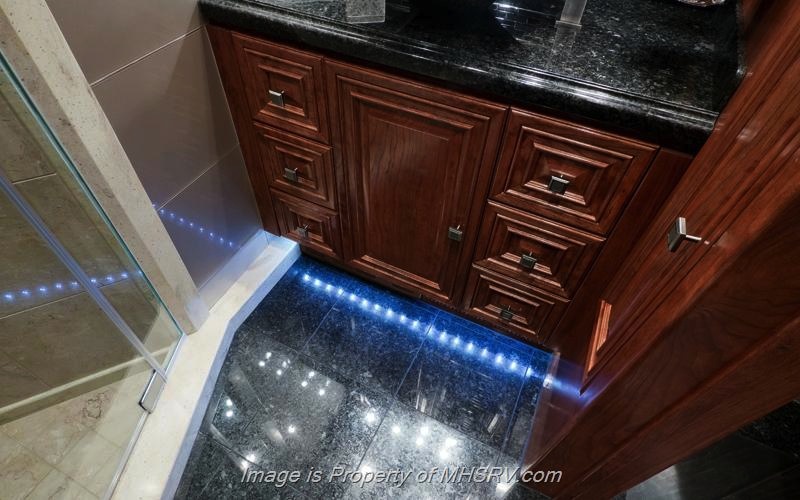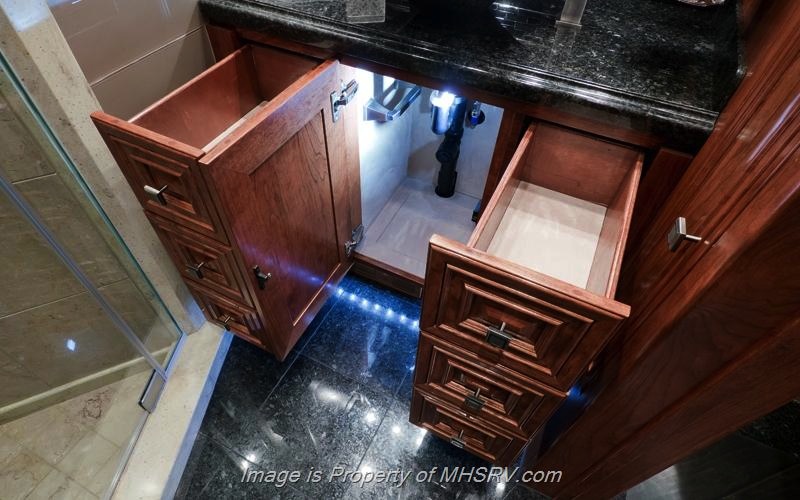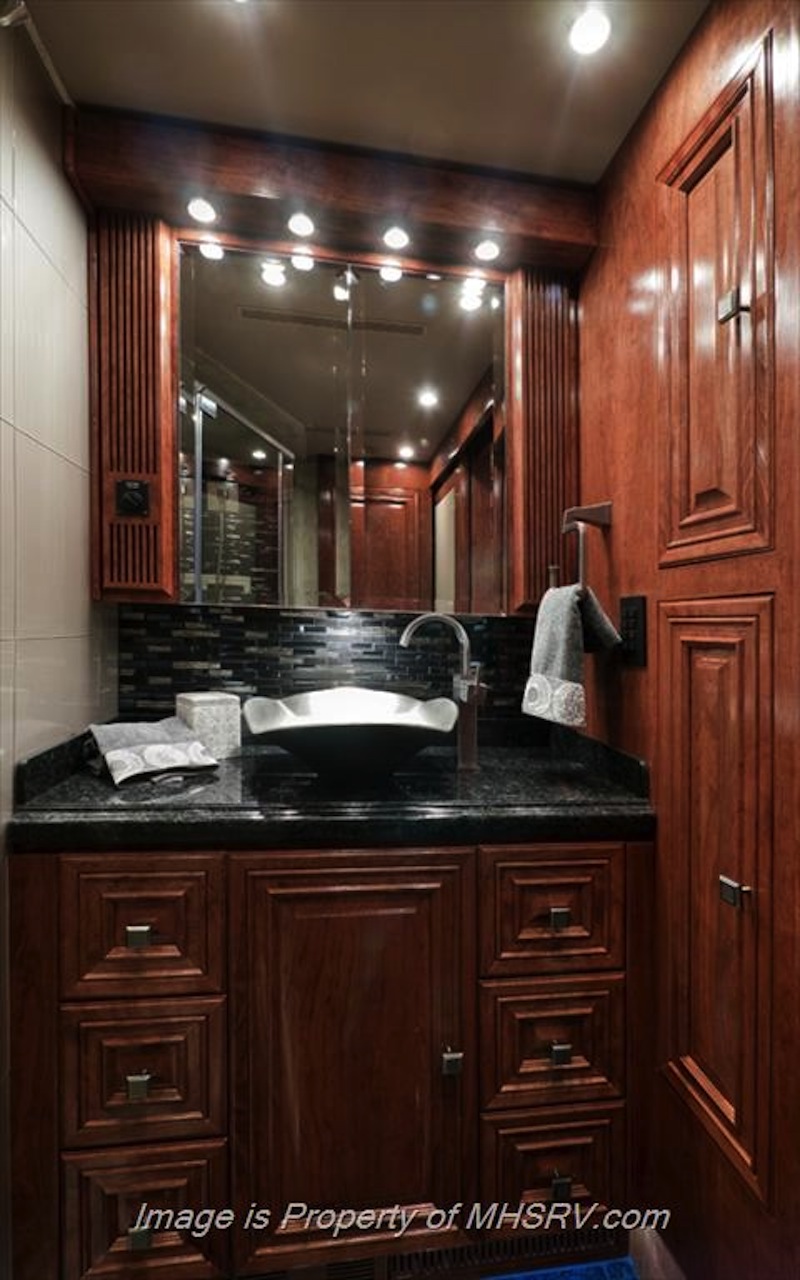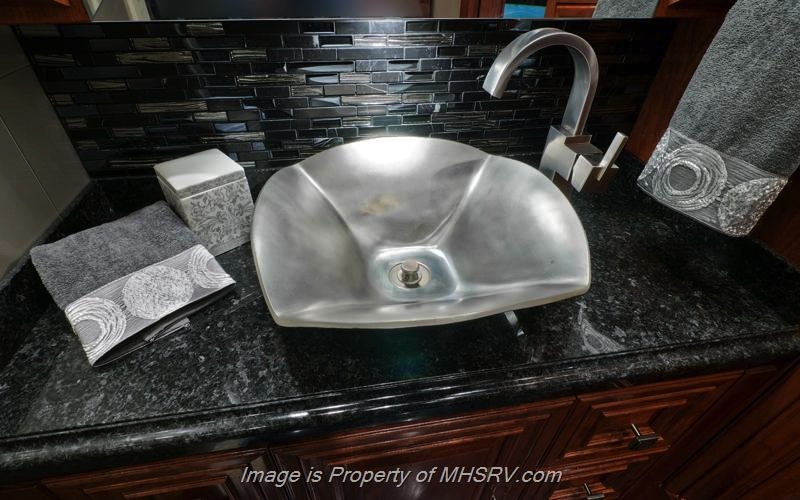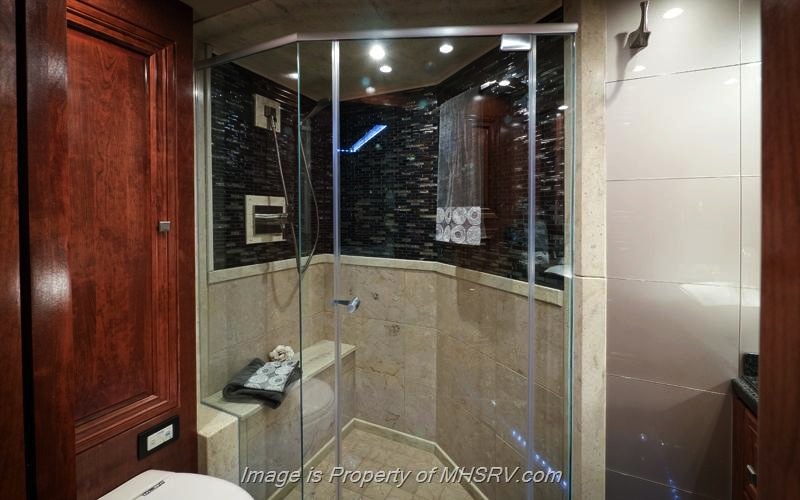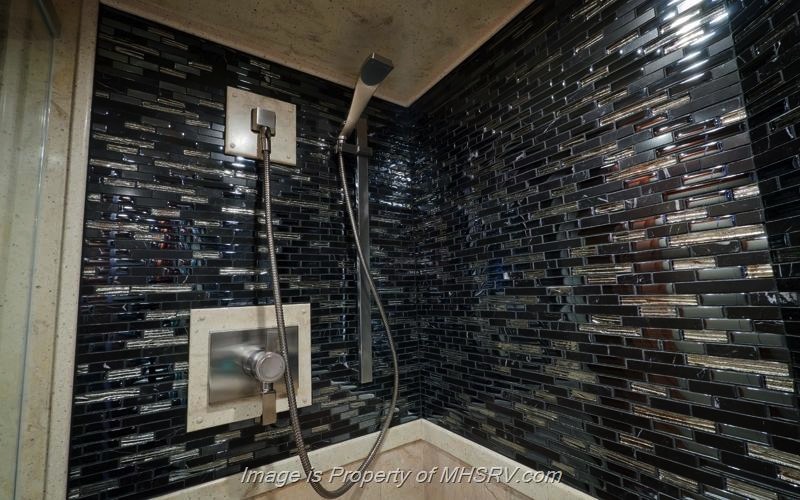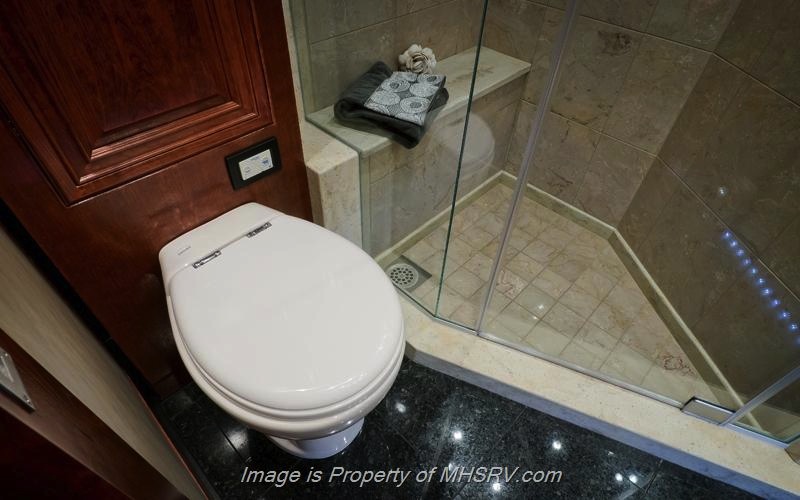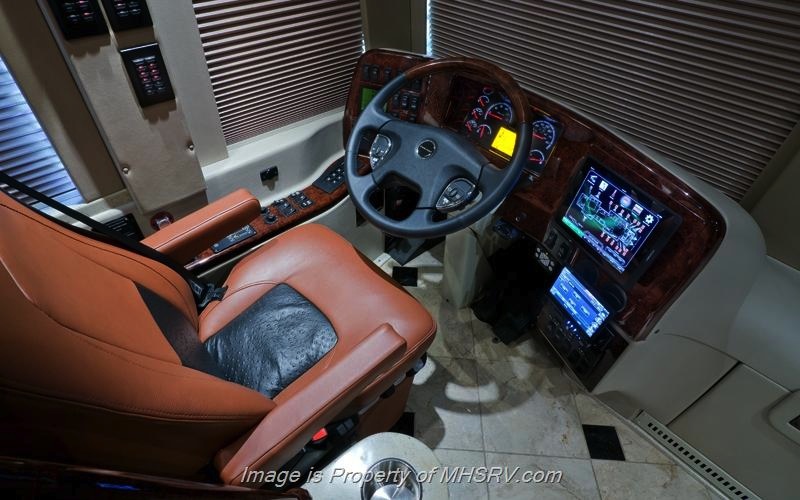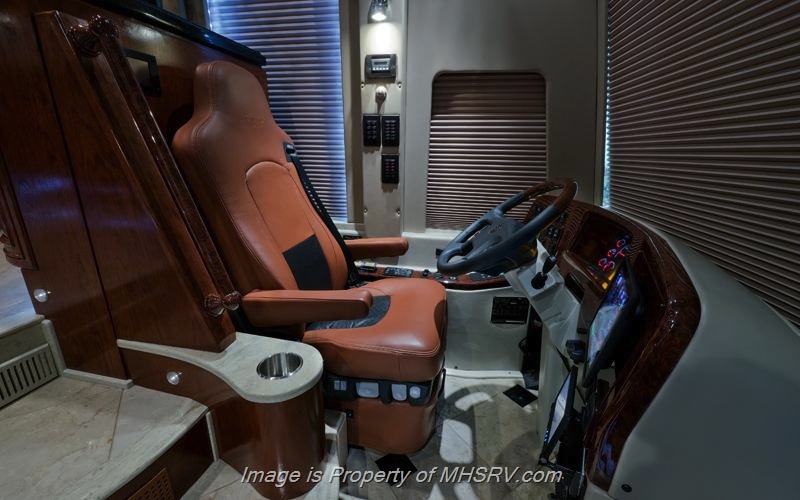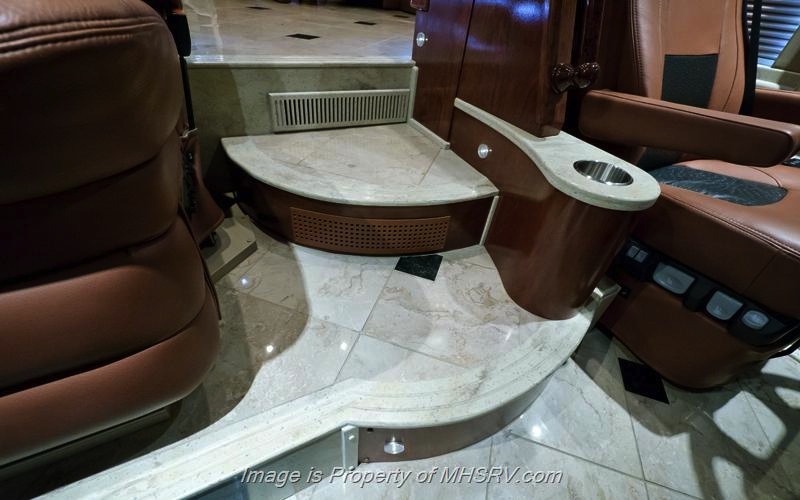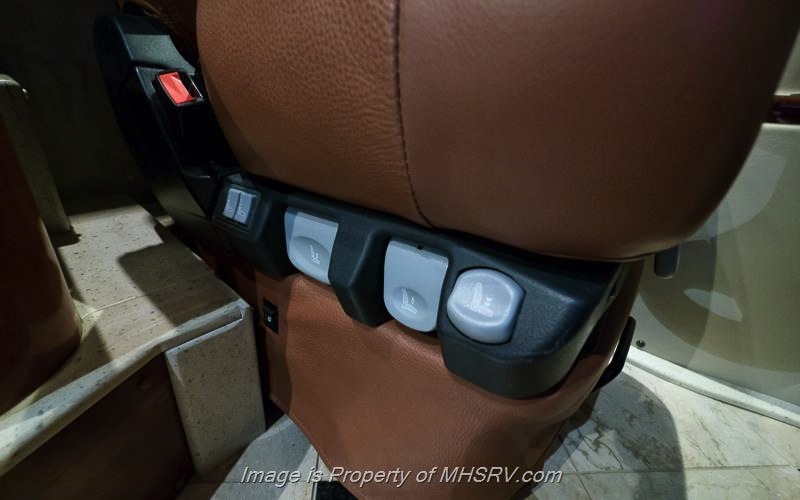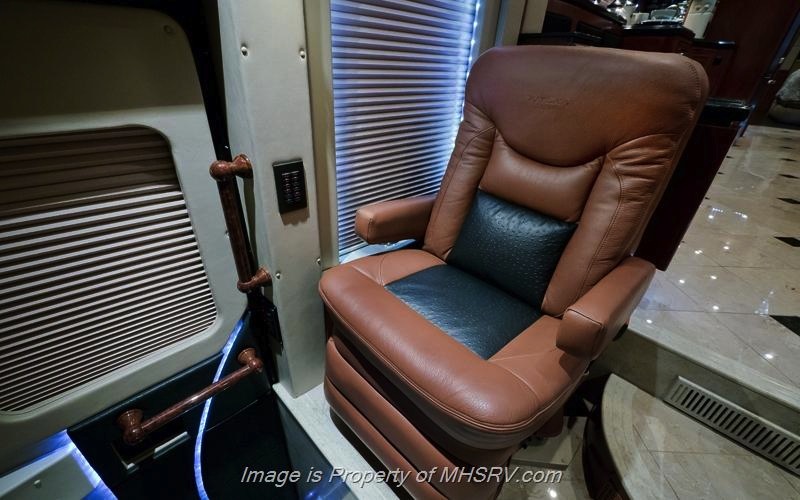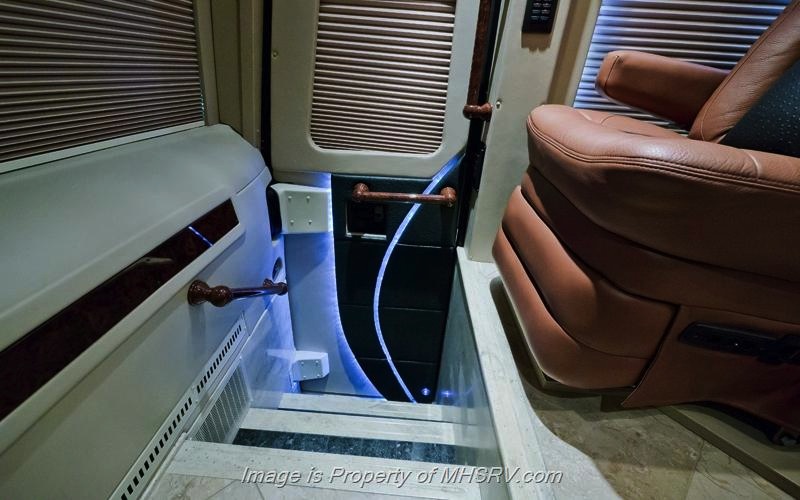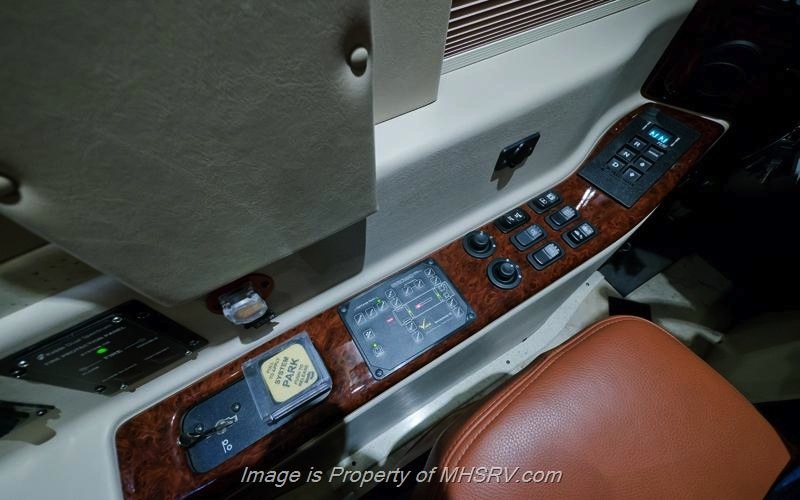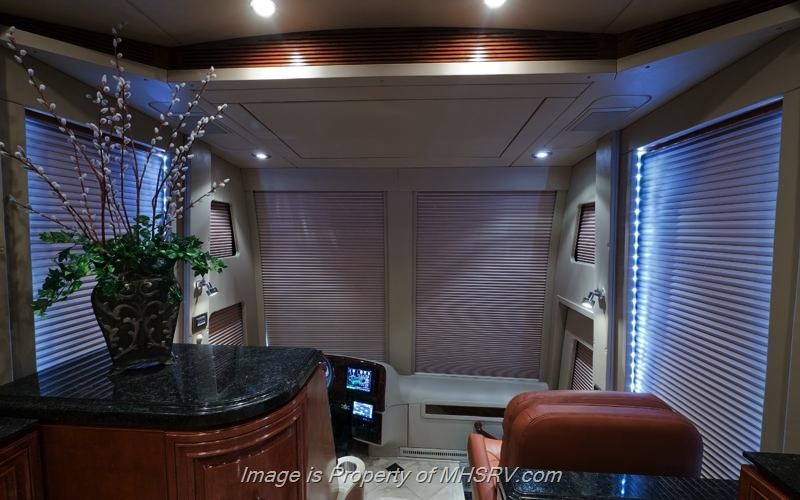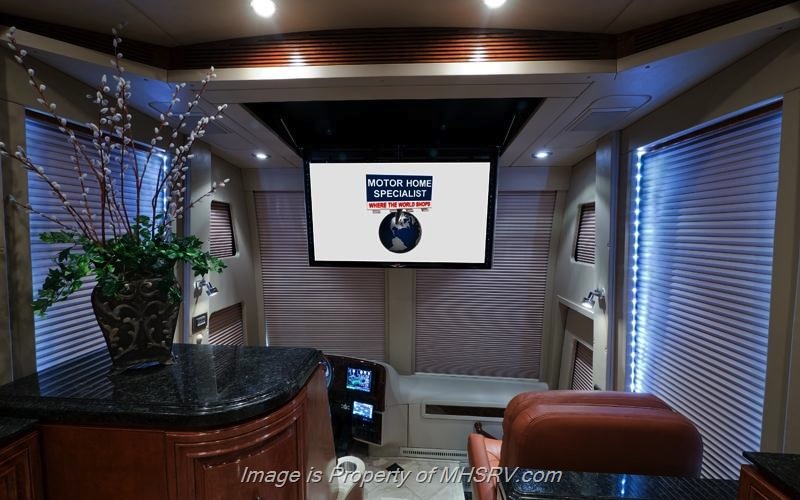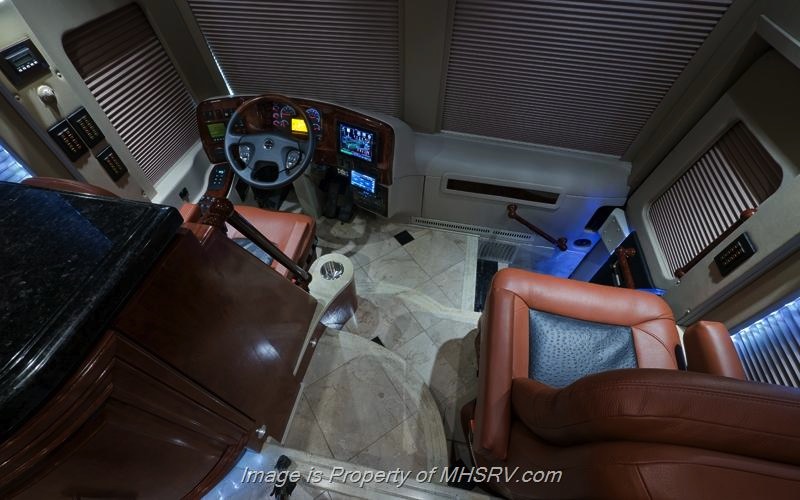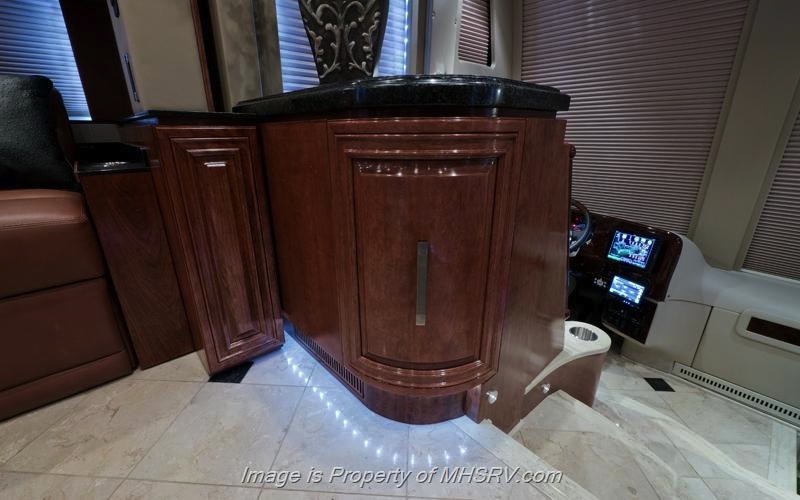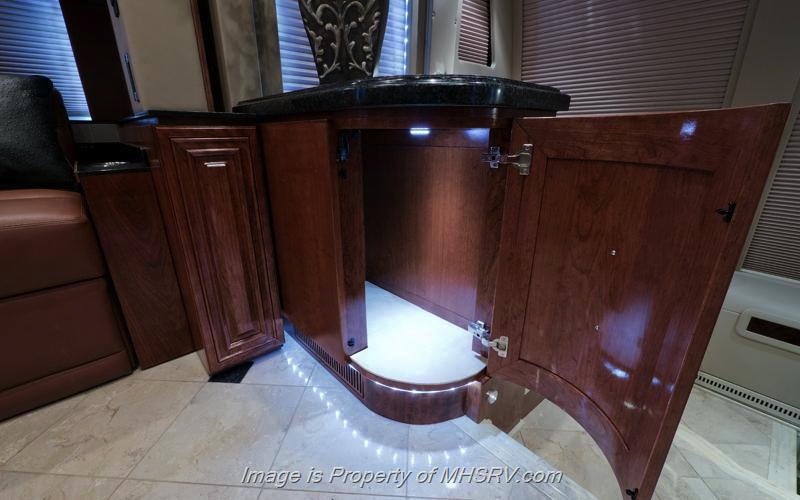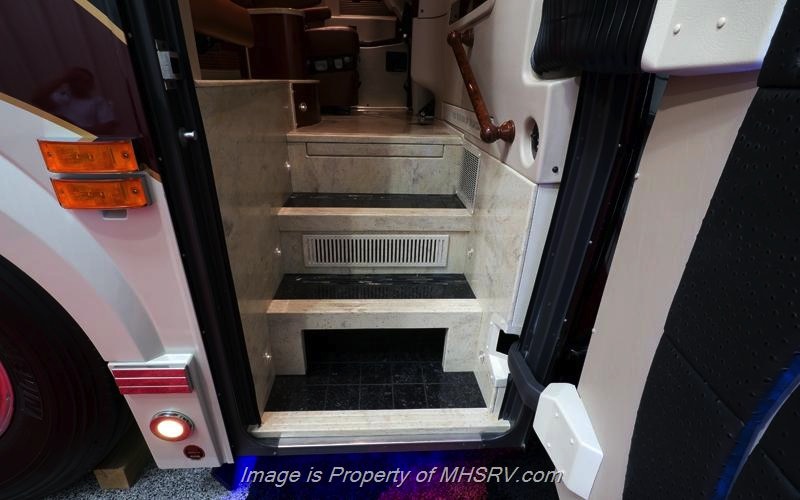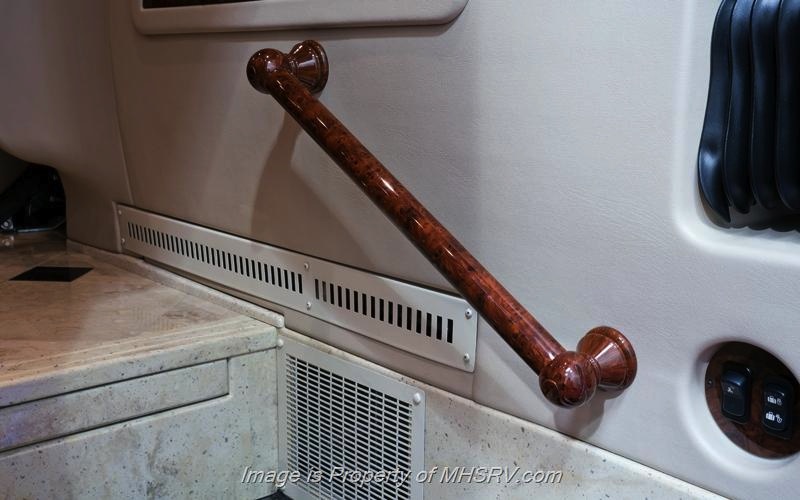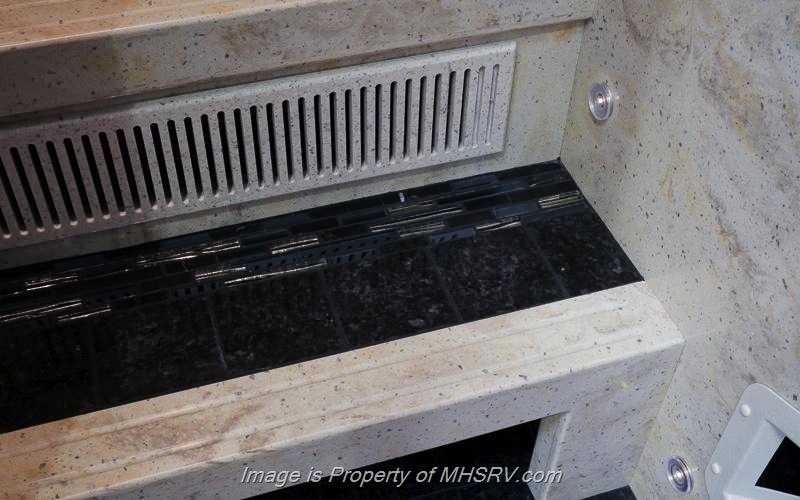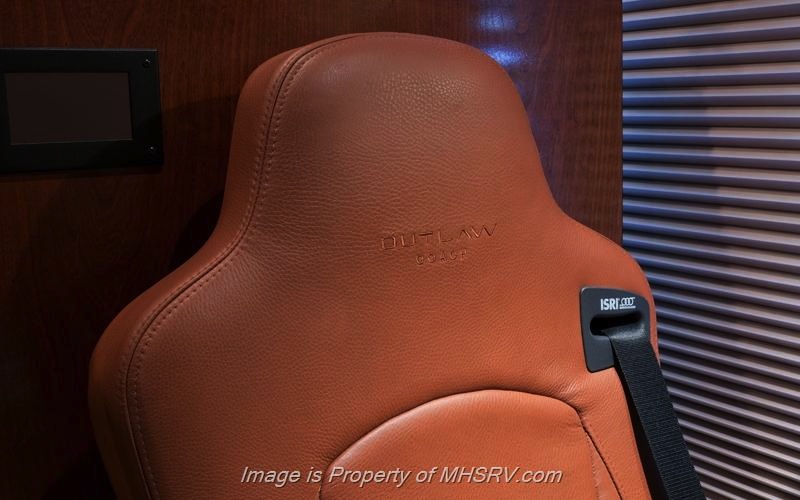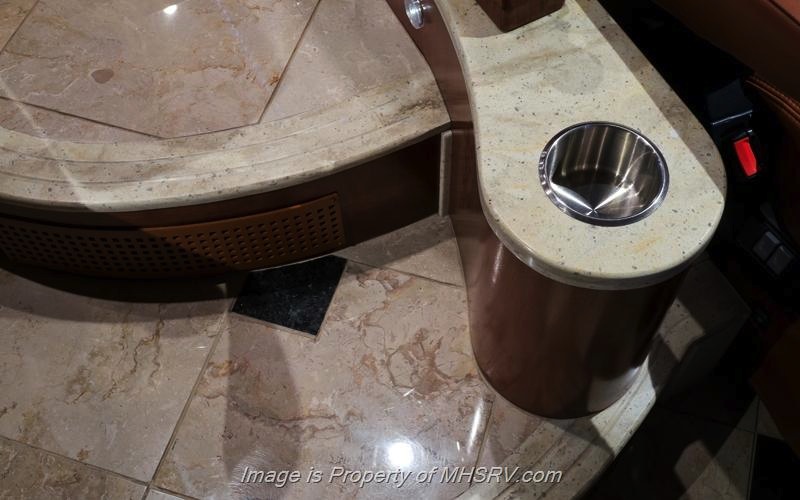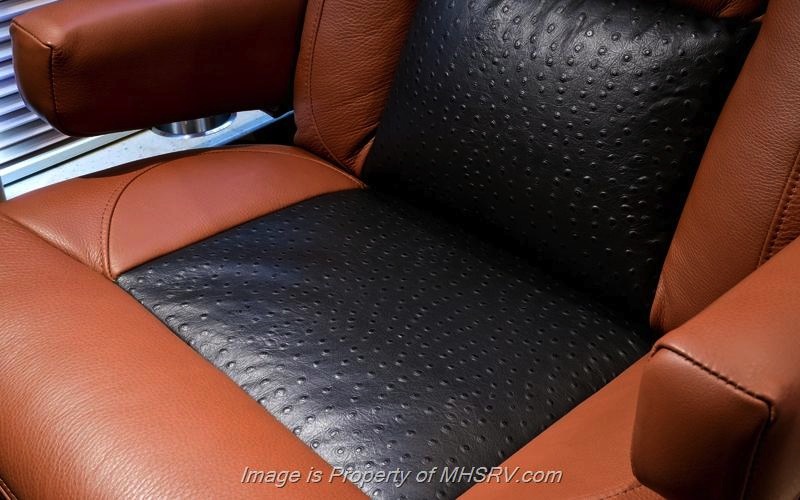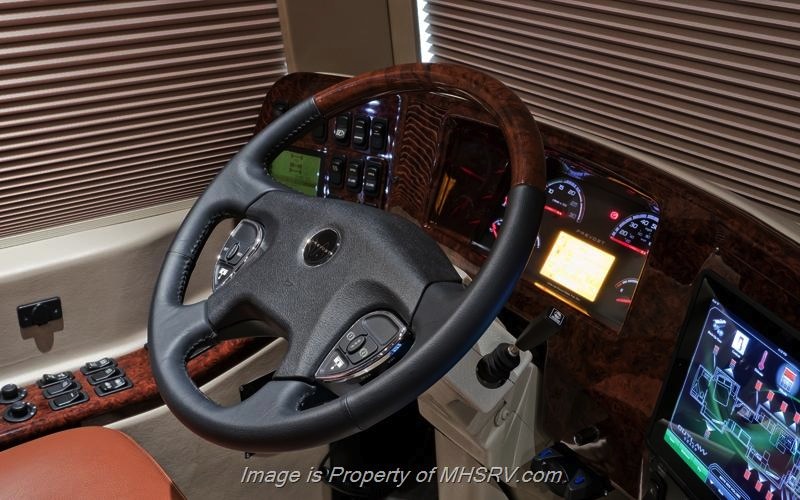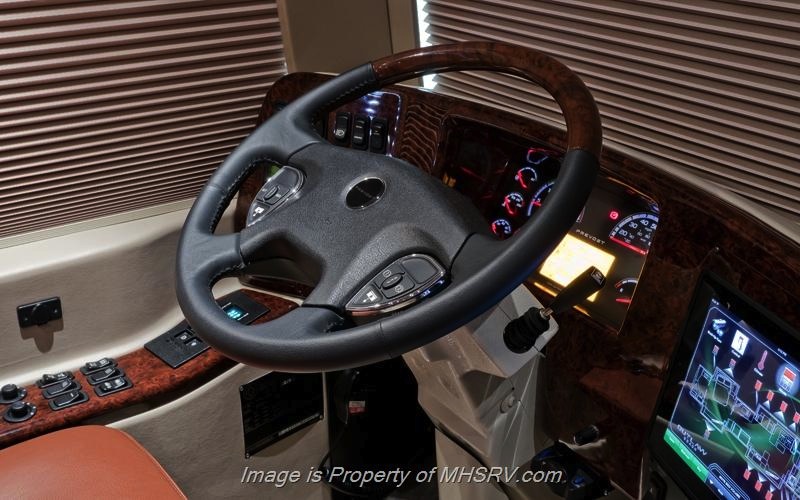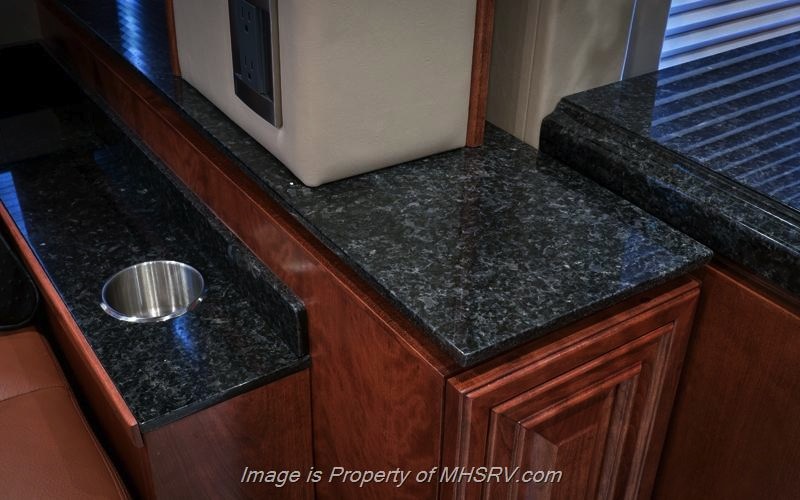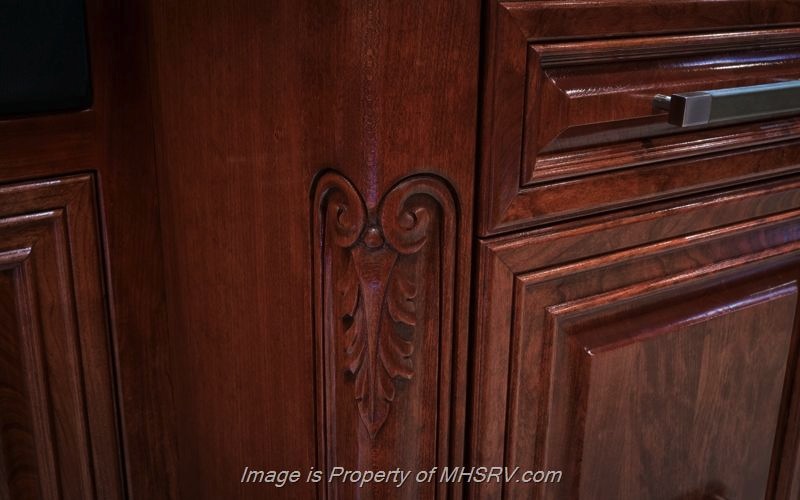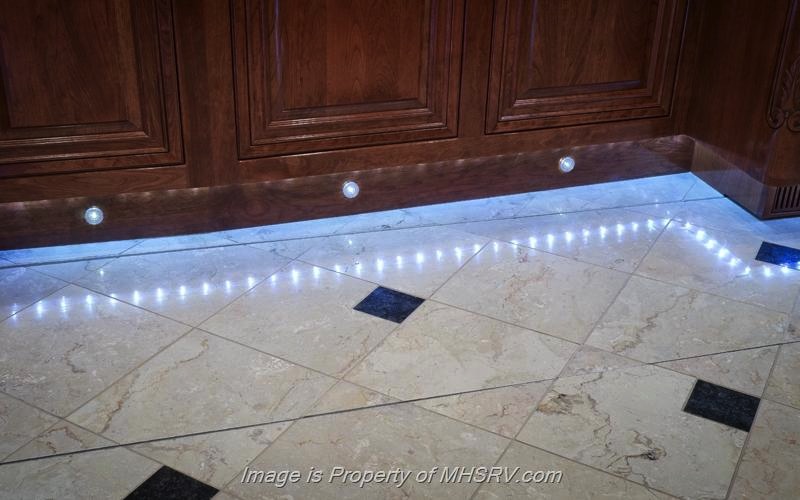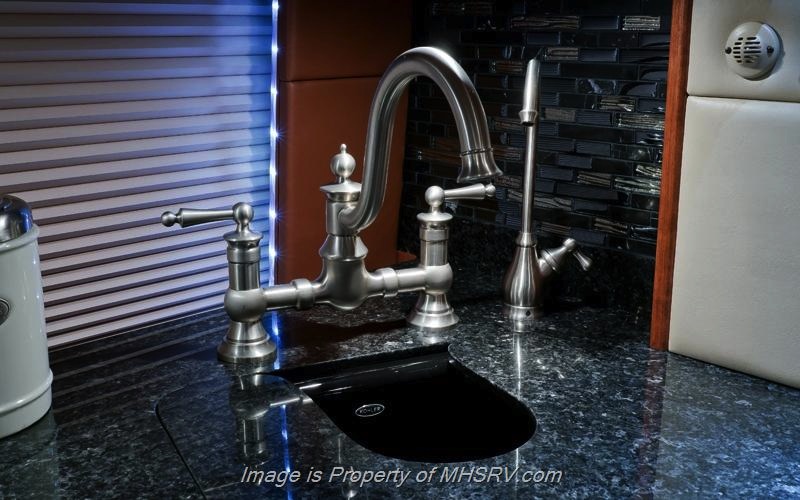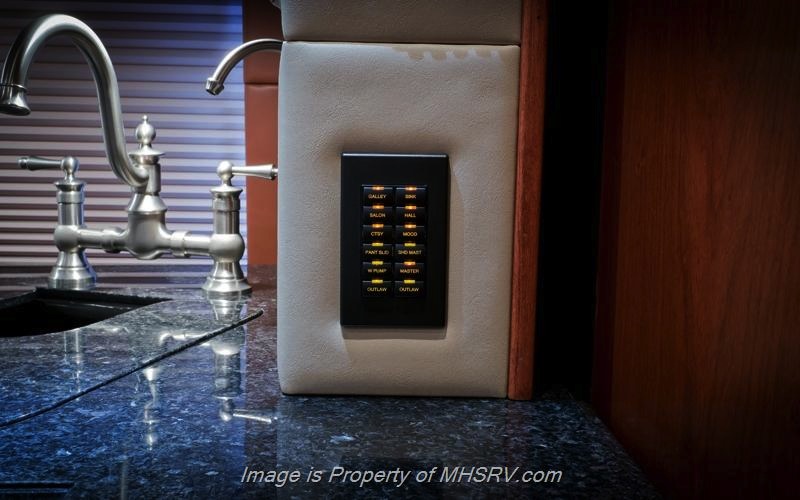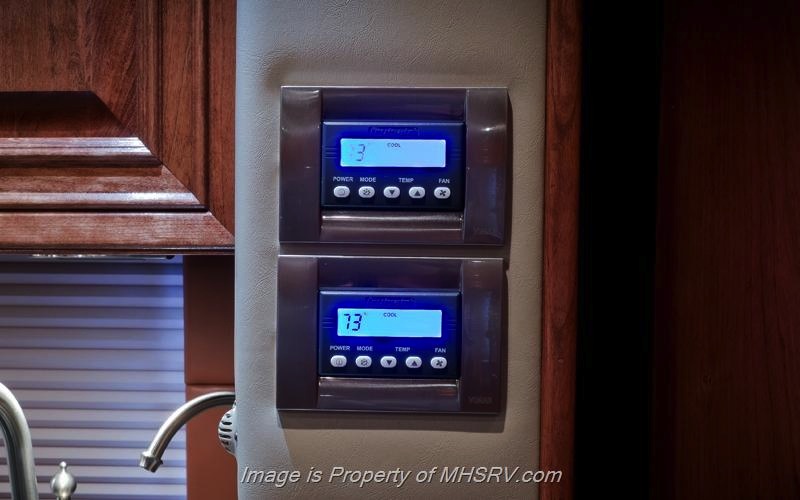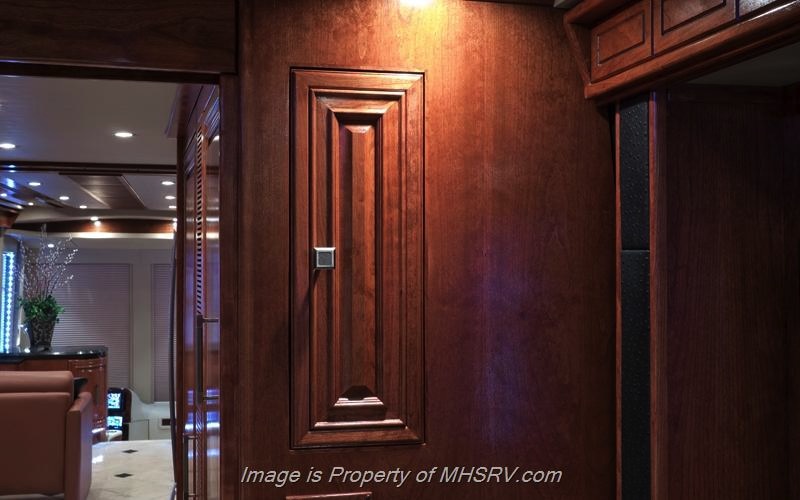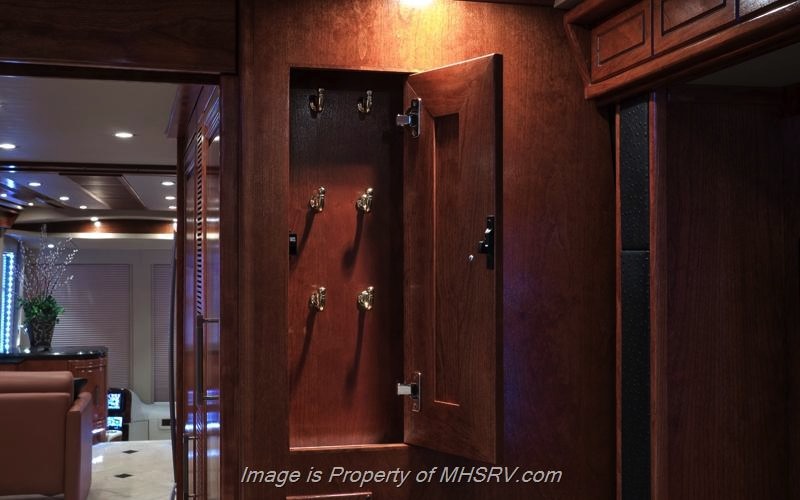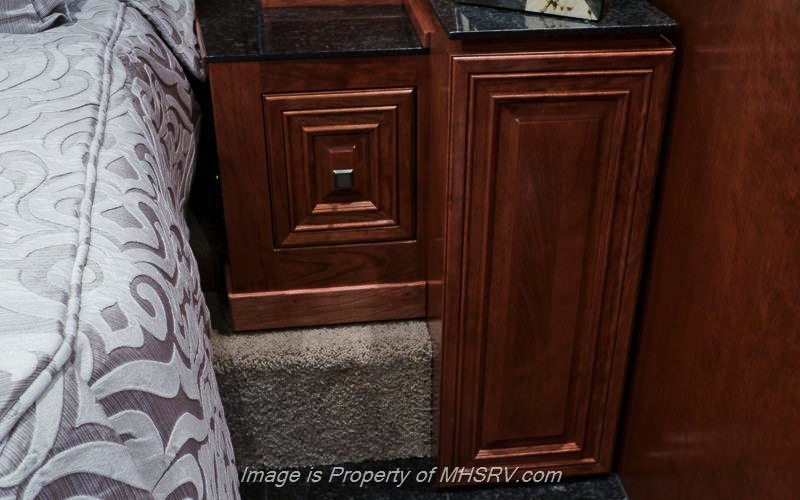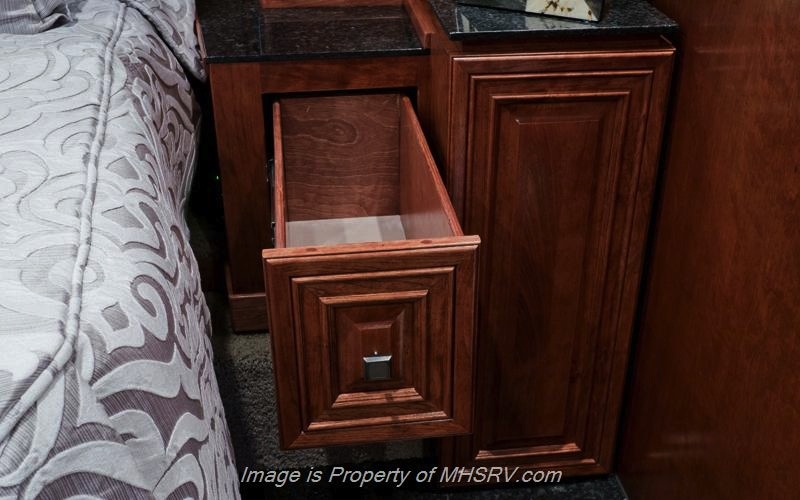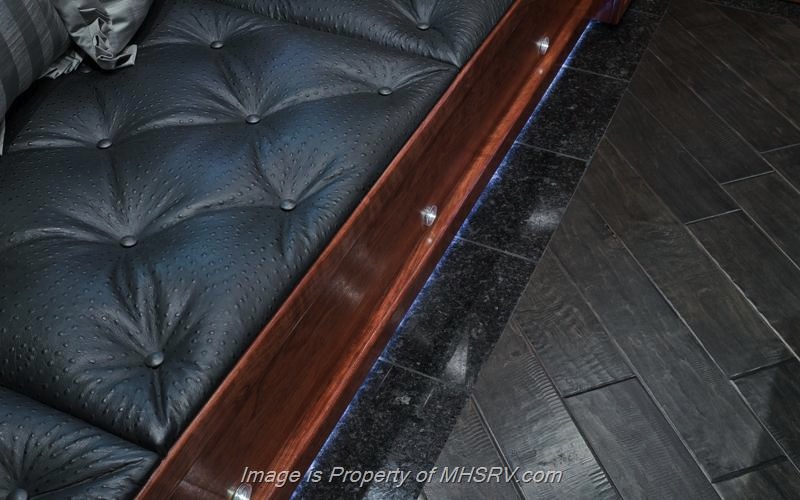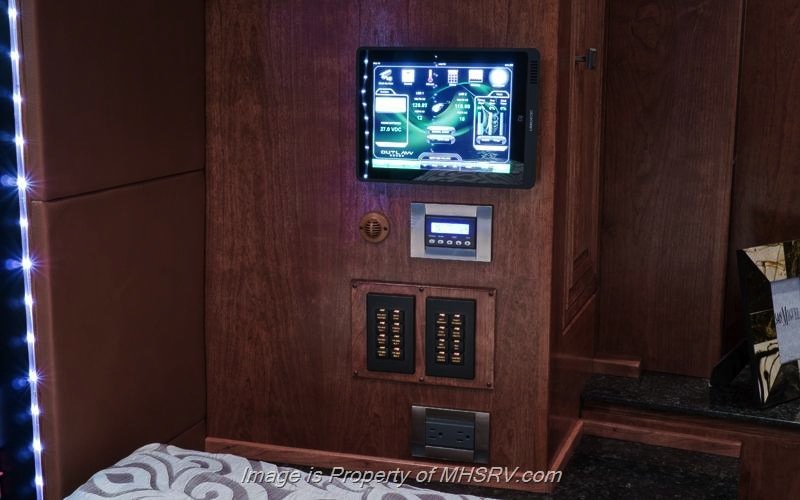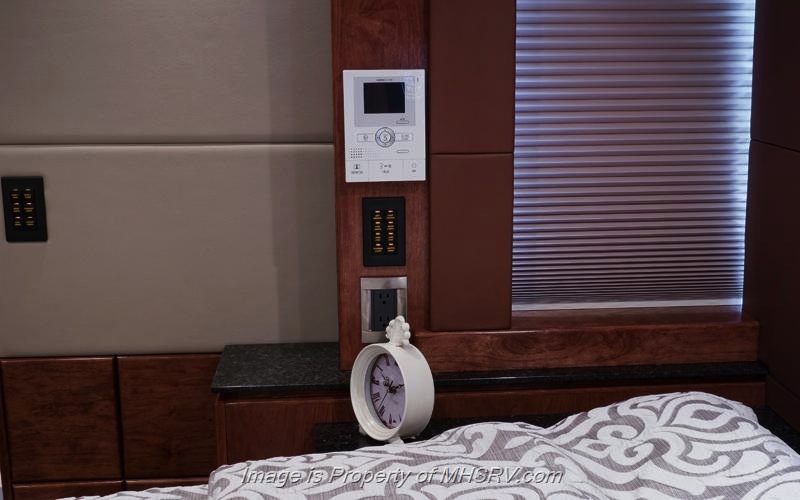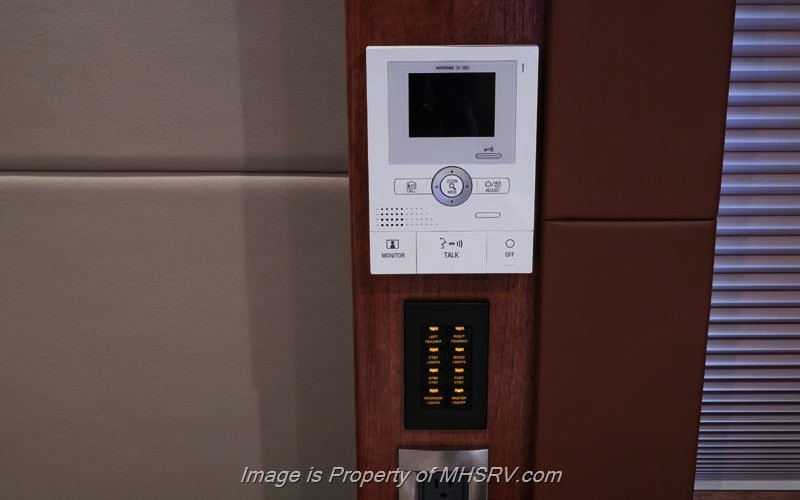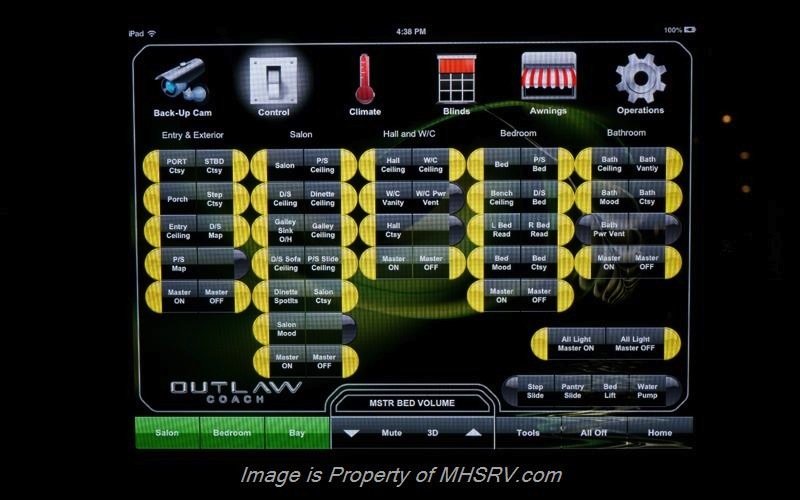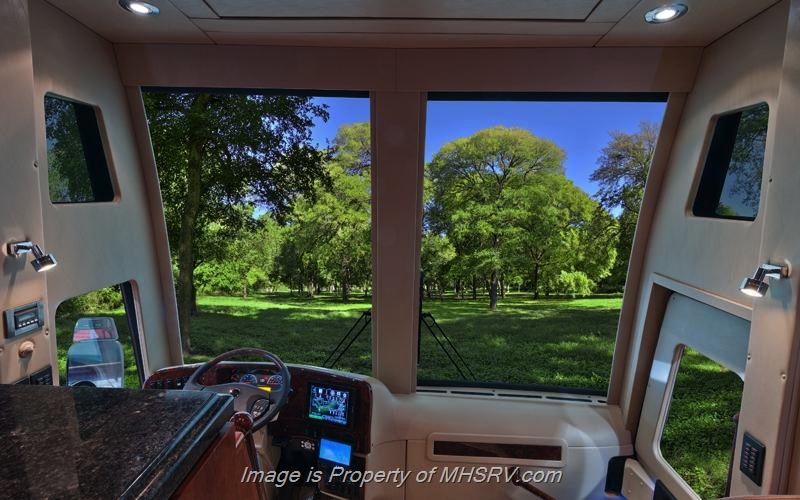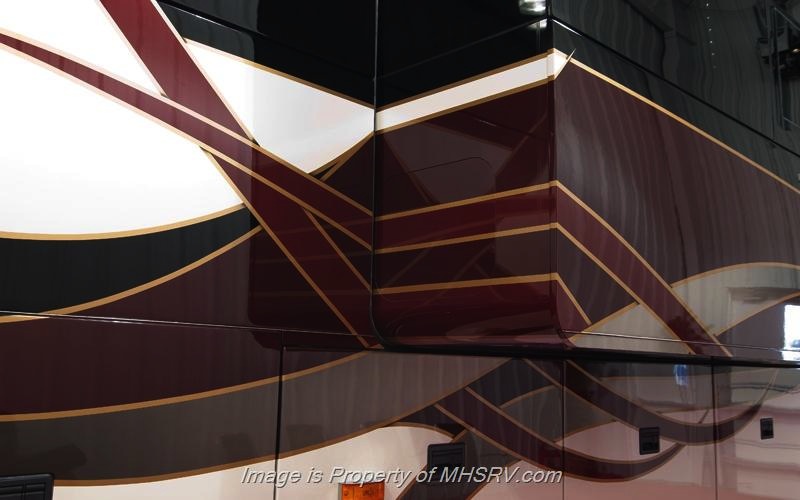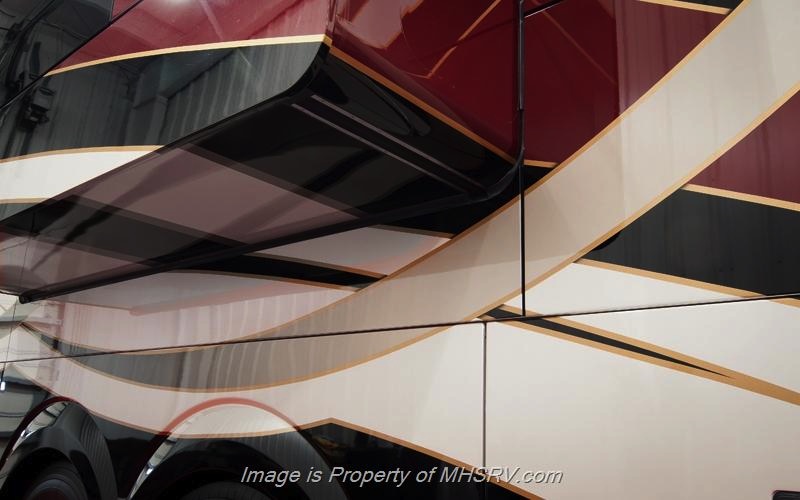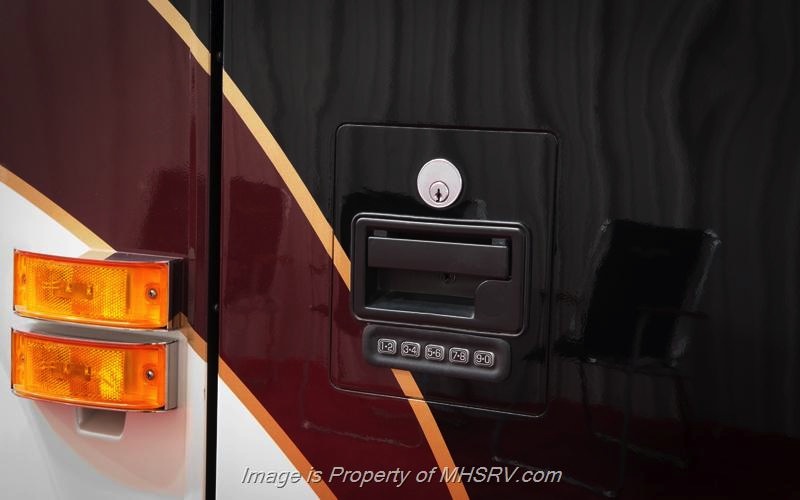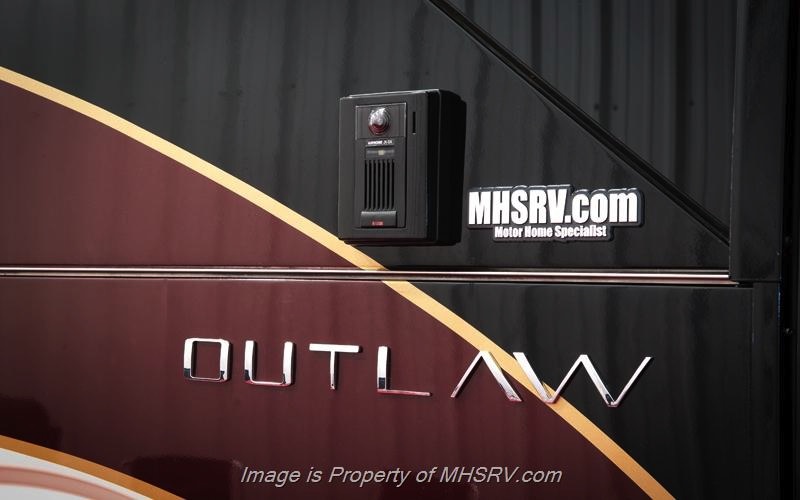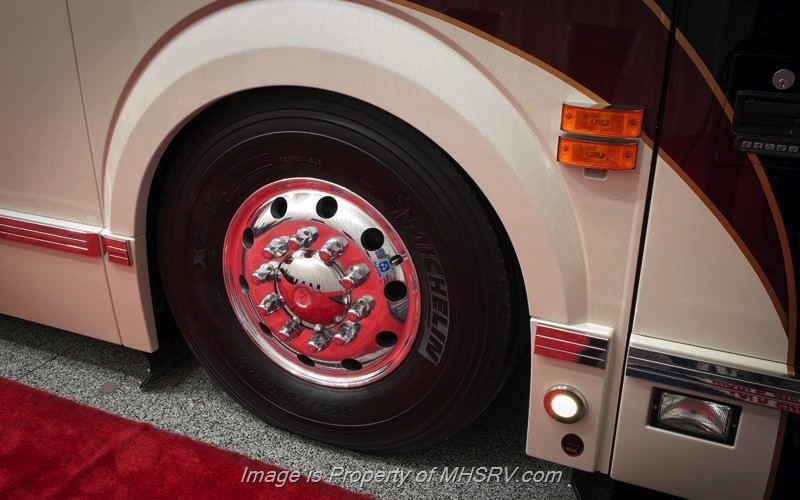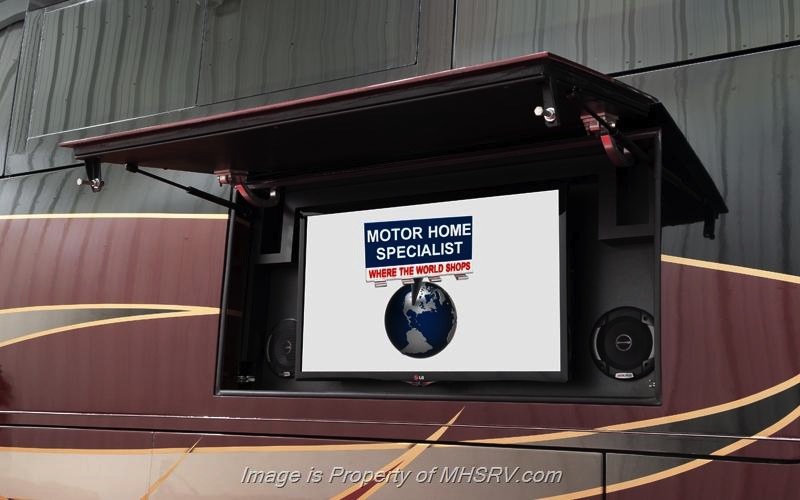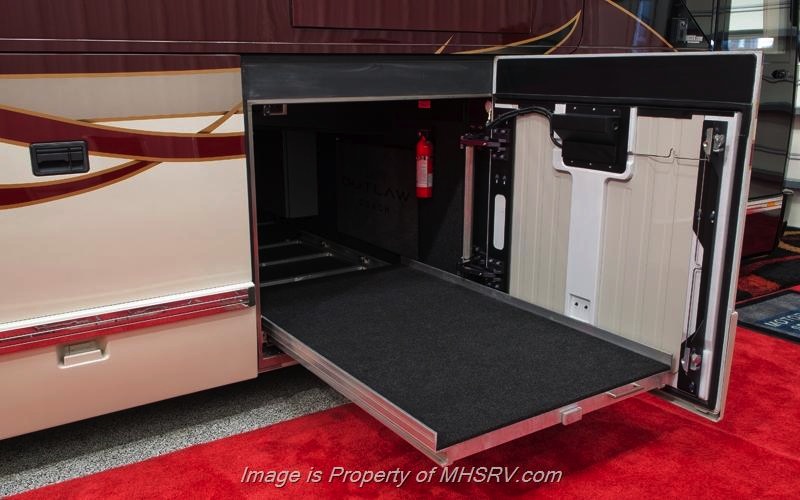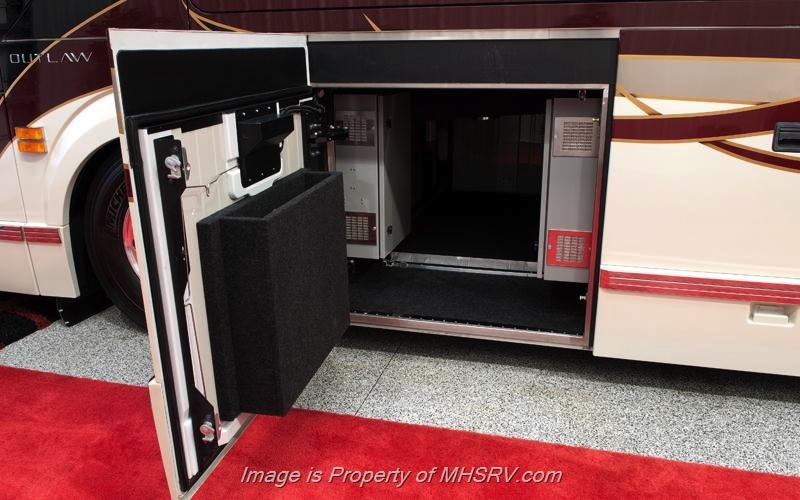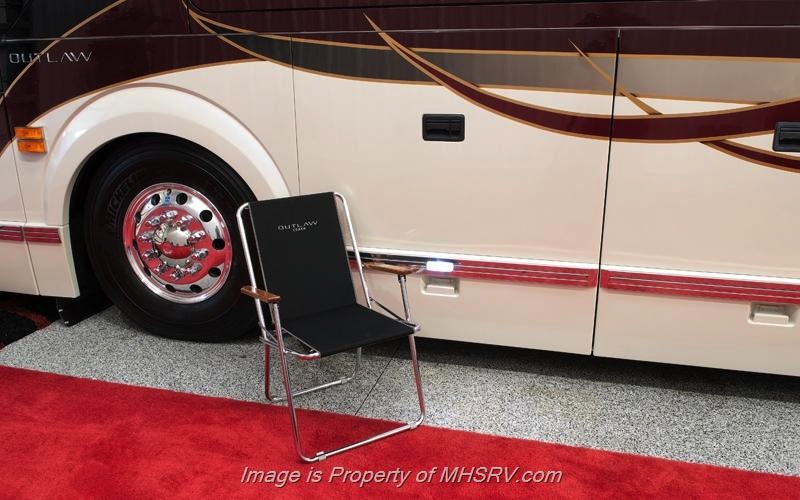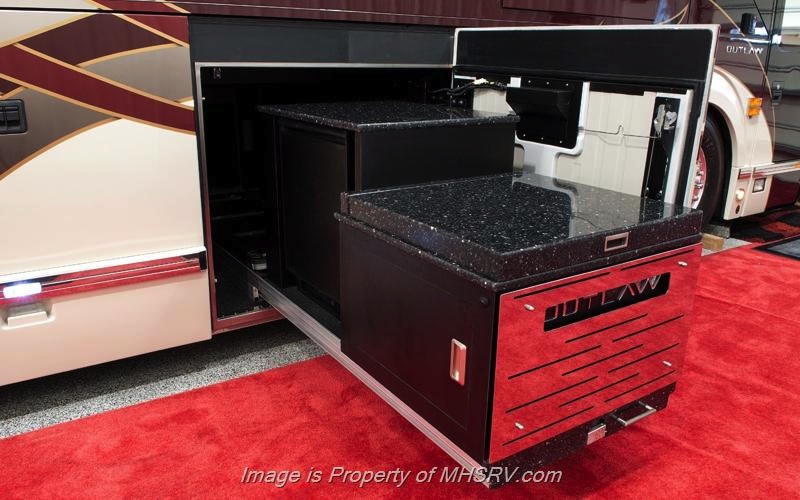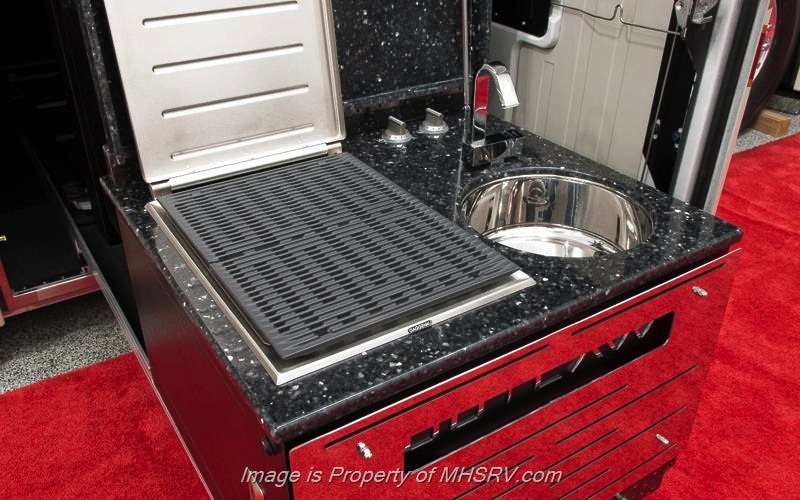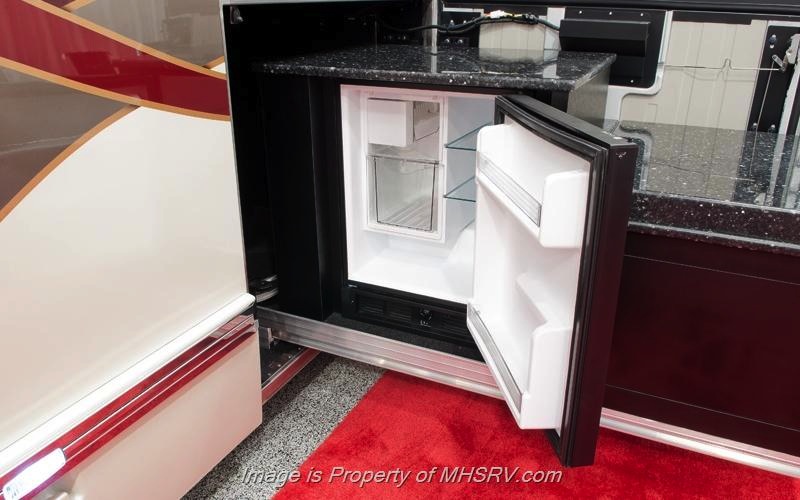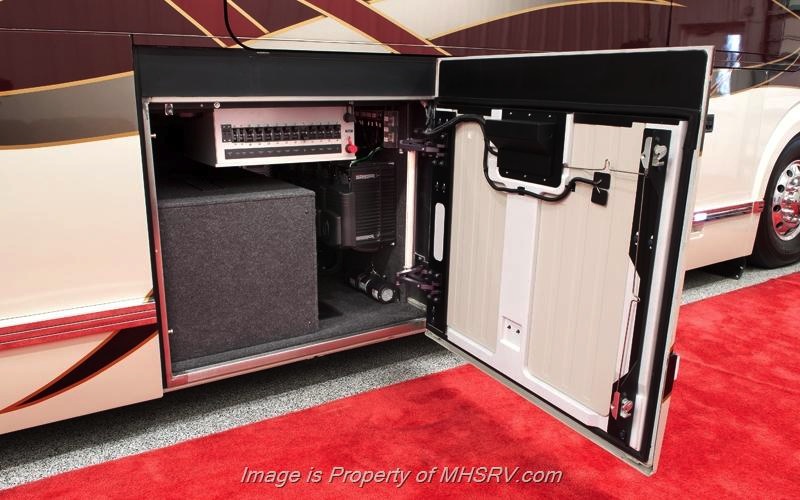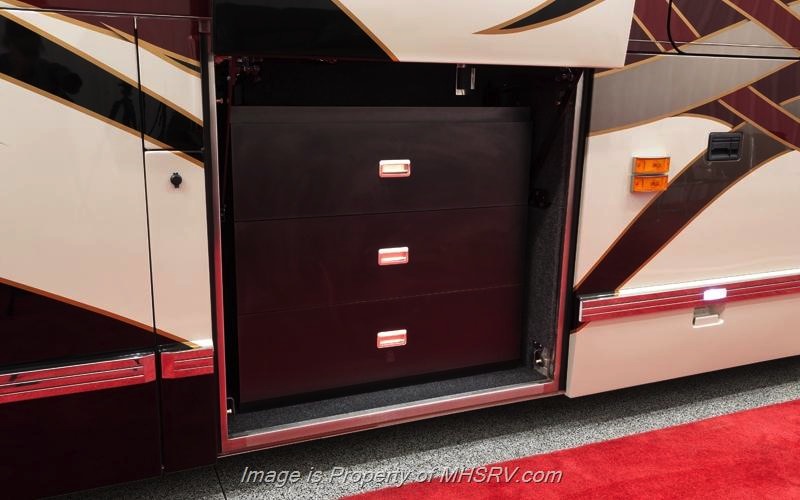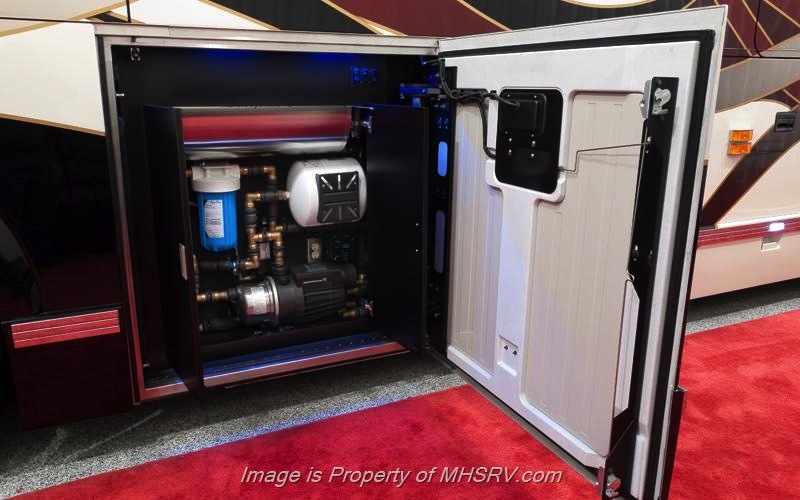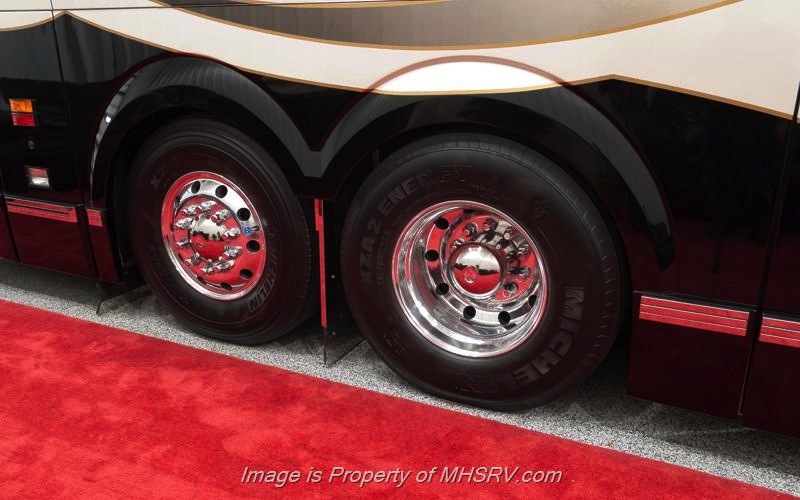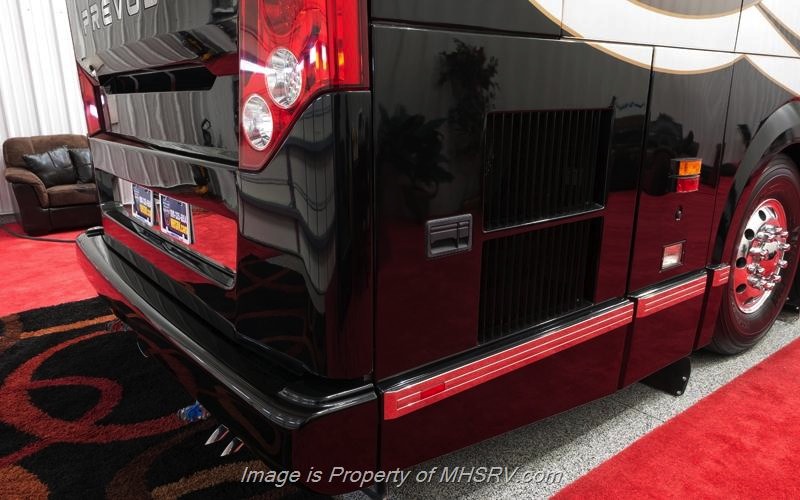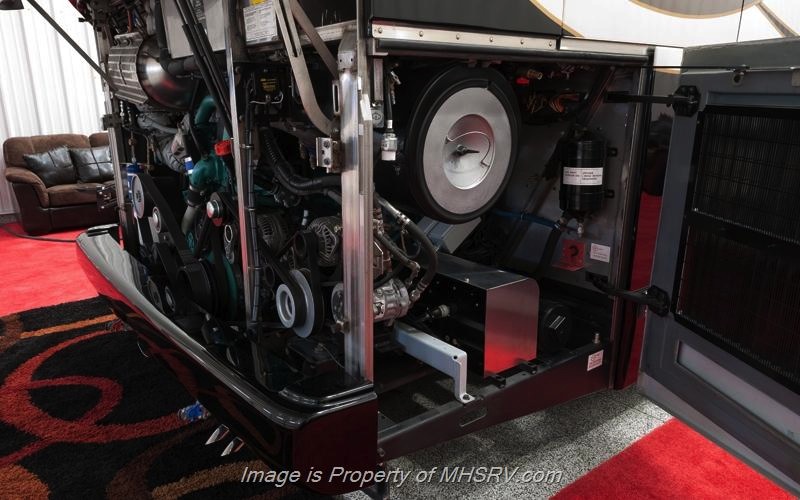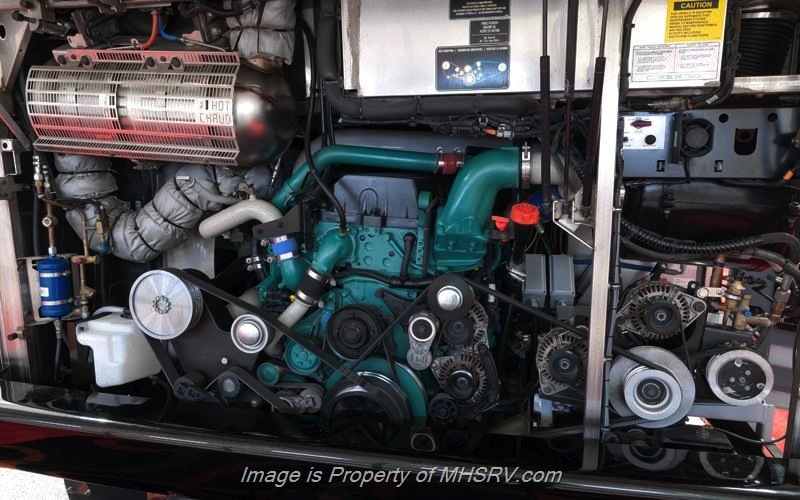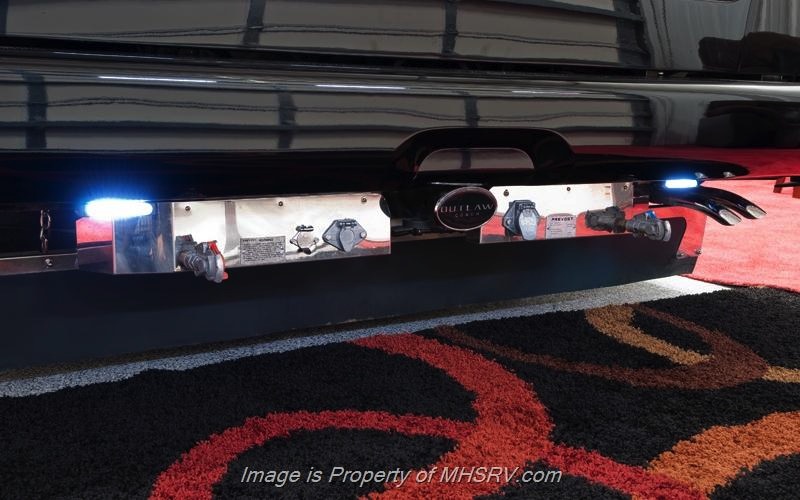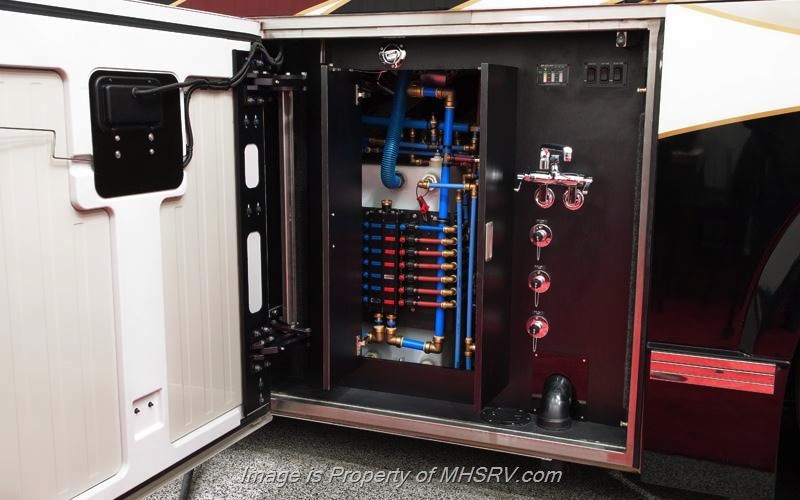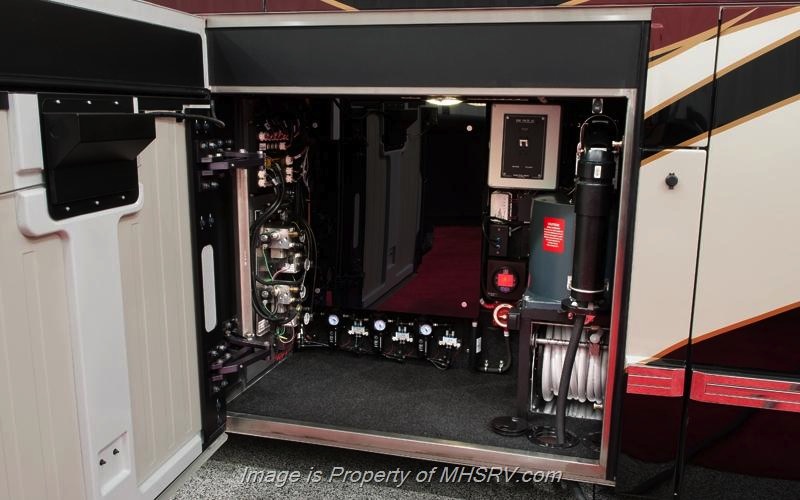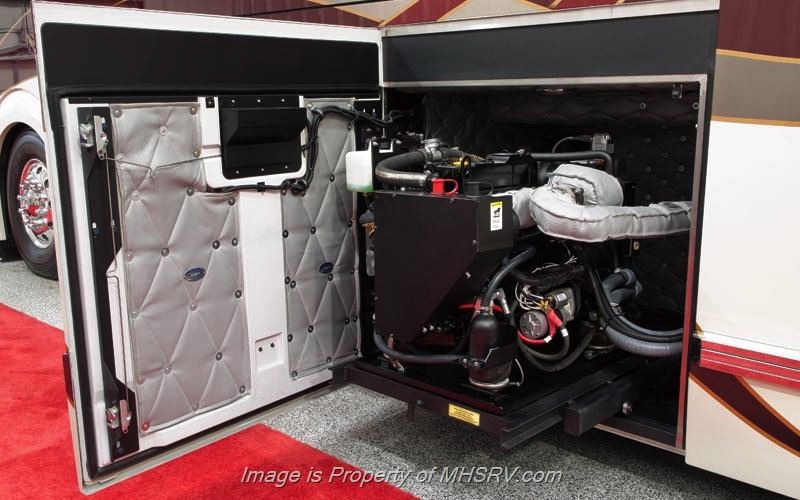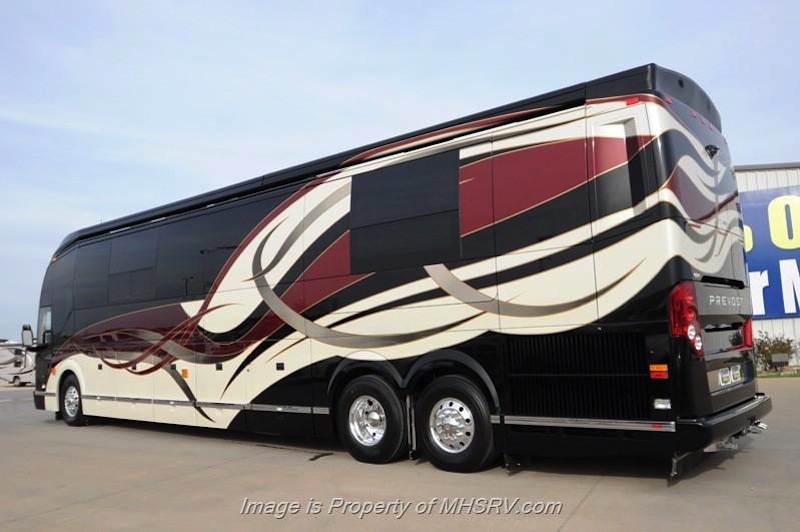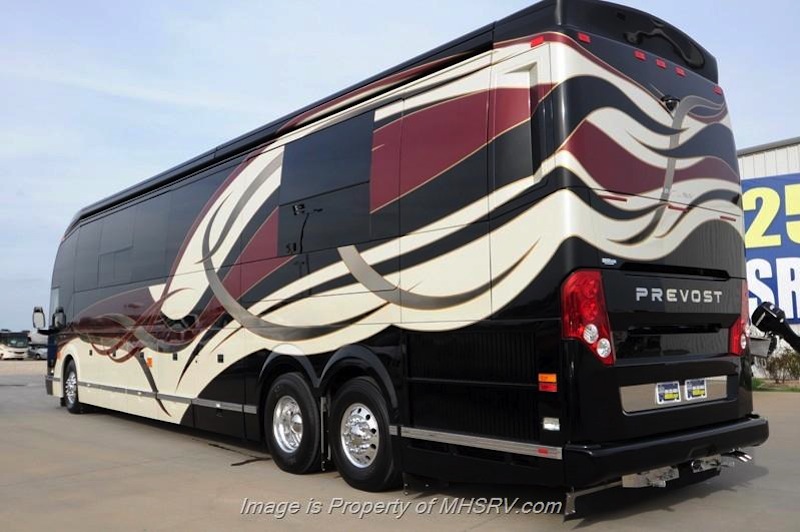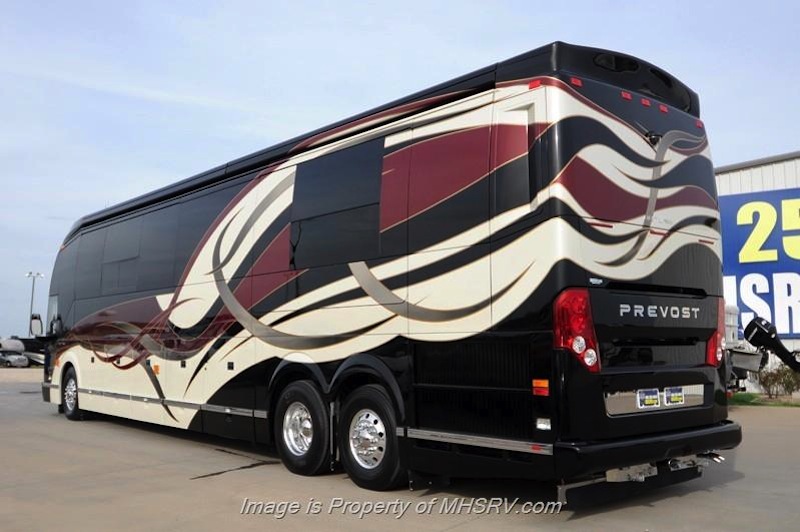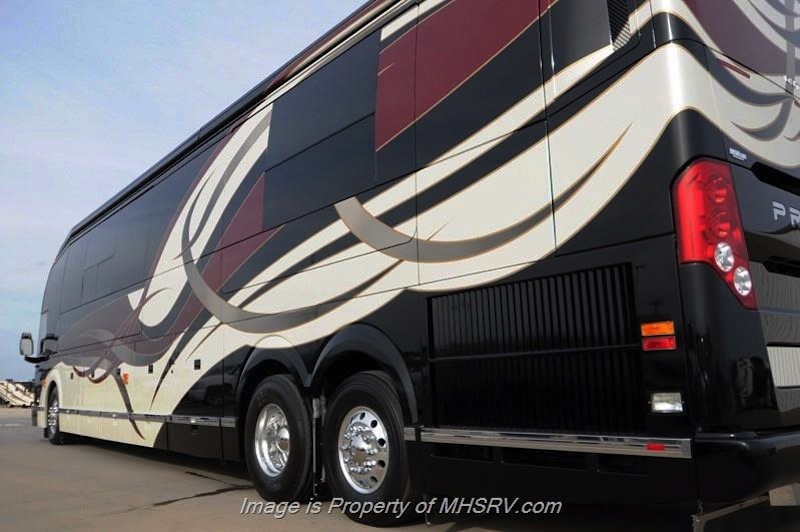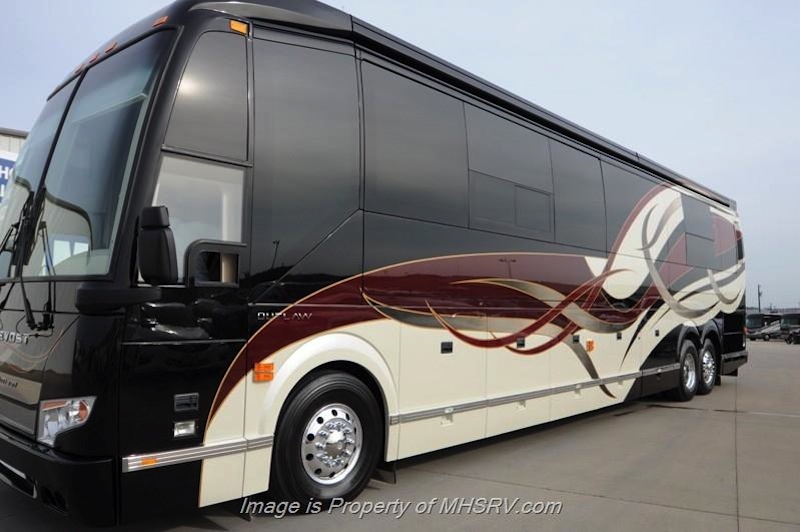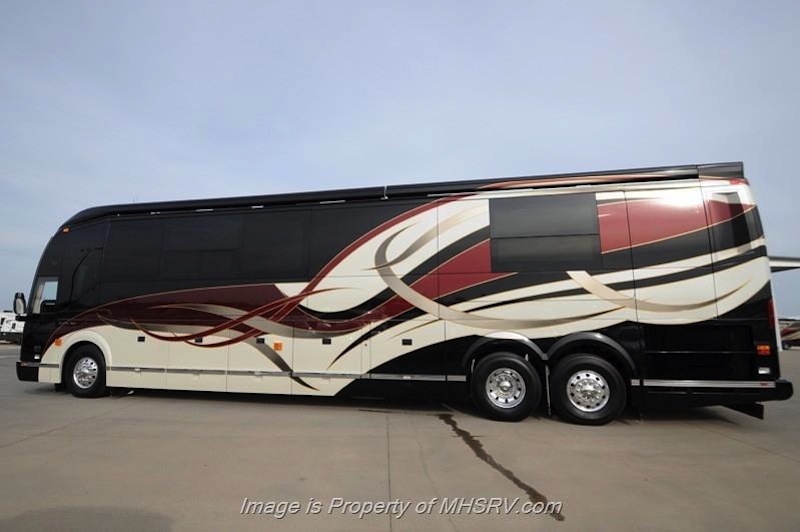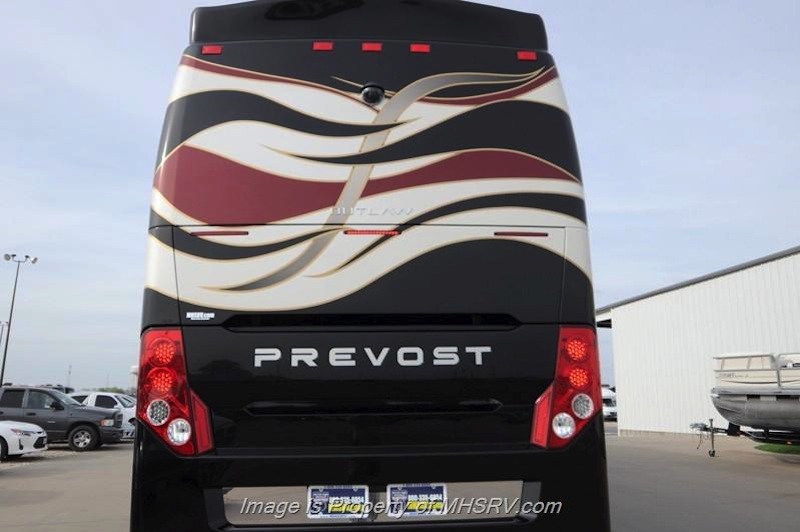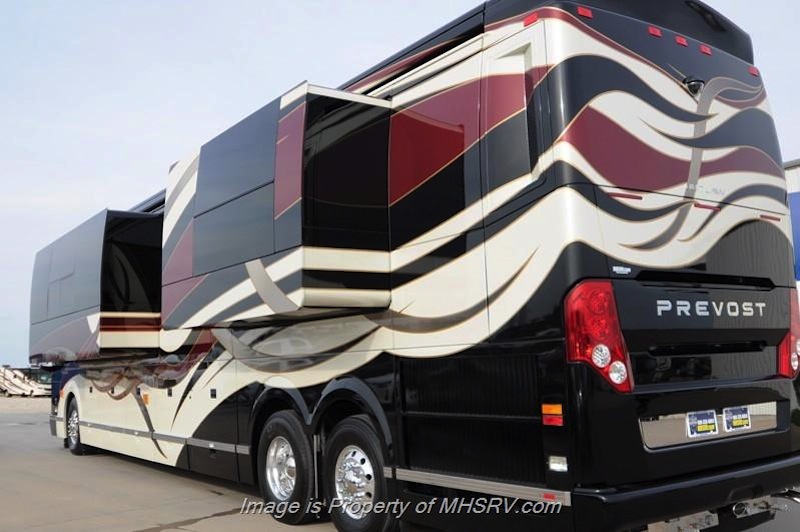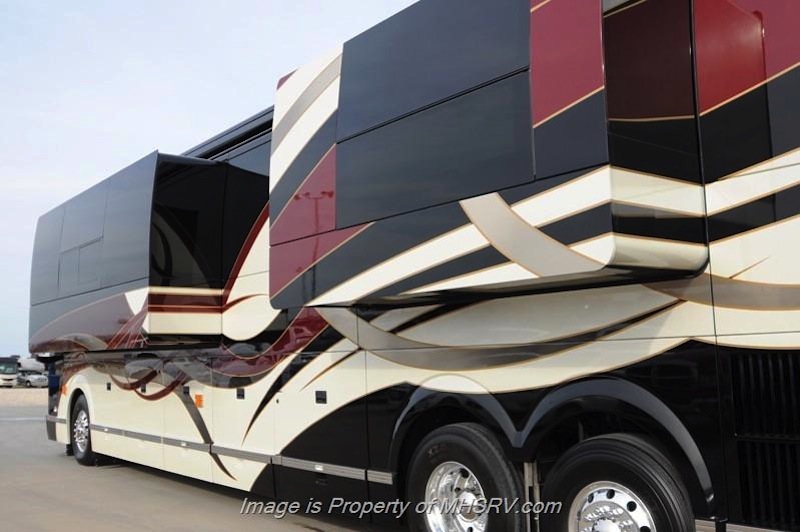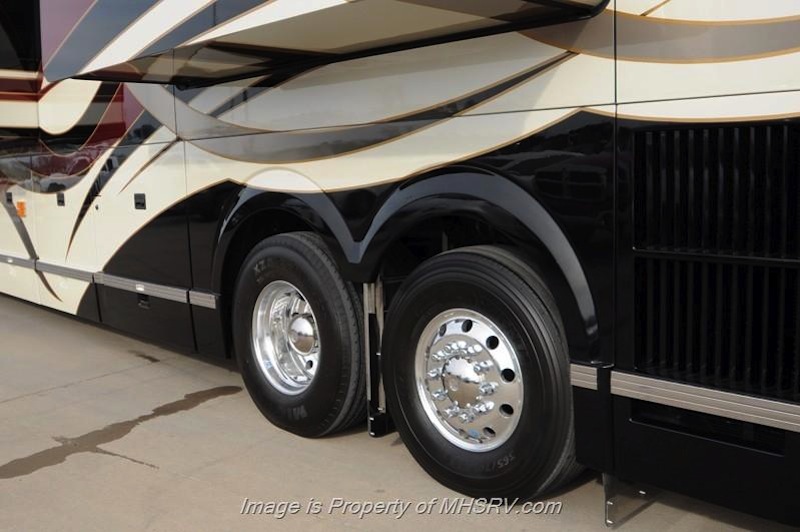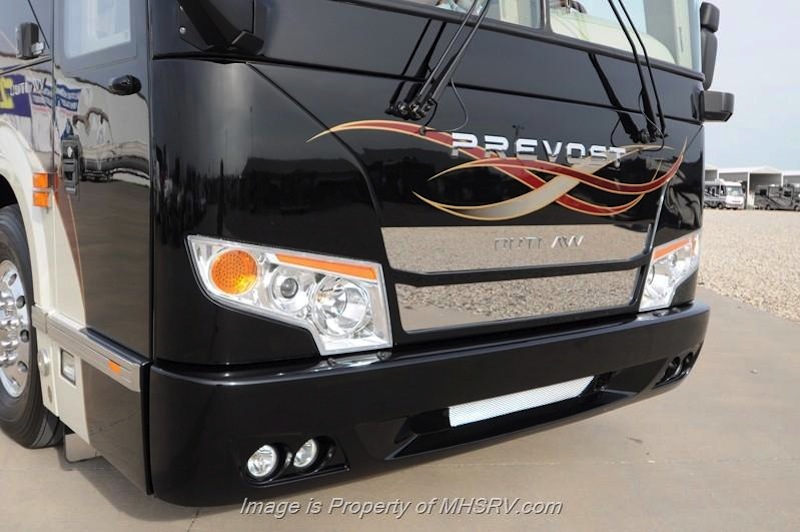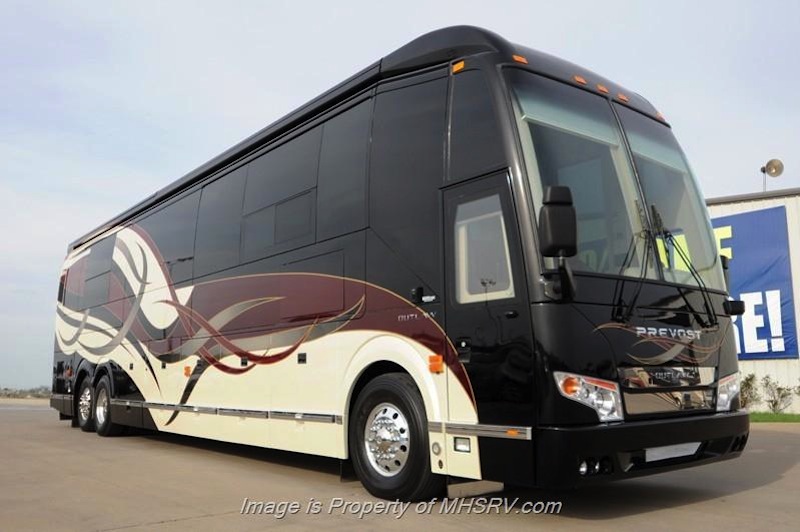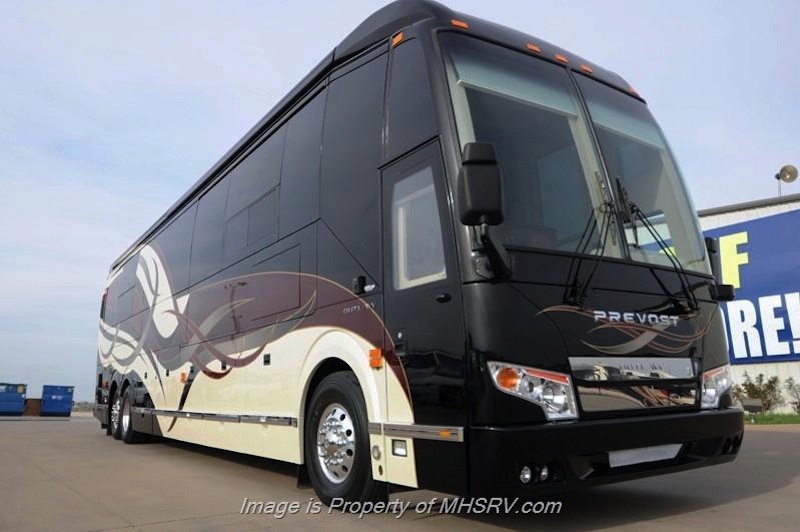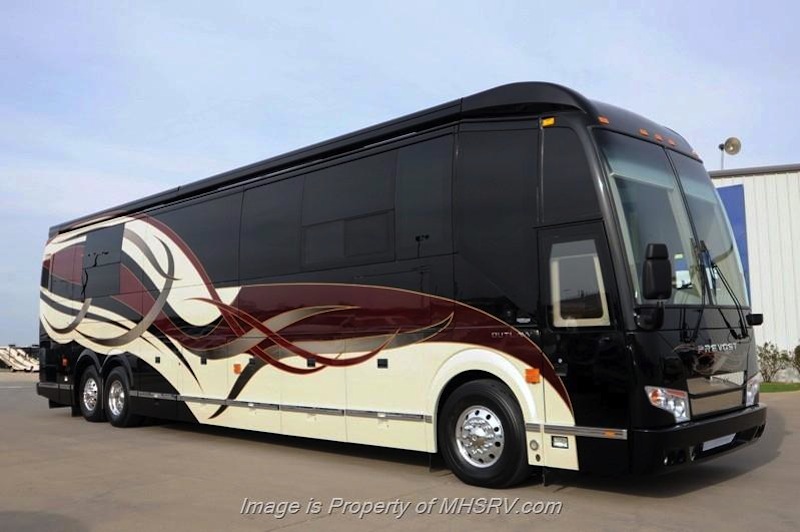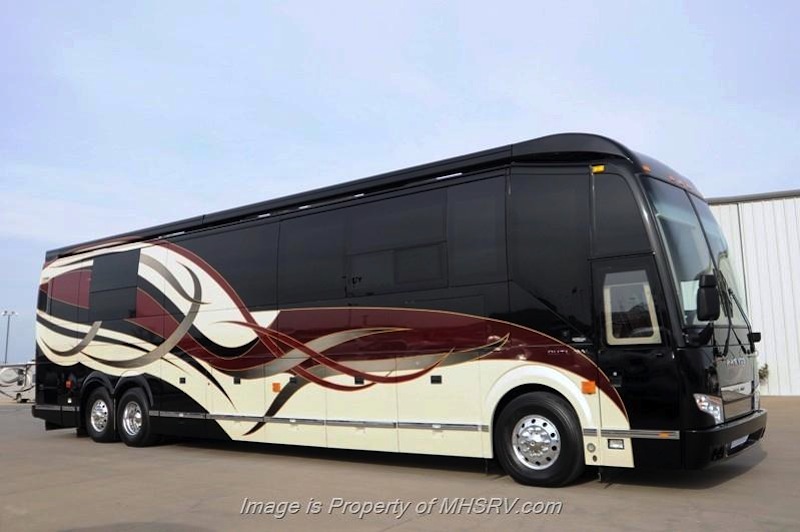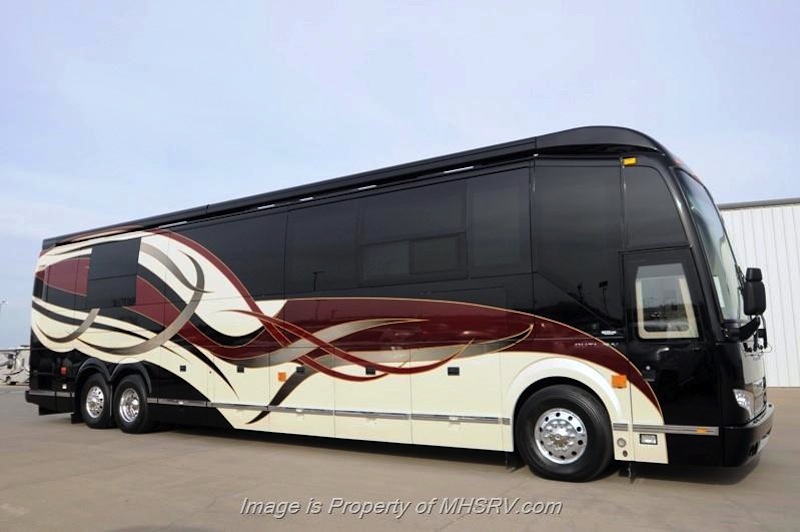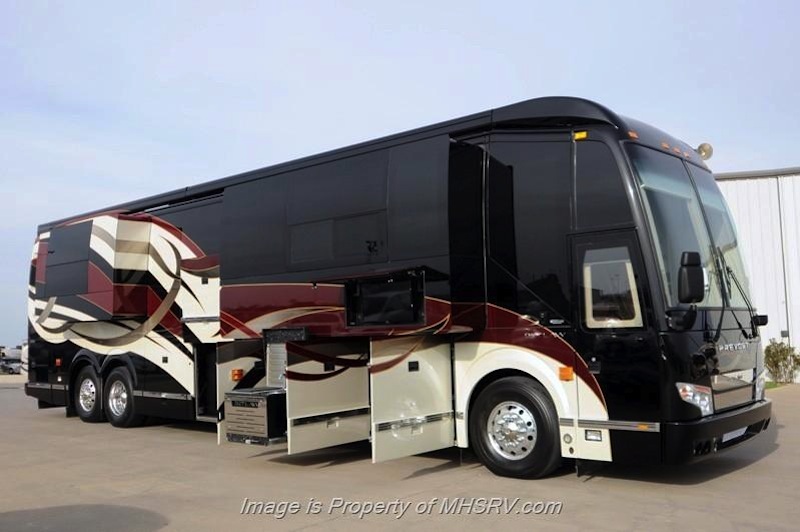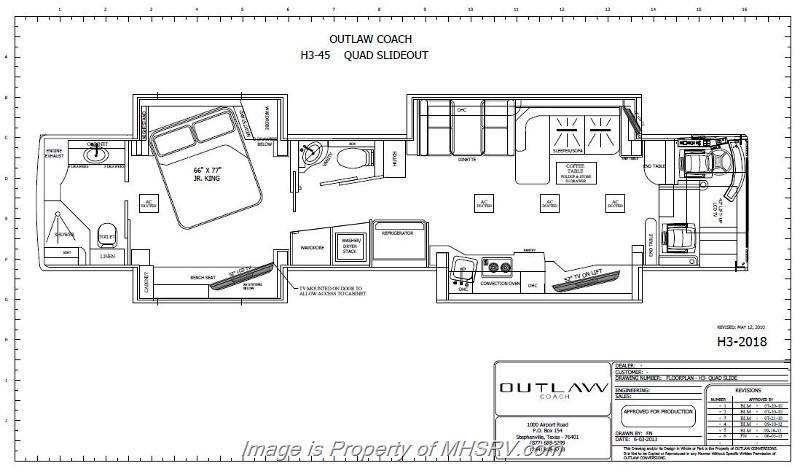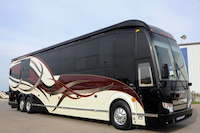 For More Information Please Call:
1-800-335-6054 or Email