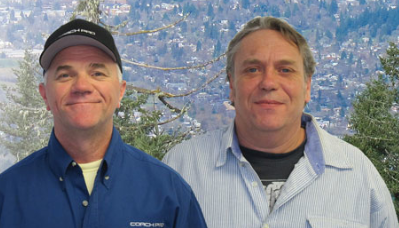 Jim Purcell & Pat Sprenger
Eugene , Oregon
Coach Pro: Custom upgrades and makeovers that wow at the hands of a highly-experienced staff
In the 1990s, Jim Purcell was a regular on the Indy and NASCAR circuits, travelling from event to event to help makeover and upgrade their luxury and support vehicles as they traveled to events around the U.S.
Serving among the crews that supported those well-known clients helped establish a reputation and a client base for his newest business endeavor with co-owner and friend, Pat Sprenger: Coach Pro, a full-service luxury motorcoach remodel, repair, paint and full-service operation in Eugene, Oregon.
"Coach Pro is a showcase of the conversion industry's top service and design veterans. We proudly offer decades of service, diagnostic, design and custom fabrication experience per technician, including certified Prevost factory training.," said Purcell. "We offer the full range of chassis and conversion repair and interior and exterior makeovers and upgrades in our newly remodeled and budget friendly facility. Coach Pro welcomes all makes, models and customer input."
And while Coach Pro is a relatively new venture – they launched on 11-11-11 – both Sprenger and Purcell and their staff of dedicated full-time technicians have more experience than even the most tenured conversion and repair shops.
"The service professionals at Coach Pro average over 25 years experience in the luxury motor coach industry," said Purcell. "The bus industry is not new to any one of our employees. They are all 'bus people' – which is rare and valuable. Our guys are known in the industry, their faces are recognizable to people all over the country. That's one of our biggest attributes – 100 percent of our team grew up in the conversion industry. Our names and reputation are very well known throughout the conversion world. Our customers are happy to be turning over a project to us, because they know what we've done and what we can do."
Sprenger said Coach Pro, which boasts a 14,000 square-foot, one-stop-shop facility, is a top-of-the-line coach remodeling company that specializes in Prevost conversions. Both men proudly spent nearly 30 years apiece associated with Marathon Coach – an experience they both tout as advancing their intimate and unparalleled knowledge of luxury coach conversions and service.
"We have an all-star crew of veterans, hand-picked from the industry," Sprenger said.
So just what do they do with all that experience under one roof? They perform custom motorcoach remodels and handle repairs and upgrades that set their work apart from their peers. They handle audio and video upgrades and specialize in lighting design from floor to ceiling, interiors and exteriors. Their projects have ranged from installing bamboo flooring to reupholstering fabric to leather. Highlights have included installation of larger beds, remodeling of dinettes and reworking Corian countertops to the specifications of the customer.
The company works on individually owned private buses and also those sold through wholesalers throughout the country.
"We work with several different wholesalers who bring their buses to us to update and freshen up before they put them on the market," said Jim.
Marketing for Coach Pro so far has been strictly through word-of-mouth, "the best kind of marketing there is," Sprenger said. Again, their vast network of contacts in the industry and decades of experience – including training at the Prevost factory in Quebec – is paying off for Coach Pro. In fact, Coach Pro is located less than a quarter-mile from where the luxury Prevost industry started in the western U.S., around 1982. Purcell began his career with Magic Carpet coaches, later moving to Marathon coaches in the mid-1980s, along with Sprenger.
"We've taken apart and put back together virtually every make and model of motorcoach that has been built on a Prevost chassis," said Purcell.
While they're a bit too busy to be traveling themselves, both have enjoyed traveling by coach in the past. Sprenger mostly has done shows and rallies as it has related to his career, while Purcell spent those early years touring with the racing set.
"Our careers have always been about building relationships," said Sprenger. "Traveling has helped in establishing and maintaining those valuable relationships. We're there to help them, wherever they are, whenever they need us.
"Jim's been the guy for the last 30 years who has worked with the high-profile clients and provided personalized care, a history he now applies as a small business owner"
Sprenger noted that Prevost chasses in particular are excellent, durable bases for any types of conversions or remodels. "We can renovate the interior to any client's specifications for less than it would cost to buy up," Sprenger said. "When it comes to valuable dollars invested, you can get a brand new coach interior, all new AV and appliances, flooring, soft goods, and creature comforts in the coach you already own."
Purcell noted the biggest bang customers can get for their buck is found in interior and exterior lighting upgrades. Flat panel and HD satellites, high end audio and also notes Coach Pro's full paint and collision repair capabilities.
"We are really into giving a lot of value for the dollar," added Sprenger. "As owners, Jim and I are fully accessible and hands-on. We really emphasize the relationship-aspect with our clients, and are personally motived to provide a great experience for them. We are grateful for the work and confidence they offer us.
"They feel comfortable leaving their bus here with us and they feel good about bringing their bus back here. That's what we're about."
Coach Pro
116 Cleveland Street in the Phoenix Industrial Park, Eugene, Oregon 97402
800-918-7172