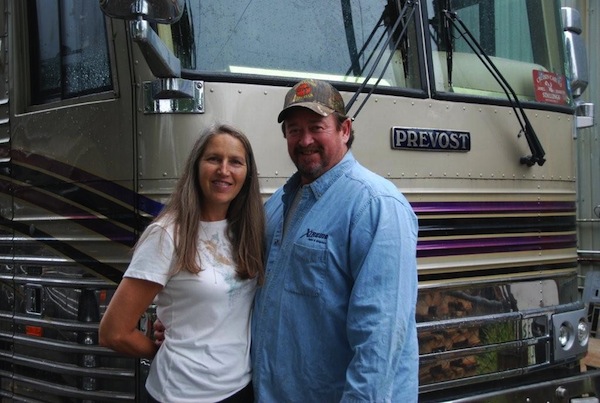 Jennifer & James Stallings
Nacogdoches, Texas
Xtreme Graphics: Limited only by your imagination

Even though James Stallings is an award-winning motorcoach painter and graphics designer, his favorite job wasn't on a coach at all.
One of his Prevost clients had purchased a $22 million private aircraft, and he flew James to Las Vegas to paint the design for his new jet.
"We painted it before he had even taken a ride on it," James recalled. "That project was a lot of fun. We painted the same graphics on the jet as we had done on his Prevost."

For James and his wife, Jennifer, having fun and doing what they love go hand-in-hand. The two own Xtreme Paint & Graphics in Nacogdoches, Texas, a company that specializes in bringing the wow-factor to its customers.

It's a business that grew from James' first exposure to working on vehicle bodies in the 1970s at a repair shop near his Texas home during high school. In the mid-1980s, he began painting semi-truck race trailers, which led into big-ticket items like race cars, their hauling trailers and into motorcoaches.

"Some of the race customers at that time had Prevost coaches, and so he became the only Prevost-certified painter in the state of Texas in the early 1990s," said Jennifer, who noted that James' abilities grabbed the Prevost company's attention early on. In fact, he wrote some protocol about proper painting techniques for Prevost at their request.

Jennifer and James were married in 1998, the year they started Xtreme Paint & Graphics in Denton Texas. In 2000, they moved to Nacogdoches, and James opened the paint shop for the Foretravel factory. He ran that for 5 years until Xtreme became so busy he couldn't do both; they've been in their current location in 2004.
Several years ago, after they renovated a wrecked Prevost for their own use and started attending POG (Prevost Owners Group) rallies, James reconnected with the Prevost crowd which now is once again a significant portion of his business.
Personally and professionally, the Stallings enjoy the annual POG rallies, and also the annual gathering held by the Family Motorcoach Association and the Houston RV Show where they're able to combine traveling with work.

"We do a little bit of traveling and we do love to travel in our motorhome," said Jennifer. "We do rallies, and we are able to work and play at the same time. We do some of these just for fun, but we always end up writing an estimate while we're there," Jennifer said with a laugh.
Building an Xtreme business

While its early start was in painting, today Xtreme has expanded to offer headlight and taillight conversions and window replacement. Xtreme also specializes in a wide variety of repairs and bodywork, from the smallest, most simple repairs to fiberglass to frame straightening. The company was among the first in the U.S. to convert the standard rectangular coach headlights into the small, round European style beams, James noted. "We've done a few hundred of those, from Winnebagos to Prevosts," he said.
"If someone wants something custom, they just have to come in and explain to us what they want," said James. "We can pretty much build anything. The recession has been good for our business, because many people are choosing to update what they've got rather than buying new."
The base coat of the business, however, is in creating eye-catching, colorful paint designs and graphics with a signature look that incorporate sweeping designs to elicit movement and motion.
"In high school, I just wanted to get into paint work," said James. "It's something I've always enjoyed. Really, there are only three or four places capable of doing full-body paint work in the United States. There are just not that many choices when you want a high-end paint job. We've even done four or five full paints for people in Canada, who drove them down to us here."
Others have noticed his talents as well. Xtreme Paint & Graphics has won a number of SEMA (Specialty Equipment Manufacturing Association) awards which are handed out during a huge trade show in Las Vegas each year. In fact, Skyjacker became so impressed with James' work that they now have him paint the coming year's designs, and he has to sign an agreement to not reveal the paint schemes to the public. "They come in completely wrapped and in an enclosed trailer, and no one can see it. It's really hush-hush, and that's a pretty cool part of what we do," James said.

Because of the level of detail that goes into an Xtreme Paint & Graphics paint job, the company takes on just one full full-body paint per month. Other smaller jobs can be fit in as well.

For customers who might not know exactly what they want in an exterior design, the experts at Xtreme have steps outlined that break down the process so clients can land on a design they love -- and that will last.
"The chemistry (of the paints) that we use is a quality above what most others use," James explained. "Also, we pull all the windows, except windshields, out of the coach completely, so the paint goes entirely under the window like it should. We take some extra steps to ensure a quality job, and it shows."
While each customer continued to get plenty of time and attention, the Stallings worked hard to fit in repairs to their own damaged Prevost that they purchased a few years ago. After two years of work, it's now a showpiece for them at shows and rallies.
"Now I can take it and show before-and-after photos, and it's a good selling point," James said. "Most of our traveling is to the rallies, but we really want to do some more leisure travel in the future. I'm trying to have a little more fun and not be all work all the time, as it has been!"
7515 North Street - Nacogdoches, TX 75965
Ph: 936-560-5888 - Fx: 936-560-5876
On the web: www.xtremegraphics.net