Wally Byam quote: "Don't stop. Keep right on going. Hitch up your trailer and go to Canada or down to Old Mexico. Head for Europe, if you can afford it, or go to the Mardi Gras. Go someplace you've heard about, where you can fish or hunt or collect rocks or just look up at the sky. Find out what's at the end of some country road. Go see what's over the next hill, and the one after that, and the one after that."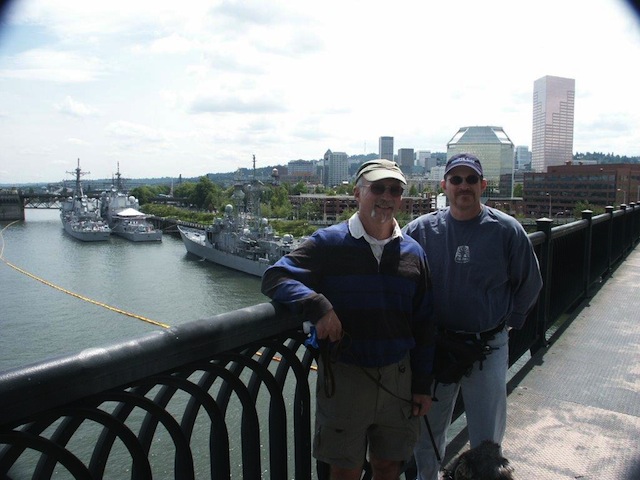 Jim Lane & Chris Hildenbrand
Wheat Ridge , Colorado
Vintage is Vogue for these Airstream Collectors and Motorcoach Travelers
Jim Lane and Chris Hildenbrand are vintage trailer collectors who are busy restoring an Airstream with an enviable history: It was one of 47 trailers that literally traveled around the world in 1963-65 with a caravan organized by Airstream founder Wally Byam. Sadly, Wally Byam died before the caravan began, but the group carried on and left a mark in the world history books.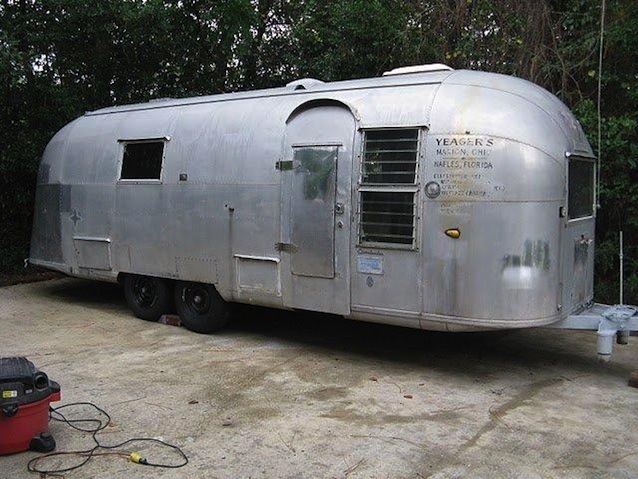 "She's a rough, rough girl right now, but we're working on her," said Jim with a laugh, in describing the project that he and Chris have under taken to bring the 1962 Airstream 26-foot Overlander back to life before this summer's 50th anniversary of the famed excursion. "Literally, right now I'm standing here in our home's kitchen looking down at this Airstream project that has no interior walls or interior floors."
In September 1962, 47 Airstreams left Long Beach, California; they were lifted and placed aboard a boat to Singapore, from where they traveled through Southeast Asia, Thailand, and Cambodia; they circumnavigated the perimeter of India, Nepal, and headed up to the Mediterranean, eventually logging miles through Eastern and Western Europe and innumerable points in between.
In February 1965 leaving the Lisbon Portugal port, 44 of the 47 Airstreams were placed on a freighter back to New York City, ending a 17-month, 30,000 mile trip. "And our trailer was one of the 44 that made it back to the States," said Jim. (Two were destroyed by accidents in India, the other remained in England.)
Lane and Hildenbrand, a Denver, Colo. couple, purchased their historic Airstream from a friend in Pensacola, Fla., with plans to restore it in time for the 50th anniversary celebration of the caravan slated for the main Airstream Club rally in Huron, South Dakota, this summer. "There are five trailers that are still alive that will hopefully be roadworthy enough to make the rally," Lane said.
One of the prerequisites set by Byam for the Around-the-World-trip 50 years ago was that each of the Airstreams taking part be newer than 1961. The caravan participants needed to obtain a Ford F250, ¾ ton 4X4 pickup truck as well. Lane and Hildenbrand purchased a 1964 F250 in Washington state last summer, specifically for the upcoming event (it joins their 13 other vehicles with motors, not including the bus).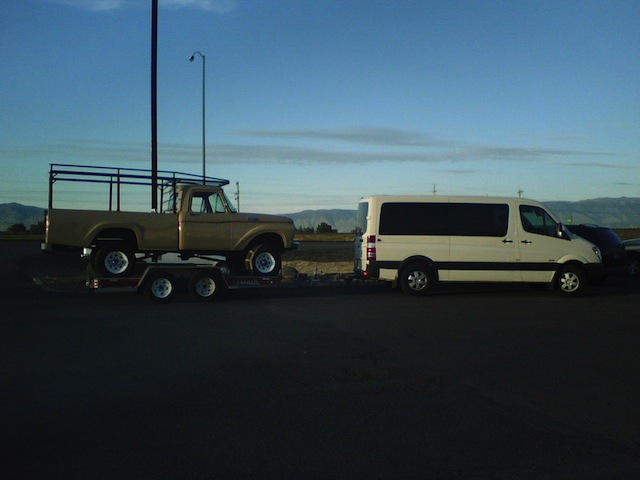 The Airstream restoration project is an example of the two guys' interest in vintage trailers. Chris is currently the president of the Vintage Airstream Club which is an intra-club to WBCCI (Wally Byam Caravan Club International), and together they own five classic Airstreams, one 2006 model, plus their Beaver Prevost XL 40. This is an example of their love of travel, which they discovered when they met at a Halloween party almost 14 years ago in Colorado.
Growing up in Northeast Ohio, Lane and his sister traveled the country with their parents by Airstream. "We traveled out West several times, so at that point I knew I wanted to move West," Jim said. During his college years, he had seasonal summer employment in Yellowstone National Park driving tourists around in large buses. After graduation in 1977, Yellowstone's stranglehold led Jim to work in Yellowstone full-time until the late 1980s. At that time, with family in Colorado, he relocated with Airstream in tow.
Chris, a native of Denver, is a graduate of the University of Denver (DU). Over the years, he had several RVs, including an Airstream trailer when the two first met. They quickly began sharing their interest in traveling by touring the country via Airstream. On New Year's Eve 1999, the pair bought a fiberglass-clad 35-foot Airstream Cutter Diesel, trading the trailer.
One of their first trips was to Alaska in the summer of 2000. That next summer, they purchased their Country Coach Affinity, which was the stepping stone to their first Prevost.
"Mad Prevost Disease," as Jim calls it, had hit, and they were the proud owners of a 2001 Country Coach XL 45-foot, two-slide bus. 'We did not know what we were in for' Looking forward to taking a long excursion in their new rig, the two decided to head off to the Northwest Territories in Canada in 2002, a 6,000-mile round trip.
They headed north out of Denver into Canada, arriving in the small town of Drumheller, Alberta where they stopped to tour the Royal Tyrrell Museum of Paleontology. "It was spectacular, we toured the museum and later we spent the Fourth of July with friends on their farm outside Edmonton," Jim recalled.
"From there we headed to the Northwest Territories. After setting foot just into NWT, we stayed at the 60th Parallel Provincial campground." As soon as they stopped at the campground to stay the night, the "mosquitoes descended on us like a blanket," Jim recalled. "It was 80 degrees – it was July – and we're walking to the visitors' center in jeans, gloves and with our coats on with the hoods tied around our faces like portholes. Our poor dog (Max, their 6-month-old standard Schnauzer) was being eaten alive. It was unbelievable how bloodthirsty they were! And every time we let the dog out, a wave of mosquitoes would try to get in the coach. Trying not to leave bloodspots from smashed mosquitoes on the ultrasuede, we were sucking them up with the Dustbuster."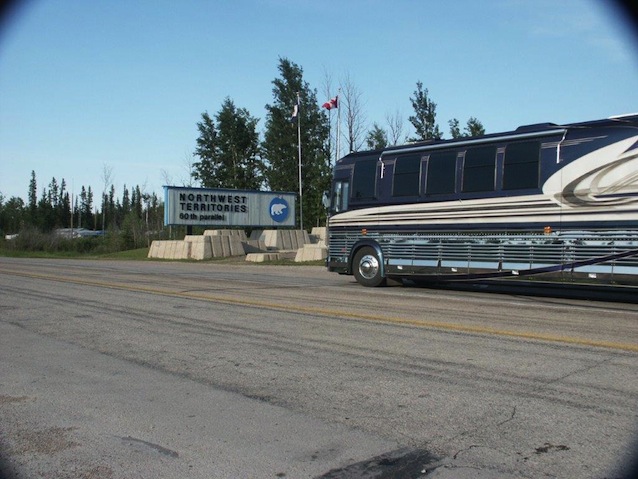 Continuing their trek northward to Yellowknife, they found a different bug to cause trouble. "Now, the mosquitoes gave way to Bull flies. These nasty buggers were as big around as your thumbnail and they dinged the coach like hail when you were stopped. They even mastered the art of flying behind our outside mirrors in the eddy, so they were ready for another attack when you stopped. And when they bit you – the welts were horrible!"
The issues with the flies eventually gave way to a more peaceful camping excursion, and the two stayed for a week enjoying the Canadian shield outside Yellowknife before heading back to Denver.
Other memorable trips for Lane and Hildenbrand – without the unexpected party-crashers – have spanned the U.S. In 14 years, they've traveled about 160,000 miles by motor home, and they're on their fourth Prevost coach. Some favorite trips have included the Highway 101 down the Oregon/California Coast, the Island of Vancouver by putting the bus on the Ferry.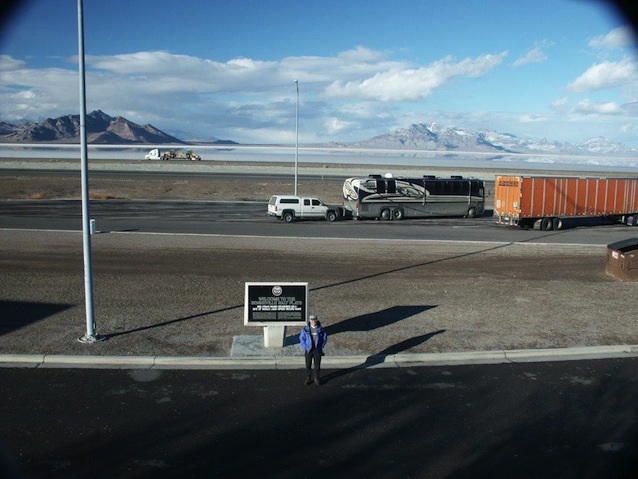 They've been to the Indianapolis 500 in a Prevost, Disney World and the Grand Canyon, and they try to make it to Yellowstone once a year. In 2007, they took a 4,400 mile trip for 3 1/2 weeks to Quebec City and New England, "We've been to all the POG rallies but Pahrump, and the first one in Florida," Lane said.
"Our original travel goal was to hit the road for 2-3 months each year, at 2-4 weeks at a time. However, that has only happened once, in 2002."
They also are on the lookout for special points of interest they like to visit on their travels. "On a trip to Washington, Oregon and the California coast, we visited every lighthouse we could.
We have a National Park Service passport book, which we get a stamp for every park and monument we visit. Jim added. "There are so many parks – some you don't even realize are right in your own back yard."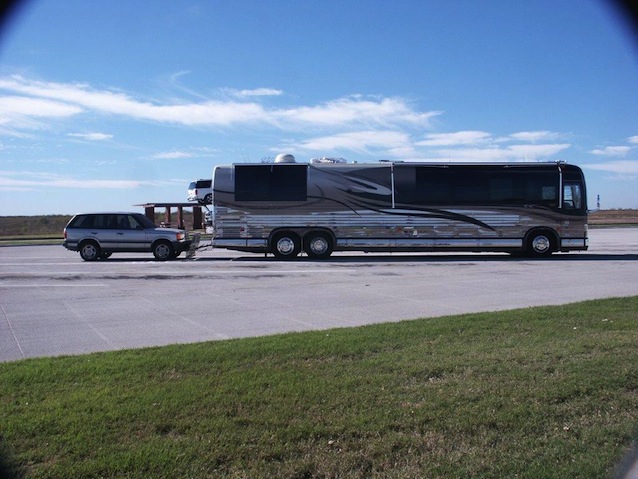 When they're not traveling, the guys run a property management business that includes 51 rental units.
In their spare time, this vintage-inspired couple has also been restoring another blast from the past: A 1915 Sears Catalog house, which required a total gut. The house is across the street from their office, which is a 1905 brick two-story building that was originally a general store and stage stop for horse-drawn vehicles traveling from Denver to the mines in Central City.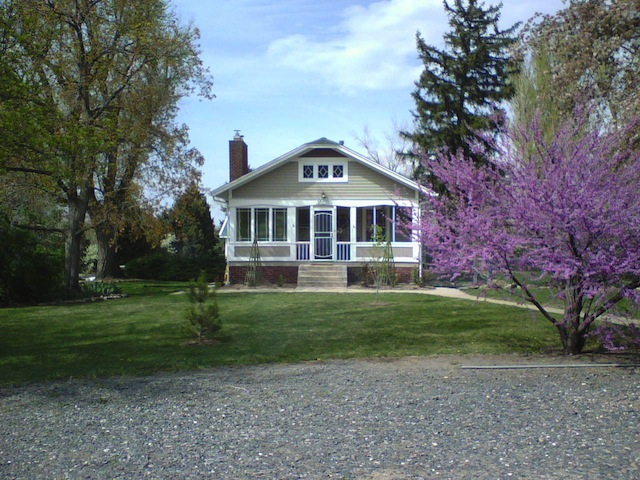 In relation to both restoration projects, Lane aptly noted, ""It's the joy of resurrecting a time capsule that draws attention, which opens conversation up to fun, fellowship and adventure."