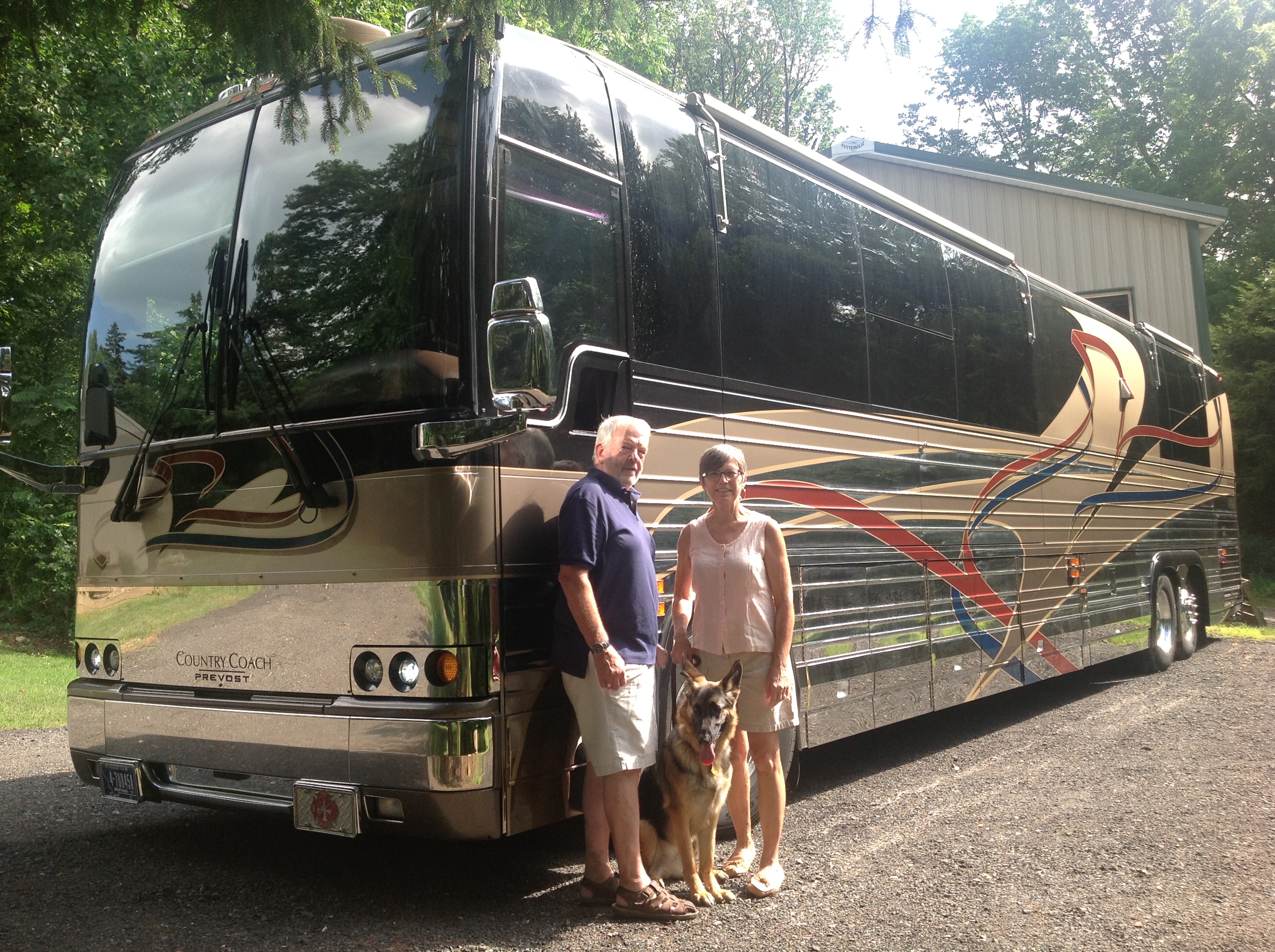 Linda & Bill Dator
Mahwah , New Jersey
Bill and Linda Dator: Family travels span nearly five decades
After nearly 50 years of traveling and camping across the United States, Bill and Linda Dator have accumulated more than just tens of thousands of miles in their various travel trailers and motor coaches. They've amassed a collection of memories – both while traveling with their three children and now on their own – that persist no matter how many years have passed.
"One time, we broke down in London, Ontario, and we had snuck our dog in without telling Customs," Bill recalled. "We blew out the engine and we had to fly home and leave the coach. But we had to get the dog back out of Canada somehow. The Customs' agents said, 'Well you can't take the dog out because we didn't know you brought him in.' But I had three young kids under 12 years old, and they thought I was going to cry, I think. It ended up that the agents basically looked the other way and passed us through, but you probably couldn't get away with that today."
The New Jersey-native Dators have plenty of traveling tales, from their trips up and down the Eastern seaboard to the annual Myrtle Beach excursions with their kids, to another trip via Canada and through upper and lower Michigan.
"We've had so many good experiences being with our kids, our kids' friends and making new friends," Bill said. "Our kids never saw a hotel or motel up until the time they were 15 or 16 years old. And they still talk about those trips we took as a family."
On one of those family trips, mom and dad had a terrific traveling idea as a way to see a large section of the country without it taking many, many weeks. They would drive to California from New Jersey and leave the coach in California to be picked up by friends, who would then drive the second half of the trip back to New Jersey while the Dators flew home. "Otherwise, we would've been driving for several weeks across the country and back," Bill said. "Our friends flew out there and drove our motorhome back. It worked out great."
Bill and Linda have lived in Mahwah, New Jersey, their entire lives but have spent decades touring the U.S.. Forty-six years ago, they bought a tent camper and traveled to the World's Fair in Toronto, Canada. Their first motorhome was an Open Road; next came a now-classic 1976 GMC motorhome, then a Winnebago and next a Bluebird. Since March of 2013, they've enjoyed a new Prevost coach that replaced their long-time Bluebird. There was a learning curve to the new ride, Bill said.
"It's a very nice ride, very easy to drive, but it can be challenging," Bill said, adding with a laugh: "When I started thinking about selling the Bluebird, I said, 'Our next motorcoach is not going to be so complicated.' Thank God for some really good friends in POG who have walked me through this a couple of times. The people that we've met have been tremendous, and if we have a problem, we can go online and within minutes have an answer."
Those friendships made through Prevost Owners Group travels have brought new enjoyment to the Dators and their traveling hobby. While they recently purchased their Prevost, the couple have been POG members for several years while they continue working in real estate, with Linda in residential and Bill in commercial sales.
"We have a lot of friends who have Prevosts," Bill said. "We've made so many good friends through POG. It's been a great experience. We have friends coming to visit us now from California, Florida, Maryland and Tennessee. This has really expanded our base. Before we were involved with POG, we traveled by ourselves basically."
While traveling with friends has taken a front seat, so has visiting their three kids and four grandkids in Colorado, Utah and Pennsylvania. Additionally, the Dators have purchased a lot at Pelican Lake in Naples, where many of their POG friends vacation as well.
When they travel further out of their circle of favored destinations, the couple enjoys finding rustic camp sites off the beaten path; though admittedly, that is a tougher challenge while traveling in a luxury Prevost.
"In the past we've searched out the nontraditional campgrounds and sites, like the national forests and primitive campgrounds," Bill said. "We have found a few really enjoyable places like that. We call it 'boondocking.' When you 'boondock,' you don't have any hook-ups for electric or water. We would certainly like to do some more of that, but with the Prevost, which is a little bigger, it can be a challenge."
While they love to travel, the Dators also enjoy hosting friends who come to visit in New Jersey. They're just 25 miles from New York City and welcome friends to park on their acreage and head into the city to take in a Broadway show or explore. "There aren't many campgrounds in our area," said Bill. "So we're happy to let them stay at our house."