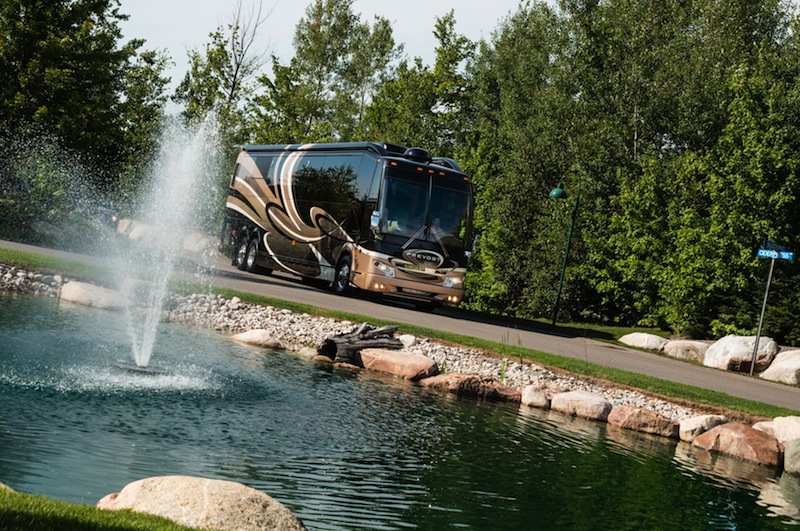 FOR IMMEDIATE RELEASE: August 24, 2012
CONTACT:
Evelyn Figueroa
877.322.0190
info@millenniumluxurycoaches.com

Multi-Million Dollar Millennium Coach to Appear on Discovery's Destination America Network.

Sanford, FL. Millennium Luxury Coaches was recently visited by a crew from Tremendous Entertainment, best known for producing the popular "Bizarre Foods with Andrew Zimmern" for the Travel Channel. Millennium will be featured on the episode entitled "My Million Dollar", to air on Destination America, the new cable TV channel from the Discovery Channel.

The two day shoot took place at Millennium's manufacturing facility in Central Florida, where the crew captured footage of all of the craftsmanship, technology, and innovation that's involved in building a Millennium Prevost Bus conversion. They then went on the road with the Figueroa family who are passionate RV'ers along with their children and finally ended up on location at Mt. Olive Shores North to demonstrate an array of amazing new features found on the latest Millennium models.

Husband and Wife team Nelson & Evelyn Figueroa, the hands on owners of Millennium, said their favorite part of filming was taking time out from the demands of the day to day running of the company to reflect on the tremendous amount of growth they've experienced in this highly competitive industry. "It's taken hard work and 100% commitment to the product and the client to become the number one converter in this industry," said Nelson Figueroa, President "and we didn't do it alone, our team of dedicated craftsman bring passion to the playing field every day."

The air date has yet to be announced for the episode, but is expected to take place in the fall. In addition to Millennium, the show will feature other extravagant, multi-million dollar prized possessions and the people that make them. For more information, please call Millennium Luxury Coaches at (877) 322-0190 or e-mail info@millenniumluxurycoaches.com.

# # #