Owner Profile
Durlene & Gil Johnson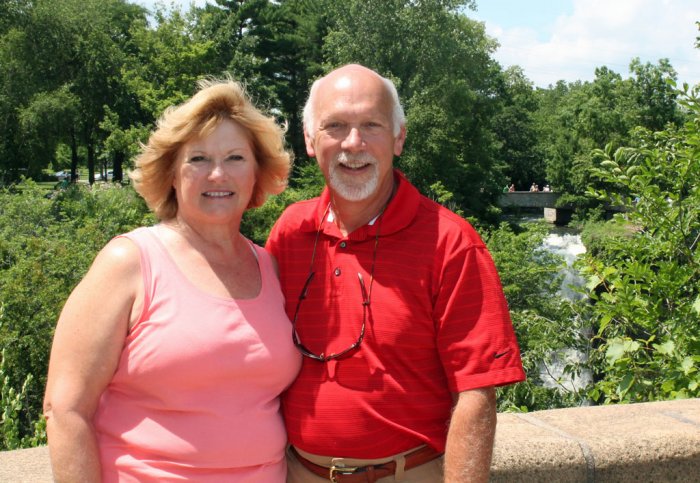 "I don't know if it is because the rain of the last couple days has parted revealing blue skies or it is just that beautiful here. The mountains are absolutely spectacular. It's not just the snow or ice-capped mountains, it's the contrasting surroundings that frame the mountains. It may be a lake with emerald green water, or a raging river, or even a forest of black spruce that give the contrast. All I know is that with almost every turn in the road you're drawn to examine a new vista. On the road from Tok to Palmer we even saw two glaciers … (One) glacier extended across the base of the mountain with lush green vegetation surrounding it, even at altitudes above it. This is certainly a taste of why those who can't leave here love this place."
- Gil Johnson, on driving through the Alaskan wilderness from his blog, midlifervtravel.wordpress.com

Nearly 6,000 miles ago, Gil and Durlene Johnson were formulating a plan. They were going to spend 6 months driving from their home in Apollo Beach, Fla., to the Alaskan wilderness, with only a few planned stops along the way and the rest of the time an open itinerary across much of the lower 48.

When they made it to the 49th state, the scenery was as spectacular as they'd imagined. Among dramatic glaciers and vast stretches of dense forestland, the Johnsons have become accustomed to seeing rare wildlife up close; bald eagles, arctic terns, porpoises, puffins and orca whales are a few of the species they've experienced. On a charter fishing trip, someone onboard caught a rare sleeper shark.

"It was pulled to the surface before the line broke. It was on the surface long enough for the crew to identify it and to judge its length to be about 9 feet. These are fish that rarely come out of the extreme depths of the Pacific Ocean," wrote Gil in his blog, www.midlifervtravel.wordpress.com. Since leaving Florida in May, he has documented the couple's adventure in great detail on the blog, providing family, friends and those interested in learning more about the U.S. a spectacular photo display and descriptions of the landscapes and wildlife they've encountered along the way.

Traveling by Prevost Motorcoach has allowed the Johnsons the luxury to stop wherever a whim or a need might take them. "Today we saw our first buffalo. I didn't expect to see them until we made Montana," wrote Gil, on June 27, from Grand Forks Air Force Base in North Dakota. "We picked Grand Forks as a stop because we had a UPS delivery expected. Things are different here. The UPS facility is only open from 5-6 p.m. – really! We stayed at Grand Forks Air Force Base. This was an unexpected pleasure … I did see a Global Hawk intelligence, surveillance and reconnaissance remotely piloted aircraft in front of a hangar, so they do have aircraft."

After several hundred more miles, the Johnsons arrived in Alaska, after passing through Whitehorse, Canada. "Adding to the list of animals we've seen along the way we can add fox and grizzly bear. It is just so cool to look up the road and catch a sight of these wild animals right next to us as we pass," Gil wrote on July 8.

During a phone interview in mid-July, the Johnsons had arrived in Alaska and settled with their Prevost in Homer. "Right now I'm looking out over the ocean and it is a magnificent view," Gil said. "This place we are at is absolutely gorgeous. When you pull your Prevost up to the beach, you're looking out over the Alaskan mountain range."
The Johnsons, married for 37 years, had planned to stay in Homer for a few days before moving on and exploring more of the state, said Gil, who is retired from the telecommunications industry. He said purchasing their 45-foot Prevost Country Coach before leaving for Alaska has made the trip extra comfortable – especially when you're traveling 200-500 miles per day.

"The most important factor has to be the ride," Gil said. "And when you have a Prevost, it is second to none when it comes to comfort. Our previous motorcoach had slides; this coach has no slides, so we did sacrifice some space for the ride. Their coach has not been without problems, which is to be expected with anything 14 years old and having nearly 100,000 miles on it. The good news is that all problems have been manageable.

"We really enjoy traveling this way. It's the only way you can bring a large piece of home with you. You're sleeping in your own bed and you don't have to shuttle suitcases between hotel rooms back and forth," Gil said. "This coach has as much of the feeling of home as you can get."

Some of the roads heading into Alaska were a bit on the treacherous side, which has caused the Johnsons to alter their plans for traveling home this fall. "We'll be taking a (car) ferry on the way back. It's a four-day cruise from Haines, Alaska to Seattle," Gil said. "I would imagine it must be a pretty big ship."

Once back in the U.S., the couple plans to spend a number of weeks exploring national parks in the western U.S. where they haven't previously visited. Most of their motorcoach travels prior to this trip have been on the Eastern seaboard. They have enjoyed a number of jaunts from the Florida Keys to Virginia to visit their daughter and grandchildren.
But they still have several weeks of Alaska sightseeing to take in before they have to think about heading home. "We do go and check out the tourist things anywhere we can," Gil said. "We've been on boat tours and had a spectacular day in the halibut fishing capital of the world. It's been a wonderful trip so far."

To read Gil's complete blog about the couple's travels, visit Midlifervtravel.wordpress.com