Janet and Ken Zittrer:
Stamping their passport to adventure around the United States and beyond....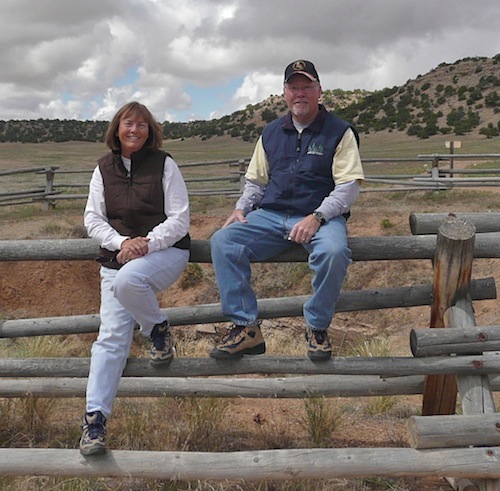 By Beth Anne Piehl

A National Park Service Passport Program has inspired Ken and Janet Zittrer over the last several decades to see the United States like few others have: They've visited more than 300 parks from sea to shining sea – and they're not stopping.

There are nearly 400 national parks in the U.S., and the Zittrers hope to complete the passport stamp program in the years ahead. So far, traveling through the millions of acres of protected national parkland has provided them an insider's look at the country's most beautiful, historic and significant landmarks as they've criss-crossed the country again and again.

"They're all so different, I really can't single one out as the most beautiful or special," said Ken. "In Alaska, you turn around the corner and there's a beautiful waterfall and around the next corner there's a giant glacier. In the Upper Peninsula of Michigan, there's a beautiful lighthouse on the shore. There are just so many wonderful places."

From their home base in Southern California, the Zittrers (prounced Zi-trare) particularly enjoy setting off on adventures that take them to historic sites rich in culture and the stories of the United States' earliest years.
"I have a passion for history, so the military parks and Revolutionary War and Civil War sites are really interesting for us," said Janet. "And we love to travel the back roads. We don't like to be on the freeway if we can help it. We want to see the country."

That passion for pursuing lesser-known locales has helped the Zittrers tally at least 110,000 miles through their years of coaching together. They've been married 40 years and began touring as newlyweds; once their children were born, traveling took a back seat to family life. But they picked up again in 2000.

In 2006 they became members of the Prevost Owners Group and have enjoyed meeting other travelers and hearing about unique places to visit. Today they travel in a 1995, 45-foot Prevost that they purchased in 2005.
They started the National Park Service Passport program in 1987.
"Quite often we're really amazed at some of these places, places that you might not normally go and visit," said Ken. "Sometimes we don't stay very long – we may go to the visitor center and watch a video about the park and visit the museum if it's available, and we may leave within 20 or 30 minutes."

A favorite trip of Janet's brought them to the Natchez Trace Scenic Trail, a 444-mile drive through exceptional scenery and 10,000 years of North American history from Natchez, Miss., to Nashville. "It's a beautiful country road, no commercial trucks and the speed limit is 55 mph," said Janet. "You can just toodle along at your heart's desire."

Ken pointed to a trip through the upper Great Lakes as a favorite of their many travels. "We fell in love with the UP," said Ken, of Michigan's Upper Peninsula. "The Great Lakes is one of the best trips in the continental United States. Who would've known that the cherry capital of the country is in Michigan?"

The Zittrers keep their friends and family apprised of their travels through their blog on MyTripJournal.com. It's called, "Where's the Bus?" and includes a map, photos and journal entries from their destinations.
"We have 100 friends who follow our travels and they get ideas for their own trips," said Janet.

When they're not traveling by their own itinerary, the Zittrers also enjoy attending the annual POG rallies. This year's event in October will take place in Las Vegas, and Ken and Janet and another couple will serve as rally masters. "We have some wonderful events planned, then after that we are going to head to the Albuquerque Balloon Festival," said Ken.

In between travels, the Zittrers continue to work part-time at Universal Patio Furniture Co., their value furniture store in Studio City, Calif., that has been family-owned and operated since 1939. They are also becoming partners in a Carl's Jr. burger franchise in Shreveport, Louisiana. They enjoy visiting their three children and grandchildren –in California and in Colorado -- and spending time at their motorcoach lot purchased last year at Outdoor Resorts Indio, about 120 miles from their home.

And, of course, they're busy planning their next motorcoach trip. Next up: The Maritimes in Canada. "Next summer will our next gigantic trip. After Canada, we'll make our way down to Washington, D.C. and into Virginia and probably head to the next POG rally in early October," said Ken.

The Zittrers said the comfort of the Prevost coach makes such long road trips more enjoyable. "It's easy to drive and it has the nicest ride of the coaches I've driven," said Ken. "It's not maintenance-free; it is a machine and it's going to break down. And that's the way we look at our bus; I don't care if it's dirty. I bought this bus to fit our lifestyle and our lifestyle is to drive the wheels off this thing."

For more information about the National Park Service Passport program, visit www.nationalparks.org/connect