Press release
For immediate release
Prevost donates H3-45 motorcoach to ABA Foundation Live Auction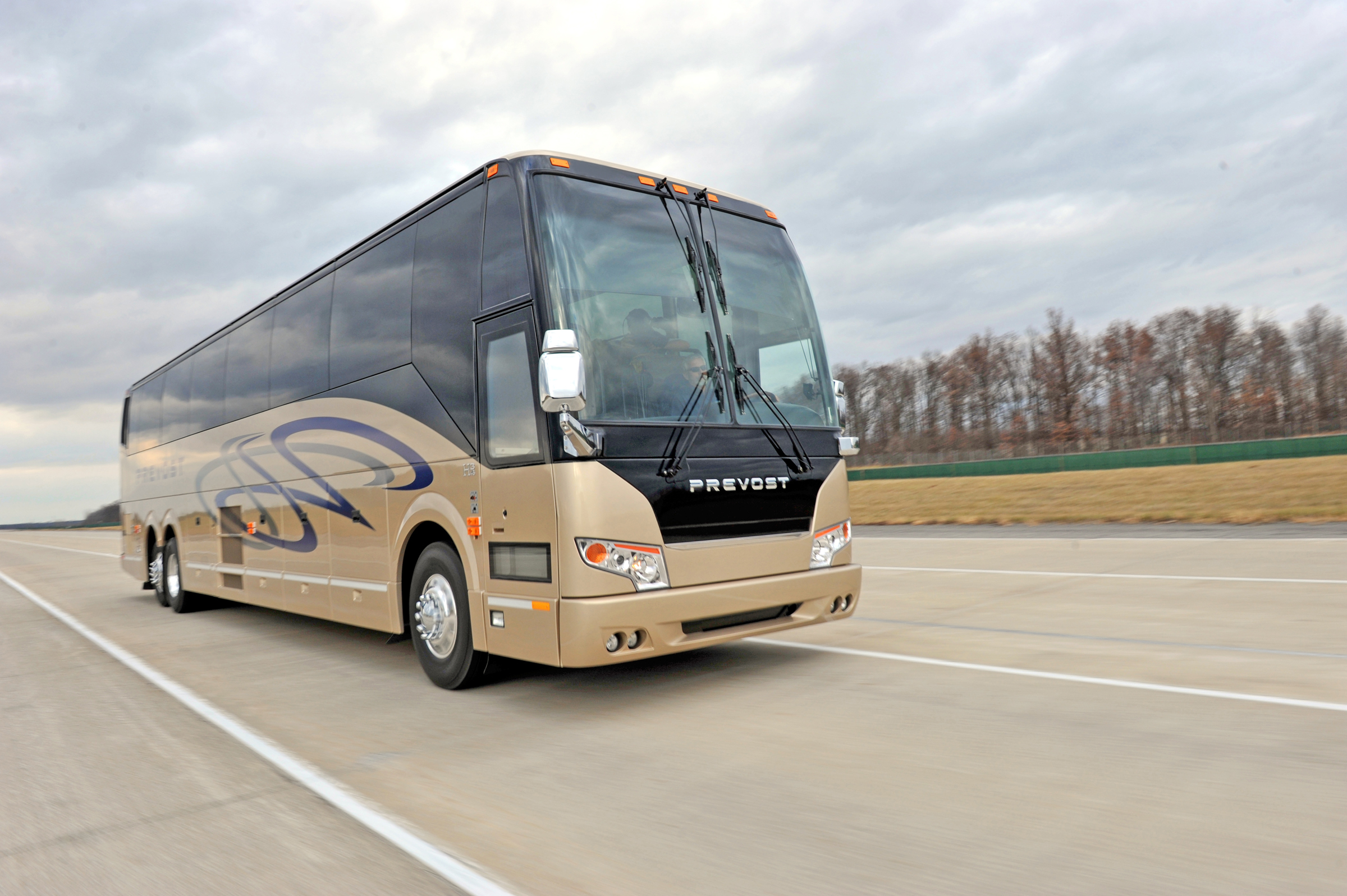 Sainte-Claire, QC, November 19, 2012 – Prevost has donated a 2013 H3-45 motorcoach to the American Bus Association Foundation Live Auction, which will be held Sunday, January 6 at ABA Marketplace 2013 in Charlotte, NC.

The 2013 H3-45 motorcoach is equipped with a fuel efficient Volvo D13 engine and Volvo I-Shift transmission, and safety features such as Prevost Electronic Stability Program, Fire Suppression System and Tire Pressure Monitoring System. Additionally, the coach features the Prevost Liaison telematics system, 56 Seats with standard 3-point seat belts, Prevost Radio and Premium Sound System with an iPod Connection, 15" Wide-Screen Monitors, Dual 1800 Watt Inverters, Closed Parcel Racks, LED Reading Lights and 110V Electrical Outlets at each seat.

Donations to the Foundation Live Auction, such as the brand new H3-45 by Prevost, help support ABA Scholarships, Industry Research, and Educational Programs. The ABA Foundation has awarded nearly 200 scholarships worth over $600,000 to industry families. The ABA research program has invested nearly $400,000 to show the societal impact of motorcoach travel and tourism. ABA provides the information to change minds and win allies in legislatures across the country.

About Prevost
Prevost is a leading manufacturer of premium intercity touring coaches and the world leader in the production of conversion coaches for high-end motorhome and specialty conversion. As part of the Volvo Group, it has access to the financial strength, research capability, and manufacturing expertise of the group. The Volvo Group is one of the world's leading manufacturers of heavy-duty diesel engines. Prevost has its main manufacturing facilities in Sainte-Claire, Quebec, Canada and has eight Parts and Service Centers located in the United States and Canada. www.prevostcar.com
For more information
Alan Dvoskin | Marketing Communications Prevost
7900 National Service Rd. Mailstop ALB-63 Greensboro, NC 27409
Tel.: +1 336 393-3077 | Fax: +1 336 393-2955