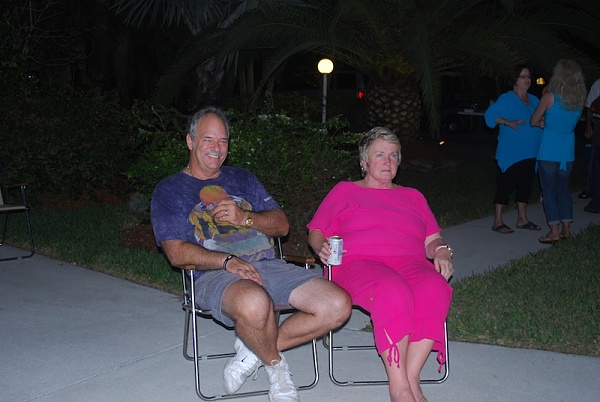 Rita Creel and Bill Bunch
Columbia , South Carolina
As most motorcoach travelers would likely attest, you learn about some pretty interesting places and events in America when you turn on your blinker, exit the highway and start taking the back roads. For Bill Bunch and Rita Creel, that travel philosophy has led to a number of memorable experiences and shared laughs, but most significantly it's knitted together a network of friendships that grows each year.
"I bought a little book about all the back roads, and I try to get Bill to not take the Interstate and we've had some real experiences, let me tell you," said Rita with a laugh. "We should never be on some of these roads we've come across. One place I remember we stumbled upon in Missouri -- people were stopping and staring at our coach coming through, and we were starving to death and there was no place to eat. We finally came across a little barbecue place in a dirt parking lot, and you went in and sat on a saddle while you ate. They made this barbecue that they cooked outside and it was phenomenal!
"You come across a lot of those little 'nothing' experiences and they make such great memories."
Bill and Rita are accumulating many more each year. The South Carolina couple has retired from Rita's court transcription business, and they gave their house to her daughter -- keeping the guest house for themselves for when they're not on the road. ("It's just as a place to be when we get home, before we head out on another trip," Rita says.)
Their carefree, adventuresome spirit has resulted in some unexpected finds across the United States. A giant yarn festival in Maryland, near Washington, D.C., proved to be one of Rita's most favorite accidental discoveries.
"I'm a knitter, and the friend that I was traveling with, Nancy, and I came across this huge yarn festival, it's tremendous. There were over 1,000 vendors, and they had sheep-herding competitions and they sell llamas, they have yarn spinning demonstrations – it's just a wonderful thing to see," Rita said. "When we pulled into town we were backed up down the highway, and we thought, 'Well there must be something really big going on in town.' The whole thing was yarn! We really lucked into that."
During their travels, Rita often picks up unusual and unique yarn types that she finds in small towns around the country. Last year, at a rally in Myrtle Beach, she presented 50 shawls to her friends that she made using the yarn collected from around the country.
"I really like to pick up things from the special places that we go," Rita said.
Another memorable trip gave Rita and Bill a good laugh to recall. During a trip to Prince Edward Island, friends there took them on a tour of interesting sites; one involved a "humongous pig" outside a farm. He was only 6 or 7 months old, and Rita inquired how it had grown so large. "They told me he nurses from a cow!" she laughed. "The things you see and experience are so much fun."
On a trip to Canada, they had stopped at a Dairy Queen where their sizable coach drew attention from some young kids, who offered Rita and Bill payment, in the form of ice cream, to peek inside their luxury ride. "Of course we let them," Rita said (sans the ice cream payment).
Their fun memories continue at every state they've stopped. Because they're from South Carolina, they rarely see snow, so on a trip to Colorado one winter they were thrilled to pull into a small little cowboy town where horses were pulling skiers down Main Street. "I just loved it – it was like being in a snowglobe," Rita said. "We travel year 'round, because we love to see the snow."
The couple has traveled to all the states except Alaska, which they plan to do in the year ahead. The furthest trip they've taken is to Quebec with a group of Prevost owner-friends to celebrate the 400th anniversary of the Canadian city. They've enjoyed treks through Maine and into Michigan, Missouri, Iowa, Florida and many, many other locales.
"We have made friends all over the United States that we travel to see and be with," Rita said.
Rita estimates they put about 20-30,000 miles on their coach annually. That's an increase in the past year in particular, since Rita sold her business to her daughter and she and Bill officially retired.
"When we first purchased our coach, I was working full-time and it was just for vacations and weekends," Rita said. "Now, we plan on being gone eight months out of the year."
The couple has thought about purchasing a motorcoach lot at a resort for longer stays, but at this point they've decided they don't want to be tied down. They enjoy the flexibility of picking up and going on another adventure when the mood strikes.
"We love to just get in the motorhome and jump around place to place and not stay in one spot," Rita said.
Through Prevost Owners Group rallies and other organized events, they've made innumerable friends who quickly have become traveling companions. "We went to Florida last winter and there were 13 or 14 other couples there at the same time who we knew, from Texas, Michigan, Prince Edward Island – all down at the same time, it was wonderful," she said.
Rita is already planning ahead for the 2013 POG rally in Nashville in the fall. "It's a '50s theme, and I've already got my poodle skirt ready!" she said.
The South Carolina-native couple, married 12 years, first got into motorcoach traveling at Bill's behest, back in 1998 when they bought their first 40-foot coach. It was the only way he could get Rita to travel, they joked. "I'm not a camper; my idea of camping is like a Motel 6," she laughed.
During a trip out west in 2006, they blew a tire in the desert outside Tucson, Ariz., and totaled it, Bill said. "There were no injuries but it was an eye-opening experience," he said.
It prompted Rita to ask for a sturdier coach. "She wanted something that was structurally impregnable," he recalled.
They bought a 45-foot Prevost and "it's one of the most colorful ones you'll see riding down the road," Bill said. "We've redone ours on the inside. One thing we like about Prevost is you can totally renovate it, it's so structurally sound you can rip out the inside and put in whatever you want."
The couple had their booth removed inside and replaced it with a bar and storage area underneath, where Rita keeps her embroidery and quilting machines and supplies. They installed a dishwasher and oven, and a king-size bed so there is plenty of room for their two cats and dogs who are constant traveling companions.
"We have all the conveniences of home," Rita said, "and I can have the world pass by outside my window as we're living it. It's a wonderful lifestyle."