Jean and Mike Simmons: "The Journey Is As Much Fun As The Destination"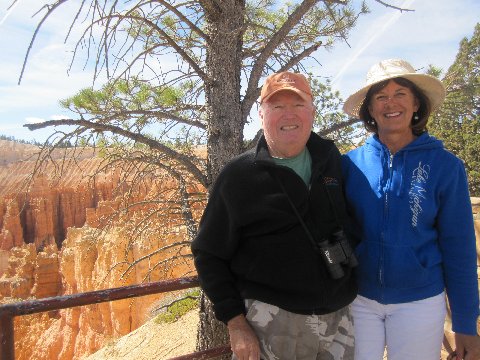 Mike and Jean Simmons have overnighted in Walmart parking lots and plush motorcoach resorts in their 45-foot condominium-on-wheels, but one place has earned the distinction as the friendliest place in the United States, according to the California couple: Playa del Rio RV Resort at the Florida state line.
Good old-fashioned Southern hospitality has made it so, according to Jean.
"When it comes to hospitality, this is the friendliest place we've ever visited," said Jean, who along with her husband of 41 years has criss-crossed the country and Canada since purchasing their Prevost Coach in 2006.
At this resort on the Florida-Alabama border, just two spots can accommodate 45-footers, so the Simmonses and their regular traveling friends, the Zittrers, are sure to book the neighboring spaces in advance. Their first visit to the Perdido Key resort was in 2006.
"We checked in and they invited us to come back to the patio for drinks before dinner, and the owner of the resort was playing the guitar and people were singing songs and sitting around socializing," recalled Jean. "We met all the people who were staying there. The next day, some travelers from Louisiana were cooking up a pot of jambalaya and they invited us to share with them. They spent the whole day cutting up shrimp and sausage and chopping up ingredients, and we sat and talked with them for the day. The Southern hospitality couldn't be beat."
Just over a year later, the couples returned to the resort and booked the same two spots. "And wouldn't you know it, there was another couple from Louisiana there and they were going to be cooking up jambalaya!" Jean said with a laugh.
Hospitality goes a long way when you're spending months and miles away from home. And so does keeping a positive attitude when things don't go exactly as planned.
When the Simmonses purchased their first coach back in 2006, a series of mechanical issues repeatedly stalled their efforts to visit their son in North Carolina from their home in Florida almost in comedy-movie sequence.
Early in their marriage the couple, originally from New Jersey, owned a chassis-mounted camper that they used frequently until the birth of their son, when family time took precedence over traveling. "When I retired in March 2006, I decided that we were going to get an RV again and travel around the country," said Mike, who retired as CEO of Aderant Holdings.
"We looked on some Web sites and found a Prevost Country Coach at the Marathon facility in San Antonio, Florida. We bought the coach in early May 2006 and we were going to go on our first trip up the coast to visit our son for Memorial Day weekend."
But the best laid plans can be stymied by an uncooperative coach. In this case, the issues ranged from a generator and fuel pump problem to a leaky tire valve to more serious issues – all in the span of three days.
The couple had originally planned to pick up their bus and be on the road Wednesday prior to the holiday weekend. It wasn't until Friday that they were able to actually accumulate mileage.
"On Thursday, we finally got on the road for the first time and I honk the horn and Jean and I are thrilled. I'm thinking, 'I can do this. I can drive this big coach,'" Mike recalled. "Then I smelled smoke. In the car next to us, the passenger was trying to get our attention and imitating smoking, pointing to the back of the coach. At this point, my heart rate is really quite high."
He pulled over to the side of the road and smoke was pouring from the engine compartment and filling the back bedroom. He called the salesperson, who advised him to return right away. "While we're white-knuckling it back, we come down the ramp and make a turn and the refrigerator door comes open and dumps everything out onto the floor," he continued.
The diagnosis back at the dealership was a frozen compressor and fan belt – which couldn't be repaired until the next day given that it was now 5 p.m.
"We spent another night there, and we're a little concerned about how things are going but I still have a positive attitude," Mike said. "Friday they put the compressor in and said we're good to go. So we waved goodbye again and got on the highway and the dishwasher opened up – the only thing that broke of course was the handpainted glassware from Mexico."
As they continued on their trek to North Carolina, an accident backed up traffic indefinitely. "We wound up sleeping in a Walmart in South Carolina," Mike said. "But despite all that initially with the coach, we have had virtually no mechanical troubles since – except when the coach suffered 100 percent smoke and fire damage."
In 2007, after the couple had moved back to California from Florida, their Prevost was destroyed in a fire at its storage hangar. At the hangar, another coach also in storage, with a refrigerator problem that prompted a recall, caught fire and ignited the facility.
"We ended up getting another coach -- a Prevost Marathon this time, but virtually the same thing," Mike said.
Since then, it really has been smooth land-sailing for the Simmonses. Every-other year, they plan a long trip that takes them to sights unseen and to Prevost Owners Group rallies, through which they've made many friends.
"Our strategy is one summer we travel quite a bit and the next summer we stay closer to home," said Mike. "One of our favorite trips was in summer 2007 to the Canadian Rockies. We went up as far as Jasper (Alberta, Canada), and stayed at a campground that had more elk than people. It was the end of summer – August – so they were very docile, eating the berries. It was very enjoyable and beautiful scenery."
They also visited the renowned Columbia Icefields, where glacier run-off remarkably travels into three oceans – the Pacific, Atlantic and Arctic.
To arrive in the northern reaches of Canada, the Simmonses and Zittrers started in California and headed north through Montana, seeing Glacier National Park on the way. On the return trip, they traveled through Okanagan wine country in British Columbia where they sampled a variety of varietals. In total, they traveled about 3,900 miles on that trip alone.
"On a big-trip year, we probably put about 8,000 miles on the coach," Mike said. "On a nontrip year, probably 3,000."
2011 was another travel year and this time it was another trip northward, but within the United States this time. The Simmonses traveled about 7,100 that summer through the Midwest, to Oshkosh, Wisc., over the famed bridges of Madison County and into the Upper Peninsula of Michigan and back down into the Lower Peninsula over the Mackinac Bridge. While in the small Northern Michigan town of Petoskey, Jean said Hearthside Grove Class A Motorcoach Resort exceeded their expectations and "we ended up staying for 8 days instead of five."
After Petoskey, the couple worked their way to the East Coast to their home state of New Jersey, where they parked their rig for a month at a friend's house and flew back to California for a month's respite from traveling. Once they reunited with their rig, it was off to see fall colors in the Eastern U.S. including, New York, Ohio, Niagra Falls and then on to North Carolina to see their son. During their first trip to Nashville, Tenn., the couple took in the Grand Ole Opry and the many honky tonks around the city.
"After that, we wound our way back to California on highway 40 and when the smoke cleared, we had traveled 7,098.4 miles through 24 states and the District of Columbia, and we used 904 gallons of fuel at 7.5 miles per gallon," Mike said, referencing their travel log for stats.
This year – 2013 -- is once again a big-trip year for the Simmonses. Recalling how much they enjoyed their Canadian Rockies trip, a journey in that general direction may be in the works. "We are contemplating going up the coast of California, across the Trans-Canada Highway to the Maritime Provinces, and then down the East Coast to Charlotte where our son lives," Mike said. "But we're flexible. When we leave on a trip, we don't have an ironclad approach to it. Sometimes we'll end up staying in a Walmart parking lot and other times we'll stop and stay at a resort.
"I really believe the journey sometimes is as much fun as the destination. Jean has her nice comfortable chair facing out front, the music's playing and we're just enjoying ourselves."
Before the couple became enamored with RVing, they took frequent cruises and enjoyed the idea of packing once and making various stops at new locations – much like motorcoaching. "I don't drive, so to me this is like cruising," Jean said. "I've got Mike as my chauffeur and we're always in a different place – it's such a relaxing way to travel. We have a beautiful country. We've had a wonderful time doing this so far."