Prevost-Stuff Welcomes
Walter D'Andrea Bodyworks , LLC
Sanford , Florida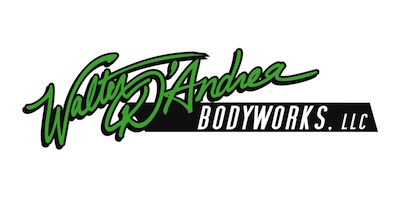 Walter D'Andrea Bodyworks, LLC is a family-owned and operated business producing high quality paint and bodywork, as well as, many other needs. Husband and wife team, Walter and Cynthia take great pride in giving customers the highest quality of service and attention to detail.
We work with customers to fully assess their needs and desires, both aesthetically, and financially. We look forward to working with you.
Walter has been in the paint and body business specializing in Motorcoaches for nearly 20 years. He has worked with and mastered many different types of paint and finishing products.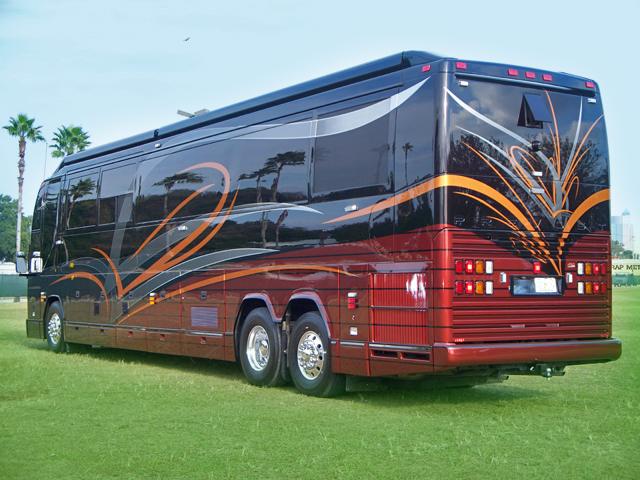 Walter D'Andrea Bodyworks, LLC graphics department will work with you to get the design you desire. We offer graphic packages in vinyl (decal) or paint.
Walter D'Andrea Bodyworks, LLC understands the importance of time and money for our fleet customers, as well as, our private coach owners. We work in a manner that is respectful to all of these needs.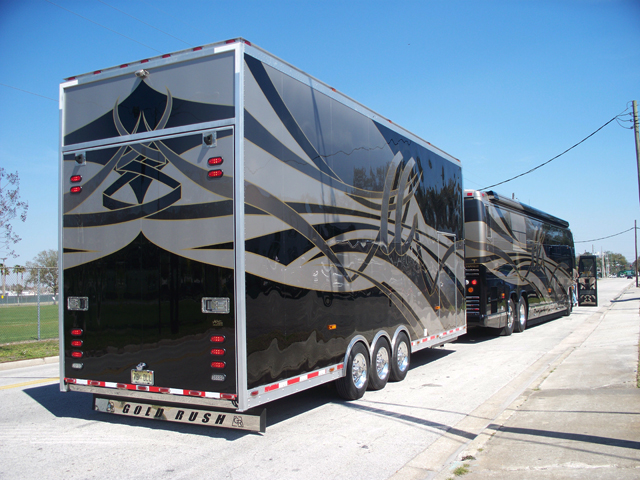 Whether you are in the market to refurbish your coach to make it look brand new, or to better protect your investment, we can fulfill your needs.
Don't forget the bragging rights you receive by having your coach custom painted.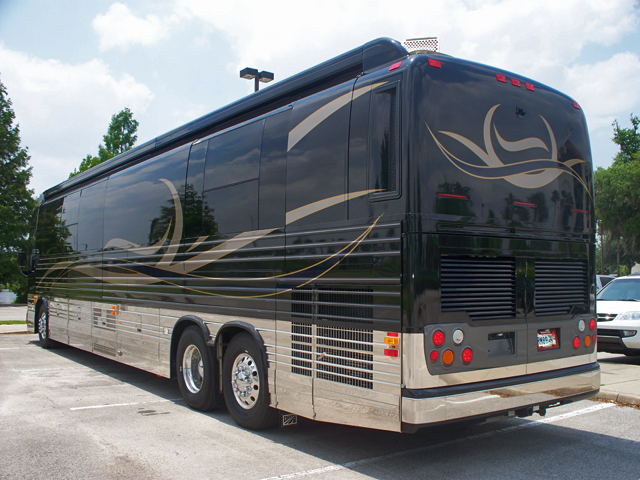 Custom Paint
There is nothing like refreshing your coach to bring back the pride you have in owning it. No need to purchase a brand new coach, just make it look like one. We work with you to design your very own paint scheme, whether to match the beauty of your coach when it was new, or to create an entirely new look.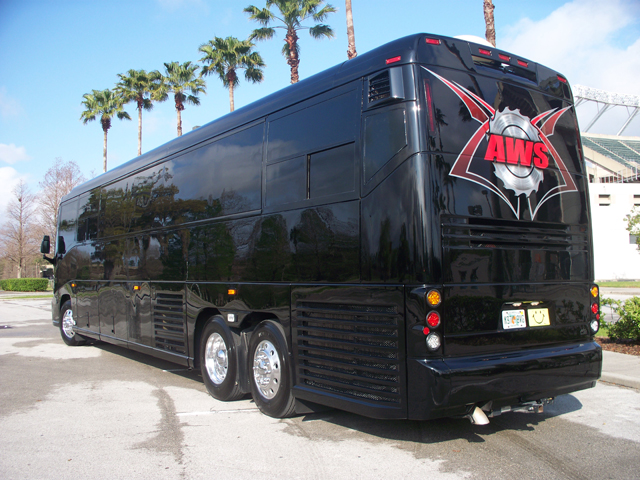 Vehicle wraps
What is the cheapest, most cost effective medium for advertising? Vehicle wraps! For example, the cost per 1000 impressions for a TV ad – $20.54, stationary billboards – $3.90. Vehicle wraps come in at only 15¢ per 1000 impressions. Whether you're a small business or promoting your new album, vehicle wraps are the logical, cost effective choice to get noticed! With our graphics design team, we can custom design the appropriate wrap for you and your vehicle. We have the capability to wrap anything you can throw at us. From cars, trucks, seated busses, luxury coaches, and even boats, we have the 3M certified installation team ready to wrap! The graphics production department does not let anything but top of the line products touch your paint. We use 3M print media with 3M overlaminates. Wraps are printed with our HP Designjet 9000s printer using 3M compliant HP ecofriendly inks. Because we follow 3M protocol, we are able to offer a 7 year warranty for our wraps. If you priority is not long term, we also offer materials that are strategically engineered for short term use. Fleet lettering does not have to be boring. Here at Walter D'Andrea Bodyworks we can design, produce and install full color vinyl graphics for your fleet. No job is too big or too small. From the legal USDOT lettering to full color logo designs, we are here and ready for you!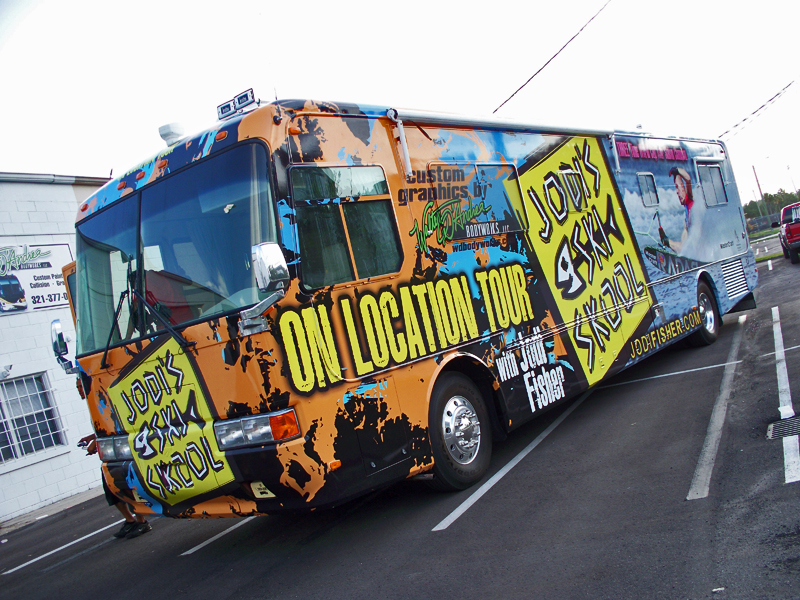 Collision
Unfortunately, accidents happen to the best of drivers. When these little mishaps come your way, rest assured Walter D'Andrea Bodyworks, LLC is here to get your damage repaired and get you back on the road as soon as possible. Walter has expertise in fabricating parts that are no longer in existence which means you can keep your coach looking just the way you bought it. We handle minor vehicle damage up to major accidents. Our experienced RV repair and restoration professionals are here to service your bus, motorcoach, fifth wheel, travel trailer, toy hauler or truck. We will work directly with your insurance company to manage your warranty and damage claim. Our reputation is built on satisfied customers… we look forward to servicing your next project!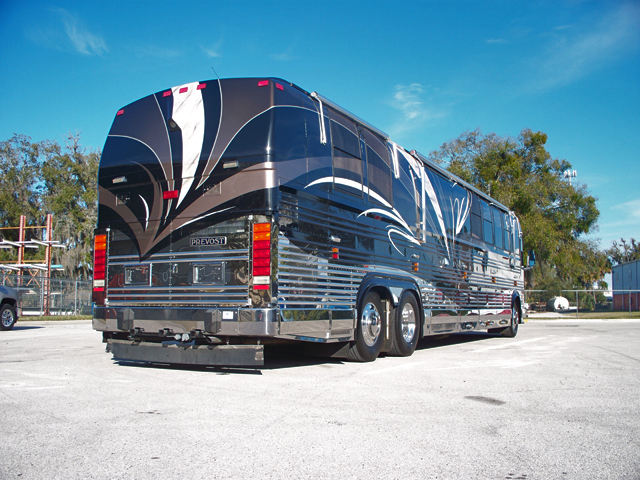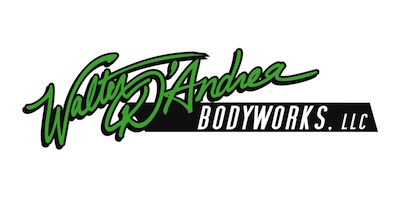 485 S. Shell Road • Suite 1B Debary, FL 32713
321-377-0676