2018 Prevost Motorhome Expo
February 7 & 8 , 2018
West Palm Beach , Florida
VIP Package
Tuesday Seminars
( Please Note - These Seminars Are For VIP Package Participants Only )
--------------------------------------------------------------------------
Prevost Slide Outs
Understanding the operation of your Prevost slide out is critical to trouble free operation, this session will cover all generations of our factory slide out.
This session will also cover care and maintenance as well as recommended service intervals, (what you need to know to keep that room operating smooth)
Some basic tips and tricks to keep you on the road.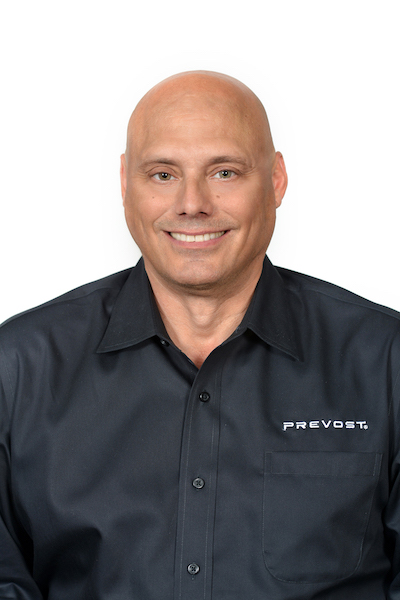 Presented by Robert Hitt
Director Aftermarket Training, North America
Starting his carrier in the bus business in 1980  he brings a wealth of knowlage to the Prevost team. Coming to work for Prevost in 1997 as a Regional Service Manager then moving into customer training and support has given him a wide range of knowlage on the Prevost Motor Home platform. Providing support and training  to the Prevost  Network as well as our customers is his main focus today.
--------------------------------------------------------------------------
Prevost Service and Maintenance
No matter the year of your coach all Prevost Motor Homes have a recommended service and maintenance interval for all shells.
Come join us and learn how to determine when service is required and some preventive maintenance tips and tricks.
Regular service is not a one size fits all  solution.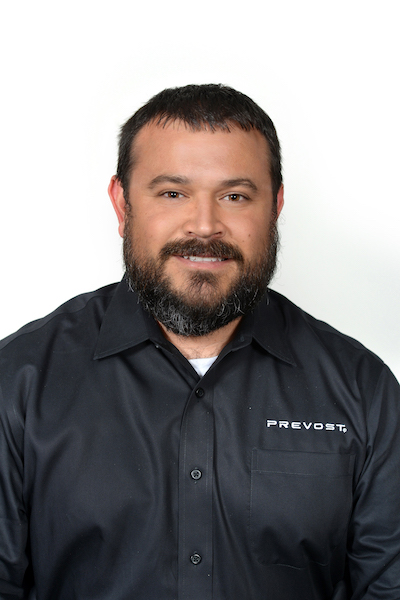 Presented by Eric DeGeorge
Southeast Regional Service Manager
Eric  started at  Prevost in 2006  as a technician at the Jacksonville service center. Over the years taking on more responsibilities and challenges, leaving Prevost for a short time to fine tune his skills with the Volvo engine. Eric is now the South Eastern Regional Service Manager for Prevost  support customers throughout the south.
--------------------------------------------------------------------------
Liberty Coach - Motorcoach Technology - Past , Present & Future
The 40-year history of the Prevost conversion industry has yielded countless technological breakthroughs, in communications, electronics, power generation, ergonomics and virtually every other area of design and production. In this two-part presentation, we'll first examine the technological evolution of Prevost motorcoaches over the past four decades, followed by an in-depth look at what may prove to be the most game-changing innovation to date: the 58-volt Lithium Ion powered energy system introduced in 2016 by Liberty Coach and Volta Power Systems.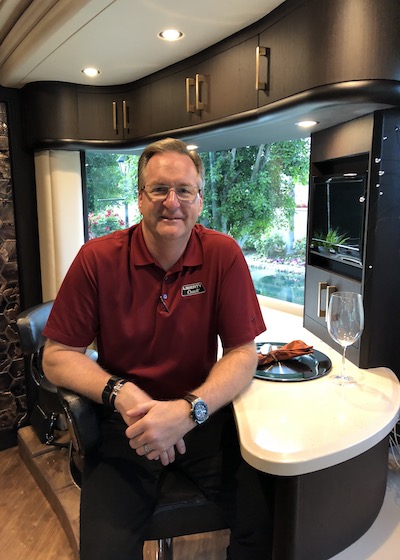 Presented by Frank Konigseder
Managing Partner Liberty Coach
No Prevost industry professional is more committed to technological advancement than Frank Konigseder Jr. Together with his father Frank Sr. and brother Kurt, Frank has been responsible for virtually every major technological breakthrough the field has seen, from CAD/CAM technology in 1989, to Crestron control in 2002, to the first lithium ion battery system in 2010.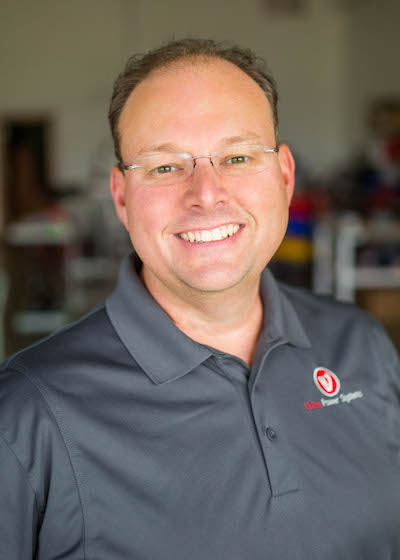 Presented by Jack Johnson
Director of Operations Volta Power Systems


Jack Johnson is a seasoned expert of the Li ion battery industry, and a champion of Li ion technology education within the industry and the community. Johnson spent 16 years working on advanced materials and energy storage technology with Johnson Controls. In 2009, he was asked to lead development of the world's first large-format, high-volume Li ion production facility in Holland, MI. In 2014, he left Johnson Controls to pursue entrepreneurial endeavors with Volta Power Systems to solve some of the industry's most pressing challenges. Johnson holds two bachelors in mechanical engineering and science & technology.
--------------------------------------------------------------------------
Marathon Coach - Beyond the Surface:
Important Things to Look For in a Prevost Conversion
Your Prevost conversion is more than just a financial investment; it's an investment of your time and peace of mind. After attending this session, attendees will know what to look for and where to find important features of a coach that often go beyond the surface to those items are extremely important to the reliability and quality of your motorcoach experience.
Presented By Jay Graham
Marathon Coach Engineering Manager
Jay joined Marathon in 1988 and has served in several capacities in engineering, involved with more than 1,235 bus conversions to date, and is currently the Engineering Manager. The lead of design efforts related to engineering, Jay serves as project engineer, Co-CAD administrator, coach specification administrator, liaison to sales and marketing for new product development and product specification, liaison to Prevost and Valid Manufacturing, and floorplan, ceiling, HVAC ducting, roof equipment, cabinet and interior component design/drafting.
--------------------------------------------------------------------------
Millennium Luxury Coaches - iControl System
Control your luxury from around the world.
Exclusively from Millennium Luxury Coaches, iControl revolutionizes the way you interact with your coach.Through intuitive programming, iControl allows you to easily operate all of the coaches systems from one device, as well as automatically carrying out your commands based on custom presets and parameters.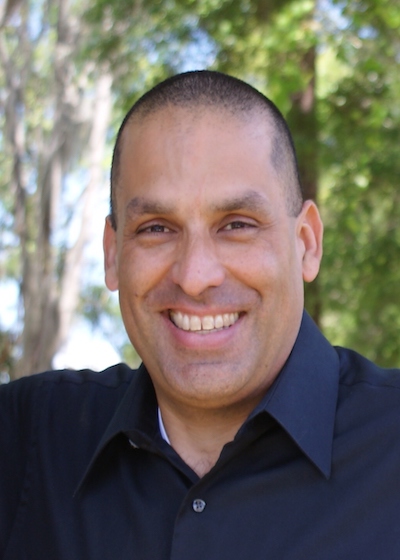 Presented by Nelson Figueroa
Owner Millennium Luxury Coaches
Nelson heads up Research and Development and Product Innovation for Millennium and personally overseas the building process of every coach in production.
--------------------------------------------------------------------------
Featherlite Coaches - Flush Floor Slide System
The ultimate in luxury and convenience come together when you combine the limitless possibilities of the proprietary Featherlite Coaches flush-floor slide system with the all new Intuitive Coach Control package.  Enrich your travel experience with the industry's deepest, widest flush-floor slides that can be placed in any position and the easiest to operate coach experience, all from Featherlite Coaches.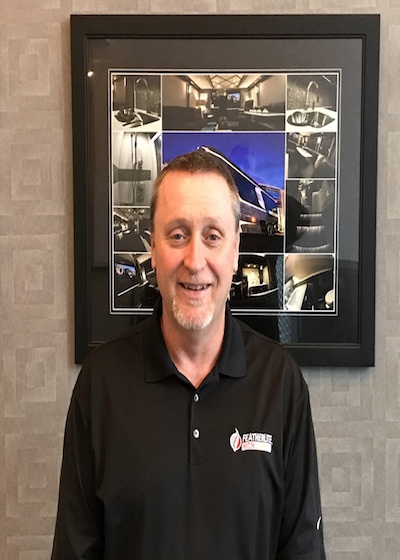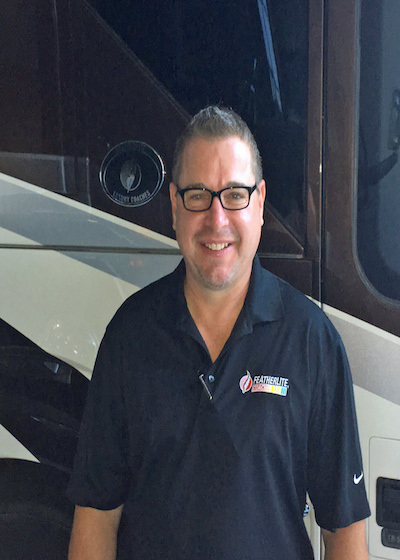 Presented by Jeff Williams & Greg Waid
Jeff Williams and Greg Waid have a combined 50+ years in the motorhome and coach industry.  Join these industry veterans as they detail the Featherlite Coaches Intuitive Coach Control system and delve into floorplan possibilities when you can design with flush-floor slides in any position.   
-------------------------------------------------------------------------
Michelin Tire - Tire Care Do's & Dont's
Presented By Ethan Weston
Field Engineer - MichelinTire
Ethan joined Michelin in 2014 in a role in commercial tire sales and was promoted to Field Engineering for the commercial tire line in 2016.  He is also a Certified Commercial Tire Service Instructor for the Tire Industry Association.
-------------------------------------------------------------------------
If You Have Not Already Signed Up For The VIP Package
Please Click Here :
Prevost Motorhome Expo VIP Camping Package
Space Is Filling Quickly!



If You Are Interested In ANYTHING Prevost.....
You Do Not Want To Miss This Show.........
South Florida Expo Center
West Palm Beach , Florida