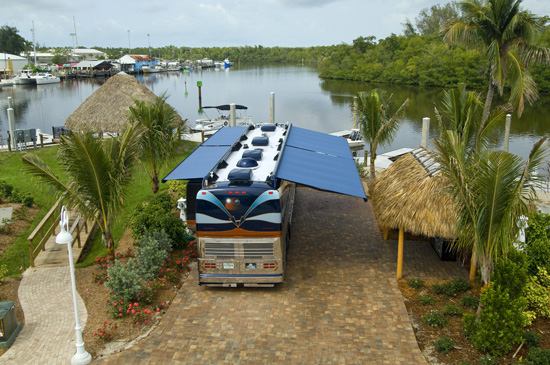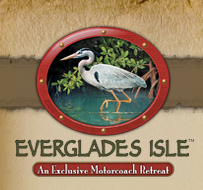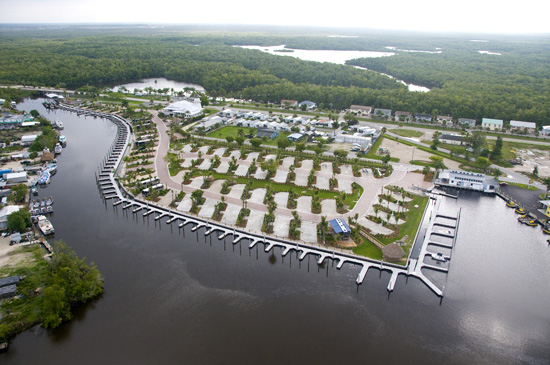 The wonderful RV lifestyle that Mark and Cherri Helsel share, includes watching dolphins dance in the wake of their fishing boat, seeing manatees and massive sea turtles up close in the lovely 10,000 Islands, and shelling with their grandchildren on sunny, sugar sand beaches.

All of this fun isn't quite possible in Pinckney, Michigan, their hometown. But it's right there every day at Everglades Isle, Florida ( www.evergladesisle.com ) where their splendid 2011 American Heritage motor coach is parked for much of the winter.

Mark and Cherri have been RVing for thirteen years. They have always loved nature and the great outdoors, and used to go tenting for years in the upper Michigan peninsula. Then came their first investment in a Bounder, and they became accustomed to taking their home on the road. After that came a Patriot, and finally their American, "the official luxury coach of the open road." Mark says they've been up and down most of the East Coast, but "we haven't got past Mississippi yet!"

Married for 40 years, Mark and Cherri have three children and six grandchildren. They are now semi-retired, but remain active in their own business, Corby Energy Services Inc., underground utility construction specialists. Corby Energy provides support to telecom, electrical, gas, water and sewage businesses throughout southeastern Michigan and northwestern Ohio. Their success has permitted them the RVer passion for travel and a penchant for things that move! In addition to their American, they own a King Air, a Cessna and a fishing boat. Hence, Mark, an accomplished pilot, can get them back and forth from Michigan quickly if they need to. And Cherri can take the grandkids on the boat to watch those dolphins.

Their love of RVing also has a calmer side. Cherri says, "you can relax really quick at Everglades Isle!" This upscale motor coach retreat is thirty five miles south of Naples, on the Barron River and at the entrance to the beautiful 10,000 Islands. The site features 38' by 60' landscaped brick paver pads with 100 amp hook-ups, and these lots are available for sale or rent. Cherri and Mark were one of the first residents, and have wintered there for four years.

"We were originally looking for a spot in the Florida Keys," said Mark, "but my business partner found Everglades Isle, and knew we would like it. He put his own money down on our site, to hold it for us!"

"The lots here are very big, not on top of each other at all, like at some other places we've been," says Cherri. "They have a beautiful clubhouse where we shoot pool and watch the Super Bowl. We also have a Tiki Hut coach house on our site, with a granite countertop and pictures from home." You can imagine that anyplace Cherri travels, she will soon make it just like home.

For Mark, the town next door, Everglades City (www.evergladescity.com ) also holds a lot of special charm. "It's a real workingman's town," says Mark. "You can drive your golf cart right to it. You meet a lot of people from all over, and you're known by your first name everywhere." Doesn't it seem that RVers are just naturally friendlier and more social?

Mark and Cherri are also partial to the Camellia Street Grill ( find it on Facebook ), an eclectic, on-the-water café with humorous art everywhere and fabulous fresh-caught seafood. "You feel really comfortable there," Cherri says, " on Friday and Saturday nights there's great music." Terri Rementeria and friends handle the culinary arts, and Snooker Joe provides the music.

It all comes back to comfort and relaxation for Mark and Cherri in their well-appointed American Coach. "I can't tell the difference between here and my house," Mark laughs. "It's really our home away from home, " adds Cherri, "and the grandchildren just love it here!"
The beauty of Everglades Isle, their other home away from home, makes it even more special. "Every RVer should try it," Cherri says. "If you come here and spend a little time, next year you'll spend a little more."

Next time you're on the west Florida coast, or anywhere in Florida with your coach or rally, put Mark and Cherri's passion on your itinerary. Soon, you'll be on a first name basis with everyone there, too.