Press release
For immediate release
Prevost Introduces Prevost Tools Mobile App
Sainte-Claire, QC, December 3, 2012 – Prevost has introduced another mobile app which allows Prevost operators and maintenance facilities to easily access many valuable resources. The newest Prevost app, called Prevost Tools, puts access to many Prevost Service tools all in one handy application. From any mobile device such as Apple iOS or Android phones and tablets, the user can link to wiring diagrams, pneumatic diagrams, technical manuals, driver's guides and service bulletins for any Prevost or Volvo motorcoach. The app also provides links to Prevost online warranty services, Prevost Liaison telematics system, and online parts ordering. Users can connect to the Prevost Merchandise website and Prevost Diecast Model website as well. In addition, the app contains a gallery of seated coach and motorhome images which can be downloaded or set as wall paper for the mobile device.

Prevost continues its company-wide effort to provide easy access to important tools for operators, drivers and maintenance personnel. Michael Power, Prevost Director of Marketing, says, "Prevost has always made a commitment to customer service by providing valuable tools which make our customer's business more valuable. This new app is a natural progression which allows operators to run more efficiently and provide better service to their customer."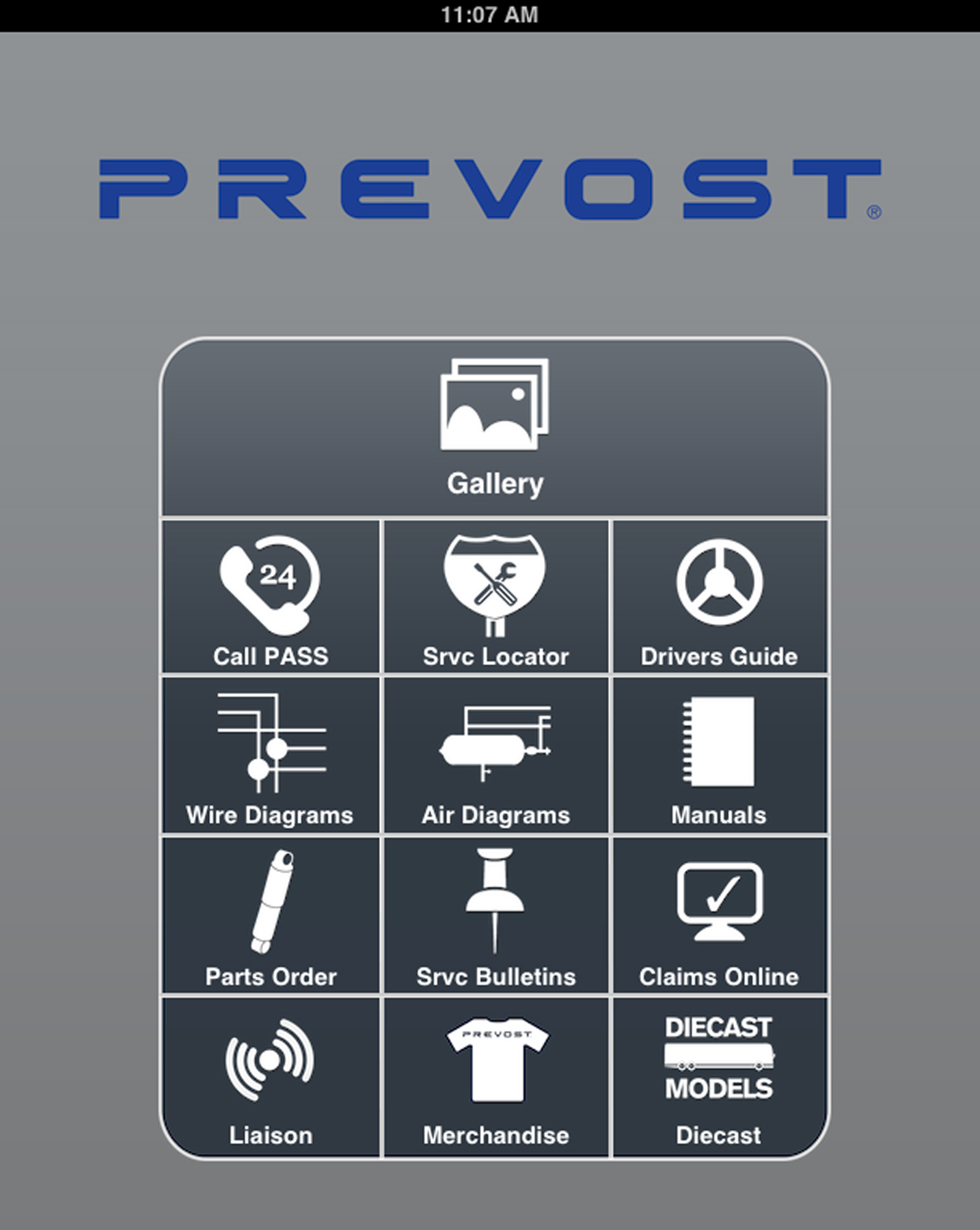 The app is available in English, French and Spanish versions. Mobile device users can download the app for free at Apple's App Store for iOS devices or Google Play for Android devices.


Apple App Store - iOS Devices

https://itunes.apple.com/us/app/prevost-tools/id577753111?mt=8

Google Play – Android Devices

https://play.google.com/store/apps/details?id=com.prevost.app&feature=more_fr om_developer#?t=W251bGwsMSwyLDEwMiwiY29tLnByZXZvc3QuYXBwIl0
About Prevost

Prevost is a leading manufacturer of premium intercity touring coaches and the world leader in the production of conversion coaches for high-end motorhome and specialty conversion. A company in the Volvo Group of Companies, it has access to the financial strength, research capability, and manufacturing expertise of the group. The Volvo Group is one of the world's leading manufacturers of heavy-duty diesel engines. Prevost has its main manufacturing facilities in Sainte-Claire, Quebec, Canada and has eight Parts and Service Centers located in the United States and Canada. www.prevostcar.com

For more information
Alan Dvoskin | Marketing Communications Prevost
7900 National Service Rd. Mailstop ALB-63 Greensboro, NC 27409
Tel.: +1 336 393-3077 | Fax: +1 336 393-2955