Sue Rosol: Embracing the lifestyle of Pelican Lake Motorcoach Resort as the resident Realtor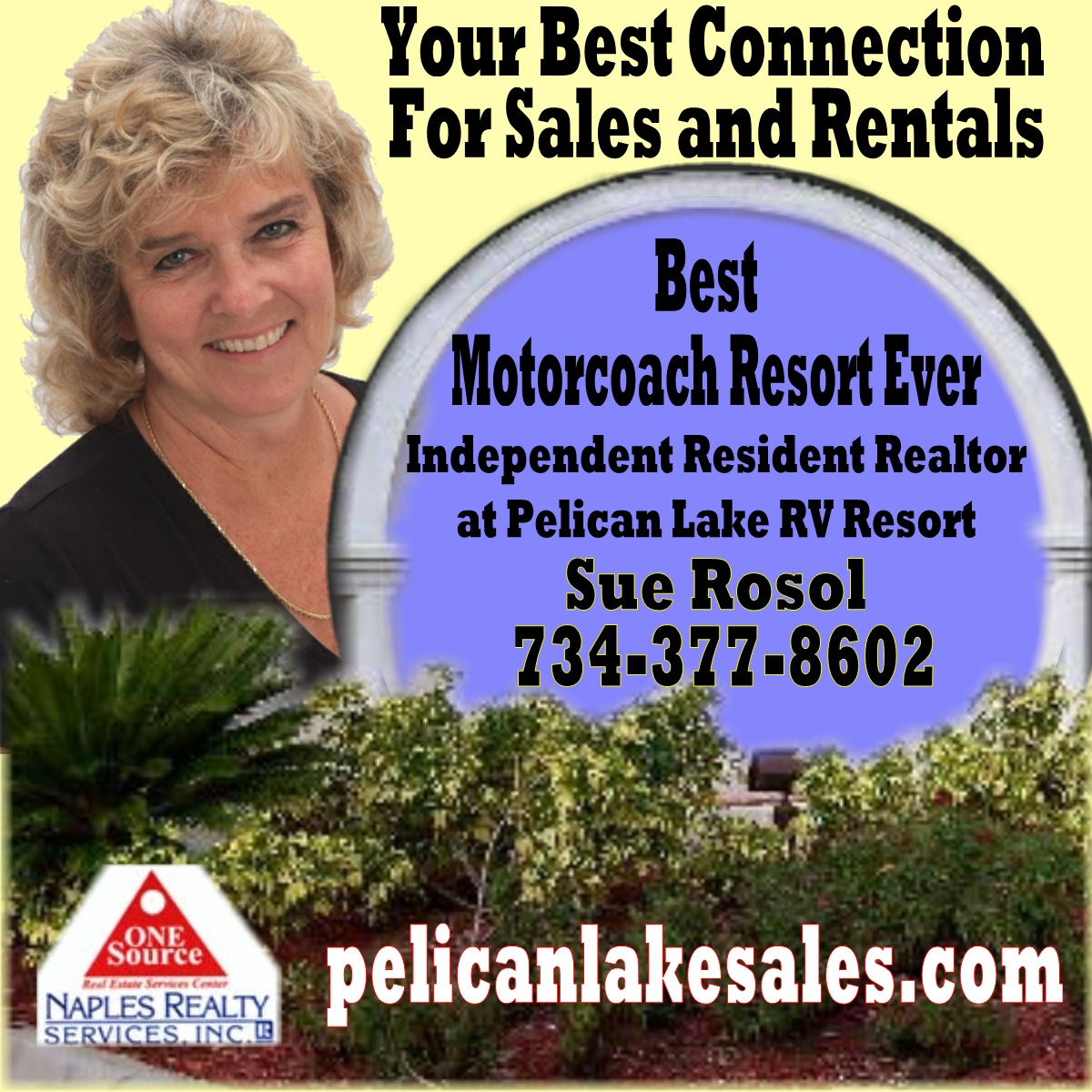 Thick palms help shade the warm Florida sun amidst vibrant tropical florals; motorcoaches pull into lushly landscaped lots atop a colorful mosaic of bricks that create distinctive driveways. Nearby, fountains spray water playfully in a 35-acre lake that serves as a backdrop for this one-of-a-kind community.

Pelican Lake, near Naples, Fla., is not just a quick weekend getaway for Sue Rosol. It's a lifestyle she has embraced as a lot owner for 14 years at Pelican Lake Motorcoach Resort. Each year, she travels from her home near Ann Arbor, Mich., to the Class A motorcoach community to forego the north's colder months in the warmer climes of south Florida.

Through her years of lot ownership at Pelican Lake, Rosol became an ambassador for touting the resort community's amenities. As such, she has become the resident Realtor for lot sales and rentals here.
"The people are very friendly, and in the area there are great restaurants and anything you'd like to do, it's here -- whether it's golfing, boating, fishing or theater," said Sue. "It's just like taking
your coach to Hawaii. The lush tropical beauty and lovely weather make you want to sit in your most comfortable chair and take in the serenity and beauty of this most prestigious Class A motorcoach resort."

She said the 289 large lots -- approximately 55-by-100 feet each – are beautifully landscaped and many are available for sale and rental. Visitors and owners can enjoy amenities such as a pool, clubhouse, tennis court and shuffle board, and the presence of Pelican Lake.
The resort's location also makes it convenient for those looking for opportunities to explore surrounding locales. "We're very close to downtown Naples and Marco Island, and we're just a five-hour drive to the Florida Keys," said Sue.

Sue herself has enjoyed the motorhome lifestyle for many years. "We've been motorhoming for over 35 years; we've always traveled," said Sue. "I've traveled all over, and I think Pelican Lake is the best."

She parlayed her 18 years as a Realtor in Michigan and Florida to become the resort's lead Realtor. She's turned many others on to the resort as well. "A lot of my renters keep coming back because they like all the activities that we have in the winter months," said Sue, adding that many of Pelican Lake's residents hail from the "colder states" of Michigan, New York, New Jersey, Missouri, Ohio and others. "There's something to do every day at the clubhouse."
Activities are indeed a constant; there's BYOB every Friday night, art classes, weekly Bingo and even Wii bowling team competitions held at the clubhouse.
"And if you just want to relax, get in your favorite lawn chair and lie around the pool or unwind at the Jacuzzi," said Sue.


"It really comes down to friendly people," said Sue, "who make you feel welcome. Whether you need a lot rental for the weekend, the winter or you're looking to put down roots, I can help."

To contact Sue Rosol through Naples Realty Services, reach her via cell at (734) 377-8602; or email at slrosol@aol.com; photos and information about Pelican Lake Motorcoach Resort can be found on the Web at www.pelicanlakesales.com.