2021 Prevost Motorhome Expo
February 10 & 11 , 2021
West Palm Beach , Florida
VIP Package Seminars
Tuesday - February 9 , 2021

( Please Note - These Seminars Are For VIP Package Participants Only - Schedule is Tentative & Subject to Change )
--------------------------------------------------------------------------
Millennium Luxury Coaches
"What It Takes"
This Seminar will focus on What It Takes to
Build - Retrofit & Support
A Prevost Coach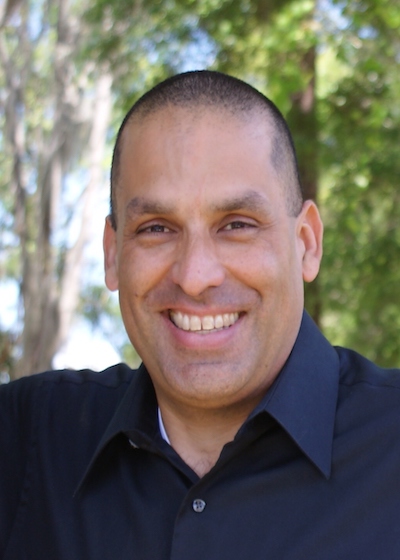 Presented by Nelson Figueroa
Owner Millennium Luxury Coaches
Nelson heads up Research and Development and Product Innovation for Millennium and personally overseas the building process of every coach in production.
--------------------------------------------------------------------------
Liberty Coach
"Liberty Leadership"
Liberty Coach has been the undisputed leader of the Prevost conversion field since 1978, when company founder Frank Konigseder Sr. inked his first agreement with Prevost Car president Andre Normand. Since the late 1990s, his two sons and managing partners Frank Jr. and Kurt Konigseder have built on Liberty's leadership position, continuously setting new standards of excellence in engineering, design, and customer service.
For the 2021 Prevost Expo, Frank Jr. will offer an overview of Liberty's achievements over the past 50 years, the cutting edge features and design elements of today's Elegant Lady coaches, and the importance of leadership at a time of enormous promise for the Prevost conversion industry and the RV lifestyle as a whole.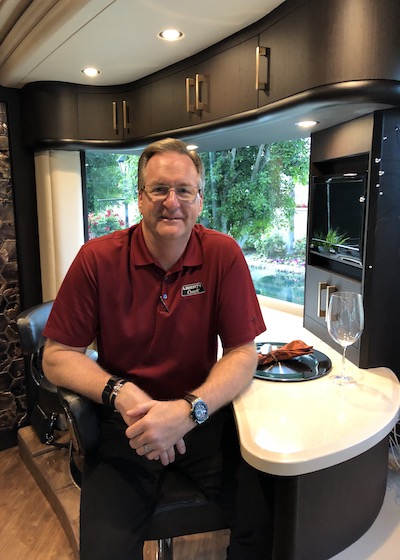 Presented by Frank Konigseder
Managing Partner Liberty Coach
Liberty Coach has been quite literally a lifelong labor of love for Frank Konigseder Jr., one that began when he was 7 years old and his parents launched the backyard business that today is the oldest and most successful player in the Prevost bus conversion field. Since the late 1990s, Frank and his brother and co-managing partner Kurt Konigseder have guided the family-owned and operated company to the industry forefront, continuously setting new standards of excellence in engineering, design, and product quality.
--------------------------------------------------------------------------
Featherlite Coaches
"Featherlite Innovation"
Featherlite's Intuitive Control System -   This evolution of the Intuitive Control system maintains our hallmark ease of use, but is even more feature rich, now including super functional intuitive touch panels in place of analog switch panels, as well as whole coach control from your own smart phone or tablet.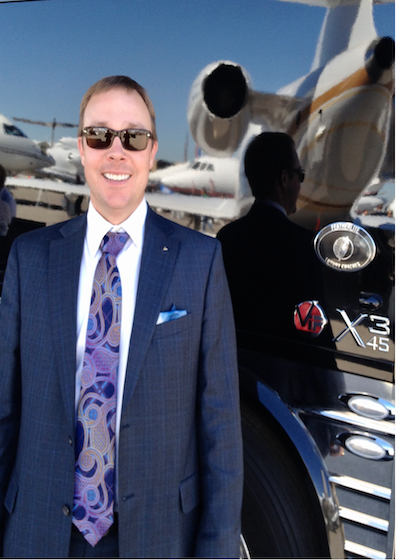 Presented by Jimmy Adams
President Featherlite Coaches
Jimmy Adams grew up with family motorcoaches, and after graduating N.C. State University with a degree in engineering, he traveled the US & Canada in a motorcoach as he competed on the IMSA professional sports car racing circuit.  In 2001, Jimmy went full time into the luxury coach conversion business, at the helm of Amadas Coach, and then went on to acquire Featherlite Coaches in 2008.  Jimmy is an avid motorcoach enthusiast, and he and his family treasure their vacations every year in a Featherlite Coach.  He is involved in the R&D, design, and manufacturing of every new Featherlite Coach, and does a personal final quality review of every luxury motorhome.
--------------------------------------------------------------------------
Marathon Coach
"Personal Luxury Coach Journeys"

Join Randy Vanklompenberg and Dawn Vanklompenberg as they recount their personal luxury bus conversion journey over the years. Listen in as this couple shares insights about the people they meet and the interesting stories they hear as they visit the luxury resorts and hidden gems across North America. Also hear some highlights about Marathon Coach and learn about some of the important factors and nuances to consider when choosing your ideal Prevost conversion.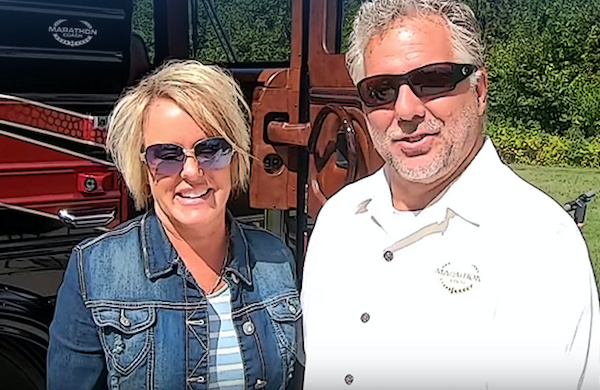 Presented By Randy & Dawn Vanklompenberg
Marathon Coach Sales Professionals
Randy Vanklompenberg and Dawn Vanklompenberg host a video series slated Wednesday mornings at 9 am PT/12 pm ET on Marathon Coach's Facebook and YouTube channels. Michiganders Randy and Dawn uncovered the richness of Prevost adventures on different paths. Randy, an RV enthusiast for the last 30 years, travelled across America with his children, purchasing a 40-foot Marathon XL approximately 15 years ago. A few years later, he became partner at Panterra Coach, actively involved in purchasing and selling high-end luxury coaches. A hiker, camper and generally outdoorsy person, Dawn's love of RVing is also rooted in family, having enjoyed father/daughter trips where she learned just how beautiful North America truly is.
--------------------------------------------------------------------------
Emerald Luxury Coaches
Who, Why and How of Emerald ?
Meet the CEO  John Walker, along with  the sales and service team for Emerald Luxury Coaches.  Emerald Luxury Motor Coaches are built in Stephenville, Texas with a unique approach to owning a Prevost Motorcoach and a great alternative for owning a Class "A" Motorhome.   All coaches are on the cutting edge with innovative technology in an "Easy To Use" format, with a service team that is second to none at  a great price.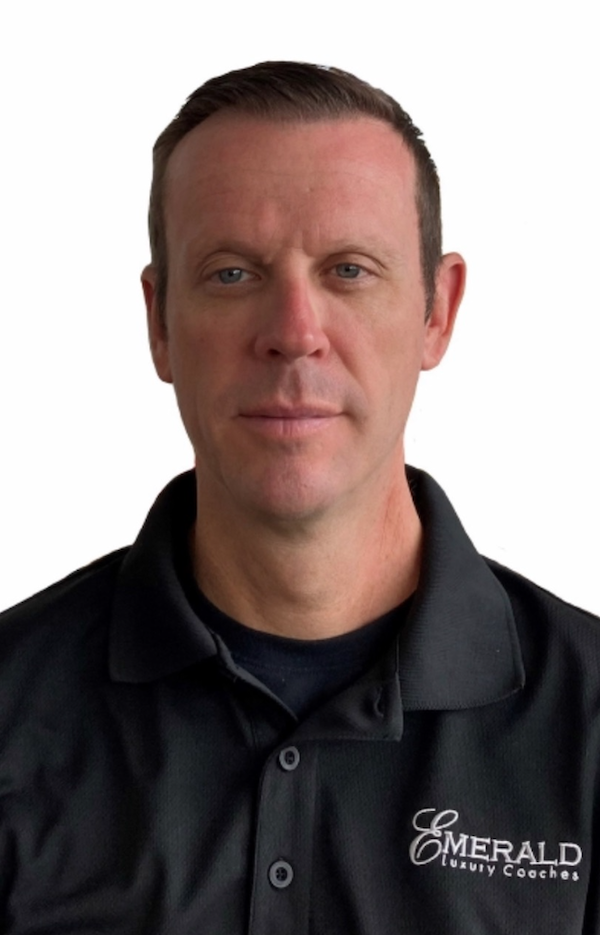 Presented by John Walker
CEO Emerald Luxury Coaches
Emerald CEO, John Walker, is a craftsman who insists on high-quality work and meticulous attention to detail - Which is a continuous pursuit of perfection that inspires everyone on the Emerald team.
--------------------------------------------------------------------------
Prevost Service and Maintenance
No matter the year of your coach all Prevost Motor Homes have a recommended service and maintenance interval for all shells.
Come join us and learn how to determine when service is required and some preventive maintenance tips and tricks.
Regular service is not a one size fits all  solution.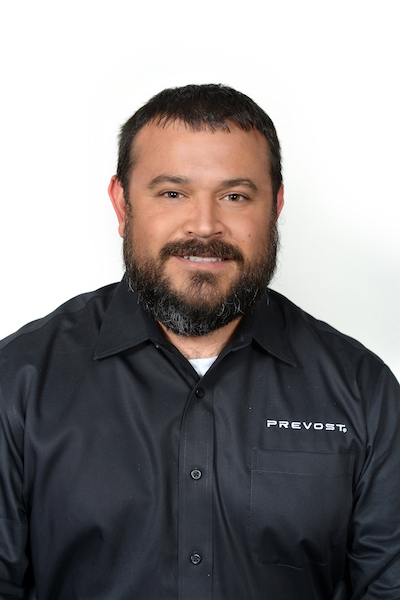 Presented by Eric DeGeorge
Southeast Regional Service Manager
Eric  started at  Prevost in 2006  as a technician at the Jacksonville service center. Over the years taking on more responsibilities and challenges, leaving Prevost for a short time to fine tune his skills with the Volvo engine. Eric is now the South Eastern Regional Service Manager for Prevost  support customers throughout the south.
--------------------------------------------------------------------------
Prevost Slides - Everything You Ever Wanted To Know
This Seminar will be an overall look at Prevost Slides - Workshops will be available Wednesday dealing with more specific generations and operation of Prevost Slides.
Times & Location of Workshops will be provided at this seminar.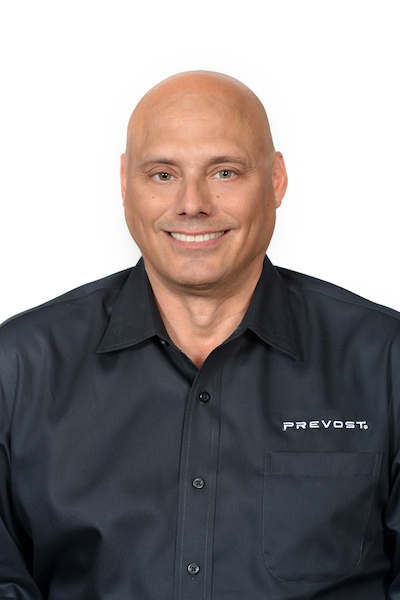 Presented by Robert Hitt
Director Aftermarket Training, North America
Starting his carrier in the bus business in 1980  he brings a wealth of knowledge to the Prevost team. Coming to work for Prevost in 1997 as a Regional Service Manager then moving into customer training and support has given him a wide range of knowledge on the Prevost Motor Home platform. Providing support and training  to the Prevost  Network as well as our customers is his main focus today.
--------------------------------------------------------------------------
I Bought A Prevost
Now Where Can I Go & What Can I Do ?
You will not want to miss this informative seminar on "What to do with your motorcoach after you purchase it".
We will be talking about all of the various clubs and organizations that center around the Prevost Lifestyle.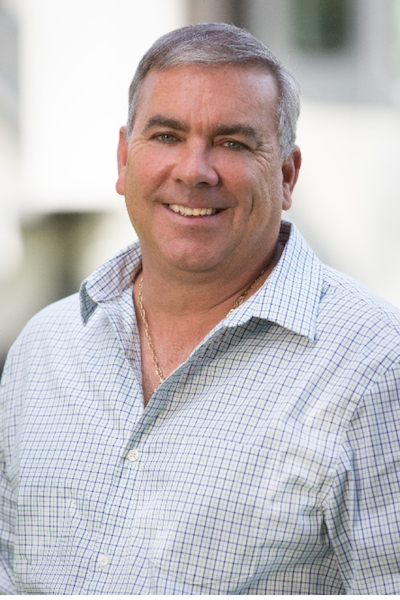 Presented By Rick Smith
For more than 30 years, Rick Smith has been a contractor specializing in Class A motorcoach resorts from pre- planning and community design to sales and marketing.
His career has always been centered on the Class A motorcoach lifestyle. Traveling the United States to experience what various resorts and cities had to offer sparked his vision for RiverLandings Motorcoach Resort. He is passionately dedicated to fulfilling a long-held dream of creating the most outstanding luxury Class A motorcoach resort community, offering owners an unparalleled lifestyle with world-class amenities.
-------------------------------------------------------------------------
If You Have Not Already Signed Up For The VIP Package
Please Click Here :
Prevost Motorhome Expo VIP Camping Package
Space Is Filling Up Quickly!
This Package Is Open To Everyone - Current Prevost Ownership Is Not Required.



If You Are Interested In ANYTHING Prevost.....
You Do Not Want To Miss This Show.........
South Florida Expo Center
West Palm Beach , Florida